Student loans are available to cover the costs of more than degree study. It may seem like a lot of money, but when you land that high flyer job, you'll probably not notice the repayments.
If you are 24 or over, or if you are 19-23 and already have a Level 3 qualification (e.g. A Levels) you can apply for an Advanced Learner Loan to fund your Level 3 or Level 4 course.
Advanced Learner Loans were introduced by the Government to help you pay for your tuition fees. You will only repay your loan when you are earning more than £26,575 a year.
The terms are designed to be attractive to students:
Available to anyone aged 19 and over, studying at Level 3, 4, 5 or 6*
Nothing to pay back until you earn more than £27,295 per year
No credit checks
Household income is not taken into account
Borrow up to the full cost of the course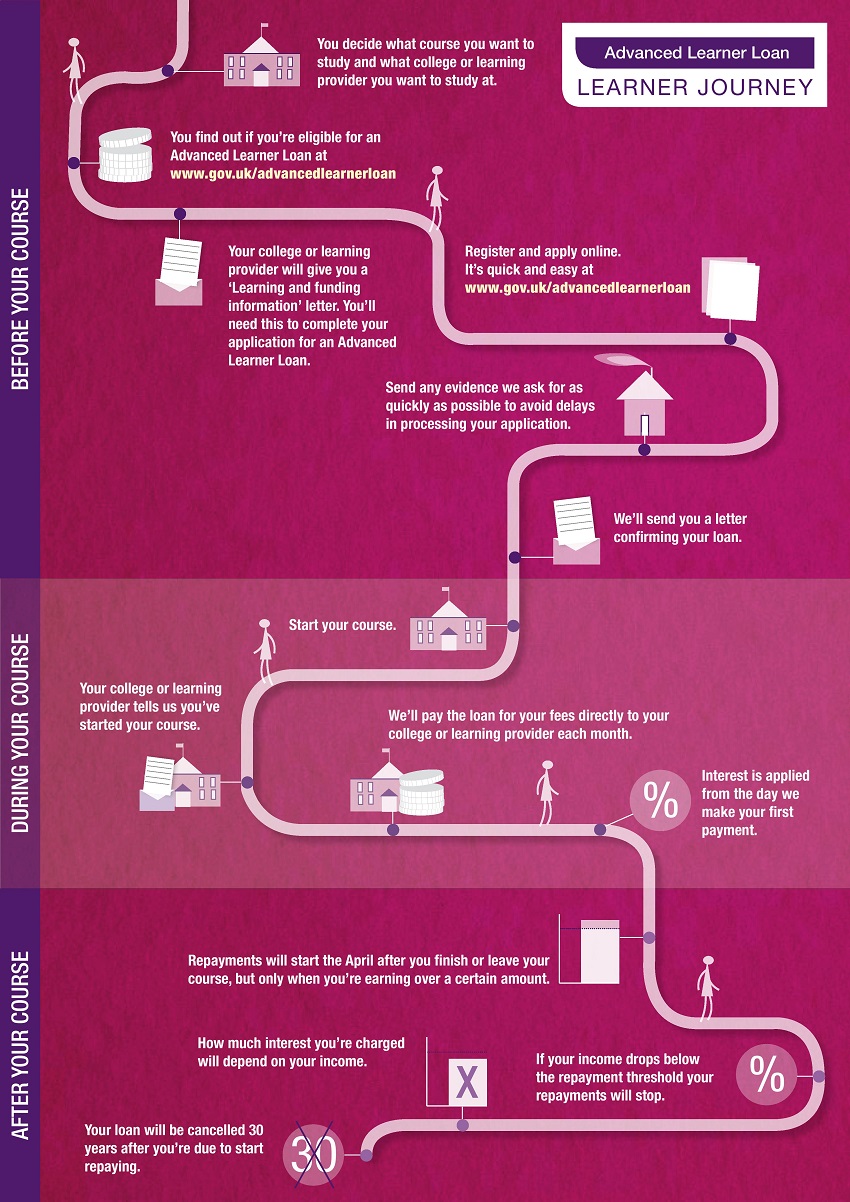 Special terms for Access to Higher Education courses
If you are studying an Access to Higher Education Diploma, Student Finance England will 'write off' any outstanding Advanced Learner Loan balances taken out to pay for an Access course once you complete a higher education course. So you do not have to repay your Access course loan.
To qualify for this 'write off' you must have fully completed both courses. The Higher Education course must be eligible for funding by Student Finance England, although it is not compulsory to take out a loan.
Further information
It's important you consider your circumstances and look into all options for paying for your course before choosing to take out a loan. You can get impartial money advice from the Money Advice Service.
Courses that are eligible for an Advanced Learner Loan are dependent upon Government legislation and are therefore subject to change. We will discuss eligibility at the time of enrolment.
How do I apply?
Once your place is confirmed and we have issued you a Learning & Funding Information Letter you need to visit www.gov.uk/advanced-learner-loan and follow the 'How to Apply' instructions.
Still unsure? Have a listen to three learners sharing their thoughts and experience with Advanced Learner Loans.