We're here to help you every step of the way and whatever you need help with, you can drop in and talk in confidence to our Student Welfare and Advice team.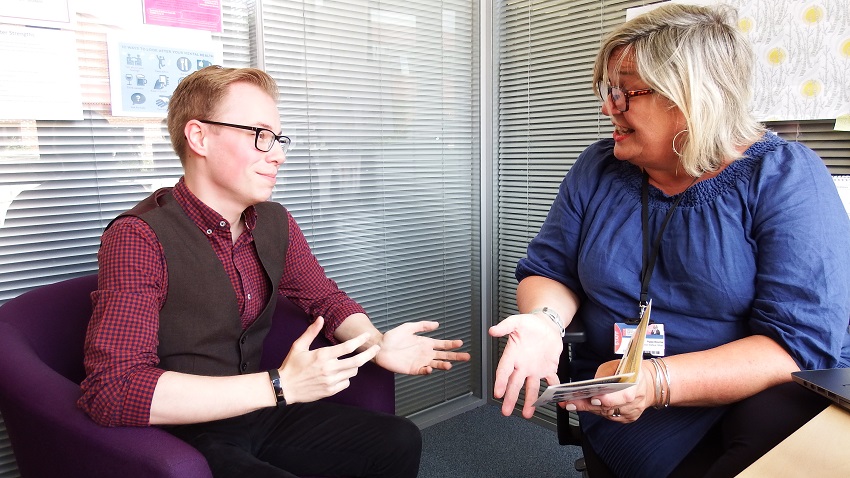 Introduction
Student Welfare is located in the Centre of the college. It is open from 8:30am to 5:00pm Monday to Thursday and 8:30am to 4:30pm on a Friday.
Welfare advisers operate an appointment system where you can book in to see an adviser of your course. There is also a duty system operating each day where you can drop in and see an adviser for 15 minutes.
Student Welfare and Advice
We have a dedicated team of advisers on hand to guide you through any problems you may be facing that are non-academic.
Please come to see staff in Student Welfare for support with:
Personal Issues
Health Issues
Sexual Health Issues
Drugs and Alcohol support
Advocacy
Relationships
Counselling
Benefit advice
Money Advice
Any safeguarding issues
Food Banks -if you do not have enough food at home or are worrying about the amount you have. please see the Student Welfare reception team and enquire about a food parcel.
Welfare Team
The Welfare team consists of a manager, four welfare officers, a counsellor, a receptionist, two administration staff and three Student Liaison workers.
Information for Children in Care and Care Leavers
Click below to view the services and support provided at West Suffolk College for Children in Care and Care Leavers.
Transport information
The Student Welfare team can assist with travel information on buses and trains as well as fares. Please contact us or view our transportation page for more information.
You can apply for Eye bus route, Soham bus route and Haverhill bus route bus passes here.
Bursary
Needing support with travel or PPE or assistance with course fees? Apply for financial assistance via the West Suffolk College website or pop over to see us if you have any questions.
Counselling Team
We have several friendly counsellors who are trained to support you. Students are booked in for 8 sessions and each session last 50 minutes. Referral is via the welfare team. Counselling sessions are free and provide a safe space for you to explore your feelings.