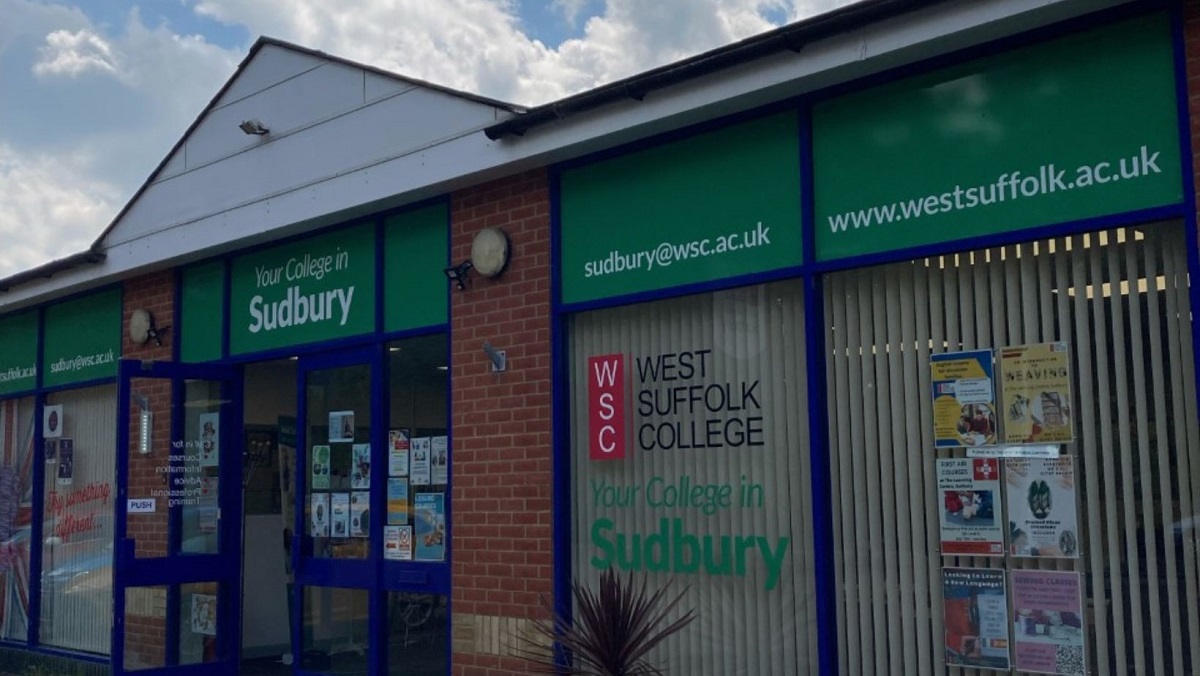 West Suffolk College Sudbury
18-20 Cornard Road
Sudbury
CO10 2XA
01787 880619
This email address is being protected from spambots. You need JavaScript enabled to view it.
Welcome to West Suffolk College in Sudbury, situated close to the town centre, supporting the local community with a popular and varied programme of adult education classes.
Whether you are looking to improve your essential skills in Maths, English and Digital Skills (computer studies) or would like to try or learn a new skill we offer a wide range of classes and workshops.
With lots of different courses and learning options available we are here to answer your questions; offering advice, guidance and supporting our learners to achieve their individual aims. If you are looking to gain a qualification, upskill or refresh your knowledge or try a new hobby the friendly and knowledgeable team at Sudbury are here to support you.
Please watch our short video to introduce you to West Suffolk College Sudbury and some of the activities and classes we run in our Community and Business Centre.
Maths, English and Digital (Computer) Skills
Improving your Essential Skills by working towards a recognised qualification will not only open doors to employment and further educational opportunities but can help improve your confidence in everyday life too. From helping your children with their homework, to budgeting your finances or keeping up to date and saving you time, effort and stress in an ever-increasing digital world. We have courses to suit all levels of ability and can offer progression routes to support employment and / or to enter higher or further education.
ESOL Classes
If English is not your first language our ESOL classes offer you the opportunity to improve your reading, writing, speaking and listening skills in a fun and supportive group. These classes are a great way to meet people, build your confidence and work towards a recognised qualification.
Leisure Learning

We also offering a fun and varied leisure course program; so if you would like to learn a new skill, try something completely different in our workshops, enjoy some creative fun and make new friends along the way then one of these classes could be for you! All our leisure courses can be booked online through Eventbrite (search for WSC Sudbury or use the link above), or if you prefer, contact the centre directly and we will gladly assist you.
Our classes currently include a variety of art classes, floristry workshops, photography, sewing and dressmaking, weaving, stained glass creations, crochet, printing, calligraphy, creative writing, and our ever-popular range of foreign language classes, which include French, German, Spanish and Italian - from beginners through to conversational groups.
During the Summer Term we will be continuing with our Family Learning sessions, with a regular Saturday morning class, alongside half term and summer holiday activities. We shall be taking some of our art classes outside into our beautiful Sudbury surroundings and introducing some new workshops so you can try something different!
We shall be celebrating World Book Night, with a free Book Club event, taking part in the Sudbury Green Sundays and holding our first 'Celebration of Creativity' in June.
Please keep your eyes on our noticeboards, Facebook and Instagram pages for regular updates and you are of course most welcome to come in and see us in person.
We look forward to welcoming you to West Suffolk College in Sudbury.
University Studies
Other courses available at Sudbury