West Suffolk College Haverhill
2 Park Road
Haverhill
CB9 7YD
01440 712177
This email address is being protected from spambots. You need JavaScript enabled to view it.
With a wide range of leisure and part time courses on offer, WSC in Haverhill has something for everyone. If you would like to learn a new hobby or skill, please take a look at the workshops and short courses on offer. If you need to upskill or gain a qualification, either for work or personal development, we are here to support you. If self-study works best for you, we can offer you over 30 subjects to choose from. Courses are available at from beginner through to Level 3, so wherever you are in your learning, we can help.
Subjects on offer include accounting and bookkeeping, business courses, modern languages, IT, creative arts, painting and drawing and psychology, as well as maths, English and ICT skills. Online courses include subjects such as environmental sustainability, dementia care, customer service skills, counselling and many more.
If you're unsure about the course you would like to take or which level is best for you, please get in touch as there is always friendly support and advice available.
Information session - Thursday 26th January from 5pm to 8pm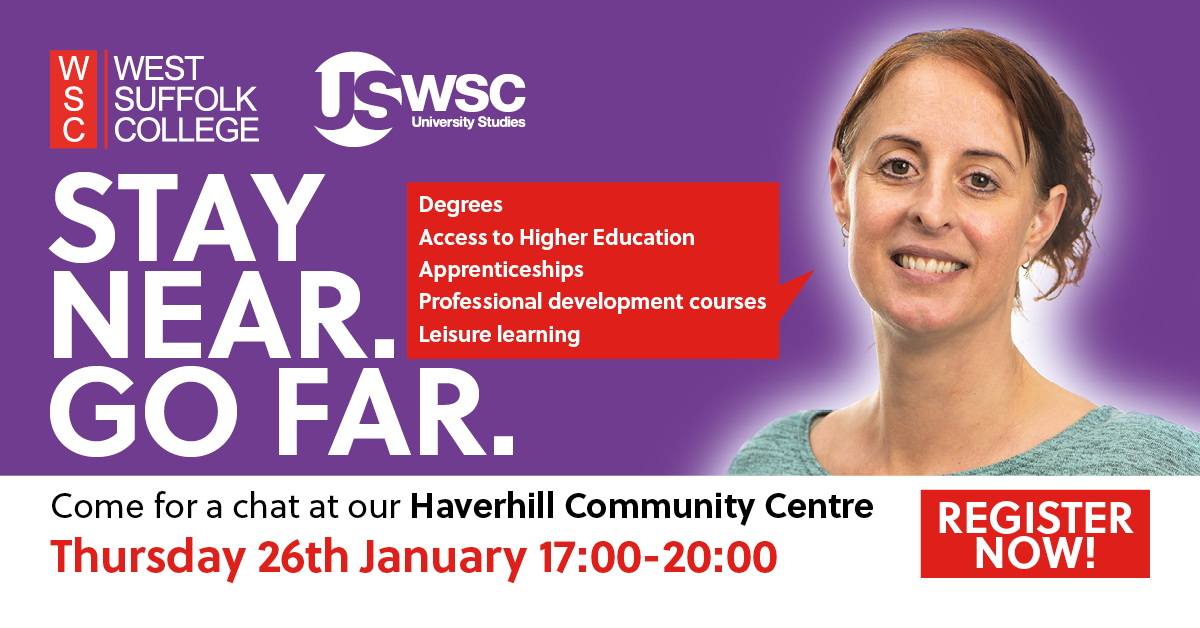 Join us at our West Suffolk College Community and Business Centre in Haverhill to discover our diverse range of courses on offer, alongside our vast offering of apprenticeships and higher education programmes available at University Studies at West Suffolk College in Bury St Edmunds; All of which are available to you either at your local WSC Community and Business Centre or at our University and Professional Development Centre in Bury St Edmunds. From learning leisure workshops to degrees, professional development courses to Access to Higher Education diplomas – create a pathway for yourself to achieve your goals. Join us at our information session between 5pm – 8pm to find out what we can offer you.
Leisure Learning

Maths and English
The Adult Maths & English department offers a range of high quality teaching options to suit all expectations and lifestyles. Whether you left education early or didn't get the grades, we are on hand to help you achieve success.
English for Speakers of Other Languages (ESOL)
ESOL classes at West Suffolk College help you to improve your English. Our specially trained tutors will teach reading, writing, speaking and listening.
Computer Skills
Whatever your level, we have courses from beginner to more advanced to help you join the internet revolution.
Online Courses
We have new courses advertised throughout the year. Please click here to view all of the Adult Education online learning courses we have available now.
Leisure Learning Courses at other centres
University Studies