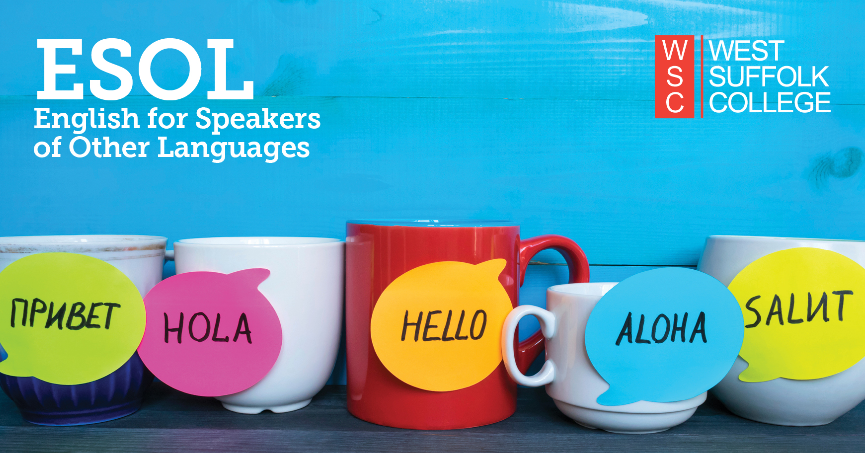 Improve your English Speaking, Listening, Reading and Writing with part-time daytime, evening or weekend courses at one of our local Learning Centres in Bury St. Edmunds, Thetford, Haverhill, Sudbury and Ipswich.
If you've got any questions, please get in touch with the team at This email address is being protected from spambots. You need JavaScript enabled to view it.
Getting the right ESOL class for you
1. Pick your nearest centre and complete the ESOL Level Placement Test by clicking the link below:
Thetford Learner - The Charles Burrell Centre, Staniforth Road, IP24 3LH
Bury St Edmunds Learner - University Studies Building, 73 Western Way, Bury Saint Edmunds IP33 3TB
Chatteris (North Cambridgeshire Training Centre) Learner - Metalcraft House, 1 Engineers Way, Chatteris, PE16 6FU
Haverhill Learner - Park Rd, Haverhill CB9 7YD
Ipswich Learner - 11 Fore Street, Ipswich, IP4 1JW (Sat Nav: IP4 1JG)
Sudbury Learner - 18-20 Cornard Road, Sudbury, CO10 2XA
Newmarket Learner - The Racing Centre, Fred Archer Way, Newmarket CB8 8NT
Ely Learner - Ely College, Downham Road, Ely, Cambridgeshire, CB6 2SH
2. Once you have completed this we will contact you to discuss your level
3. We will let you know what classes you can join and if the time and day is not convenient, we can offer you classes at other centres
4. We will invite you to an induction at the centre when we will ask you to complete your enrolment form. You must bring ID with you.
Are you a returning student?
You do not need to do another ESOL Level Placement Test. You can apply for your next level online or contact your centre who will give you details of when the courses start and the time and day of your lessons.
What our ESOL students say…
"Thank you so much. That you make me believe in myself and you supported me. I am now going to university…"
"I love my lessons, they are so fun and we laugh lot".
"Very professional! Lovely lesson. Stay blessed."
"Thank you very much for your help and support as always. You are the best!"
Frequently Asked Questions