Overview of College Governance
Colleges exist to advance education for the public good.
Colleges provide high-quality technical and professional education and training for young people, adults and employers. They prepare students with valuable skills for the workplace, helping to develop their career opportunities and strengthen the local, regional and national economy. Colleges are inspirational places to learn because education and training is delivered by expert teaching staff in industry-standard facilities. From basic skills to postgraduate degrees, colleges offer first rate academic and vocational teaching, in a range of professions including engineering, hospitality, IT, construction and the creative arts. They offer a range of qualifications and training including:
A Levels
Apprenticeships
Traineeships
Vocational qualifications
Higher education
Entry level training
"The governance duty is, above all, to drive relentless ambition for the young people served by our schools system, whatever the circumstances". Baroness Berridge (Parliamentary Under Secretary of State for Schools).
Effective College governance is about:
Ensuring clarity of vision, ethos and strategic direction
Holding executive leaders to account for the educational performance of the organisation and its pupils, and the effective and efficient performance management of staff
Overseeing the financial performance and making sure its money is well spent.
About West Suffolk College
West Suffolk College (WSC) is a leading further education college in the east of England. WSC has multiple adult centres across the east of England to support:
basic qualifications (from Entry Level and beyond)
university qualifications (from Levels 4, 5 and 6) with leading education partners including University of East Anglia, University of Suffolk, and Pearson
industry specific skills (short courses to support their progression whilst in-work)
tailored programmes to support requalification or re-entry into the workplace
hobby based skills (i.e. pottery, baking, arts, etc.)
WSC also sponsors Suffolk Academies Trust (the "Trust") is a nationally recognised multi-academy trust specialising in post-16 education in the east of England. Established in 2015, the Trust currently runs two centres:
Abbeygate Sixth Form College (ASFC) in Bury St Edmunds

ASFC opened in 2019 and continues to grow and now educates over 700 students each year, with students travelling from Cambridgeshire, Suffolk and Norfolk to study academic courses in its state-of-the-art facilities.
One Sixth Form College (OSFC) in Ipswich

OSFC opened in 2010 and has grown year-on-year and now educates over 2,100 students each year, with students travelling from across Essex, Suffolk and Norfolk to study both academic and vocational courses in its state-of-the-art facilities. OSFC is also the only Outstanding sixth form college in Suffolk.
with its headquarters in Bury St Edmunds, Suffolk.
Mission, Vision and Strategy
WSC and the Trust have a strategic alliance to work together as the Eastern Colleges Group (the "Group"). The Group approach focuses on joining up education to create positive socio-economic change, by looking at commonality and areas for collaboration (removing inefficient competition and focusing on best practice to benefit all) and supporting students, throughout their lifetime, to access and progress to outstanding education.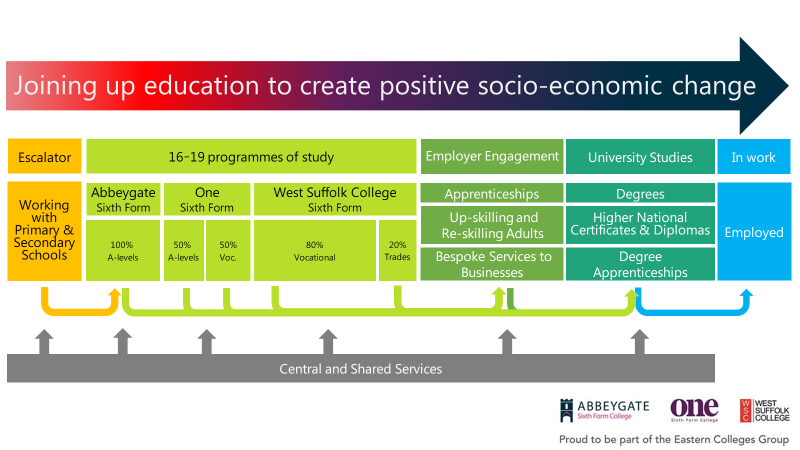 The Group has a common vision "to put students and their success at the heart of everything we do" and mission "to use education as a catalyst of positive social change and prosperity for the community we serve, leaving no-one behind".
The Group enables WSC and the Trust to efficiently pool resources and expertise and share best practice to provide outstanding vocational and academic education to students across the east of England.
The Group also specialises in post-19 education (i.e. post compulsory education) to support our adult community, leaving no-one behind.
The Group also supports pre-16 education (i.e. primary and secondary education, as well as their teachers) and other education providers to share and implement the latest evidence-based practice, and to facilitate better professional development to improve teaching and standards for all known as the Escalator model.
Operational Structure
Since establishing the Trust, WSC and the Trust have operated with a common CEO, CFO and Clerk. More recently, 'Group roles' have been created to oversee central functions; creating specialist teams to best deploy resources to allow local focus to remain on continuous improvement of teaching and learning.
In May 2021, the Corporation's Finance Committee evaluated the value for money of Group working and noted that "the College benefits from shared services […] and enables the College to afford a staffing structure with highly skilled and experienced specialists leads which, otherwise it could not afford and gives greater security for the College, with bigger specialist teams across the Group aiding succession planning and fulfilling our ambition to grow our own staff. […] and agreed that shared services with the Trust remains highly beneficial to both organisations".
The Group operational structure can be found here. As well as Group support functions, the teaching and learning staff across the Group are working together to share and implement the latest evidence-based practice, and to facilitate better professional development to improve teaching and standards for all.
Governance Structure
The governance structures of WSC's Board (Corporation) and the Trust's Board and have been closely aligned to maximise our impact to the Trust as its sponsor and to best support our strategic alliance.
To this day, the Corporation and Trust Board have a very similar governance structure and, though the membership is different, the Corporation and Trust Board operate with common Chairs (across their Boards and Committees, except the Audit and Risk Management Committee which remains independent) and with common agendas and KPIs being considered.
The Corporation operates using the following governance structure: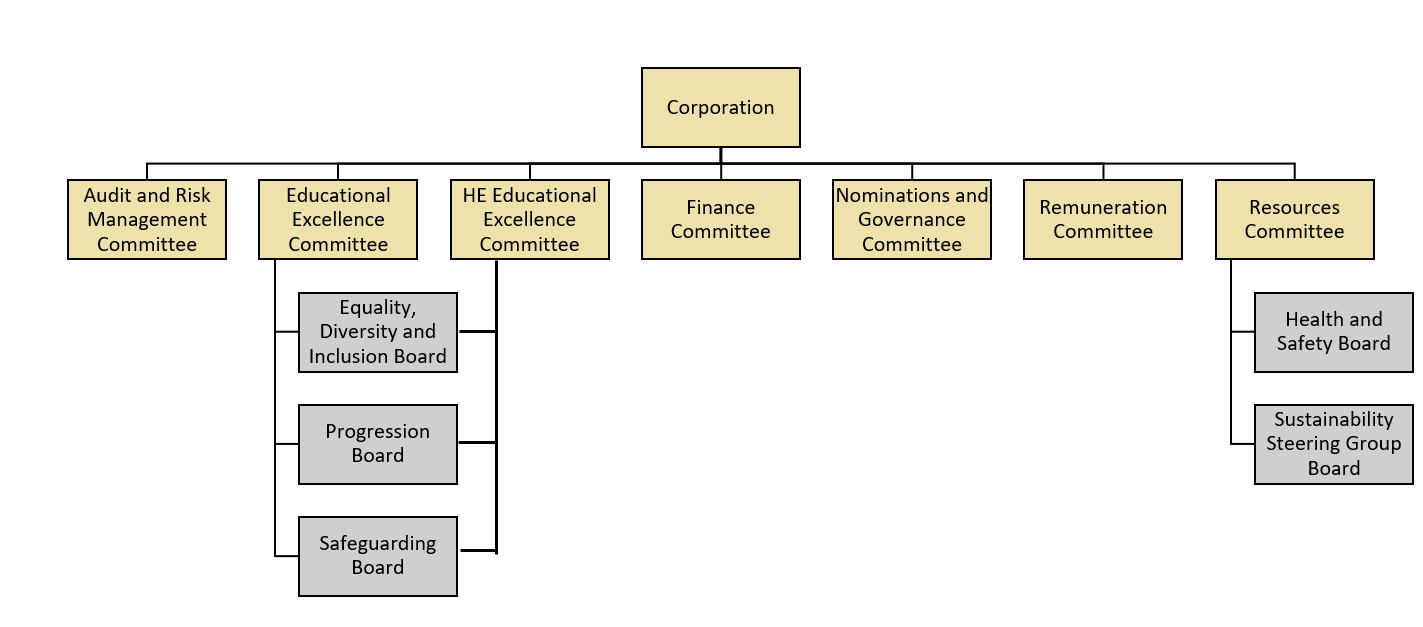 Note: Yellow boxes are Governance Committees; Grey boxes are Executive Boards with a Governor lead in membership which advise and feed into the Governance Committees.
Terms of Reference
Whilst the Corporation has ultimate responsibility for all governance matters, in accordance with its Instrument and Articles of Association it may delegate certain responsibilities. Detailed information on how the Corporation delegates its responsibilities; the roles of Governors and Committee members, Executive and the terms of reference of the Corporation and its Committees can be found in the Corporation's Standing Orders and Scheme of Delegation.
In addition to Governors and Committee members, the Corporation also has Governor Leads (responsible for oversight of a key statutory responsibility such as Safeguarding) and Governance Links (responsible for oversight of an area of operation across the College).
Governance Meetings
The Corporation's schedule of meetings can be found here. The Corporation determines the membership of each Committee, based on the skillset required by the Committee and the skillsets held by the individual. Meetings are run as hybrid meetings (i.e. with the option for virtual or physical attendance). Papers are circulated in advance (7 days prior for Corporation and Committee meetings) by the Clerk. Papers and minutes are stored and available on GovernorHub.
Once a year (in January), everyone involved in governance at both WSC and the Trust come together (physically) to discuss the strategy of the respective institutions and for the Group overall. In preparation for this annual Strategic Conference, WSC and the Trust hold monthly virtual Briefing Strategy Seminars which discuss strategic issues affecting our sector, region, and/or community.
In addition to governance and strategy meetings, everyone involved in governance is expected to participate in induction meetings (when new in post) and training sessions (throughout their term of office) to keep up to date with the latest information, guidance and best practice.
Key Policies
Key Information
| | | |
| --- | --- | --- |
| | Purpose / Summary | Mandatory / Advisable |
| | Describes the governance framework and requirements of the College. | Mandatory reading |
| | Describes the standards of conduct and accountability which are expected of Governors and Committee members, including any legal and ethical duties. | Mandatory reading |
| | (also known as the Nolan Principles) Describes the principals by which all people involved in governance must uphold. | Mandatory reading |
| WSC's Standing Orders, Key Policies and Scheme of Delegation | Describes the governance structure of the College and how responsibility is delegated. | Mandatory reading |
| | Describes the legal and regulatory requirements that apply to FE corporations as charities providing education. It also summarises recommended practice for effective governance. | Mandatory reading |
| | Describes the governance responsibility to safeguard and promote the welfare of children | Mandatory reading |
| | Describes the outcome of Ofsted inspections including their judgements on (1) quality of education, (2) behaviour and attitudes, (3) personal development, (4) leadership and management; and areas for development. | Mandatory reading |
| WSC's Annual Self-Assessment Report and Quality Improvement Plan | Describes the College's academic quality and outcomes for the previous academic year and the areas for further development for the current academic year. | Mandatory reading |
| | Describes the governance and financial responsibilities of Colleges | Mandatory reading |
| | Describes the College's financial accounts for the previous academic year and summarises the College's performance, objectives and strategy, and its compliance. | Mandatory reading |
| | Describes the knowledge, skills and behaviours needed for effective governance in Colleges | Advisable reading |
| | Describes the process of Ofsted inspections including the method by which it makes its judgements on (1) quality of education, (2) behaviour and attitudes, (3) personal development, (4) leadership and management; and areas for development. | Advisable reading |
Useful Links