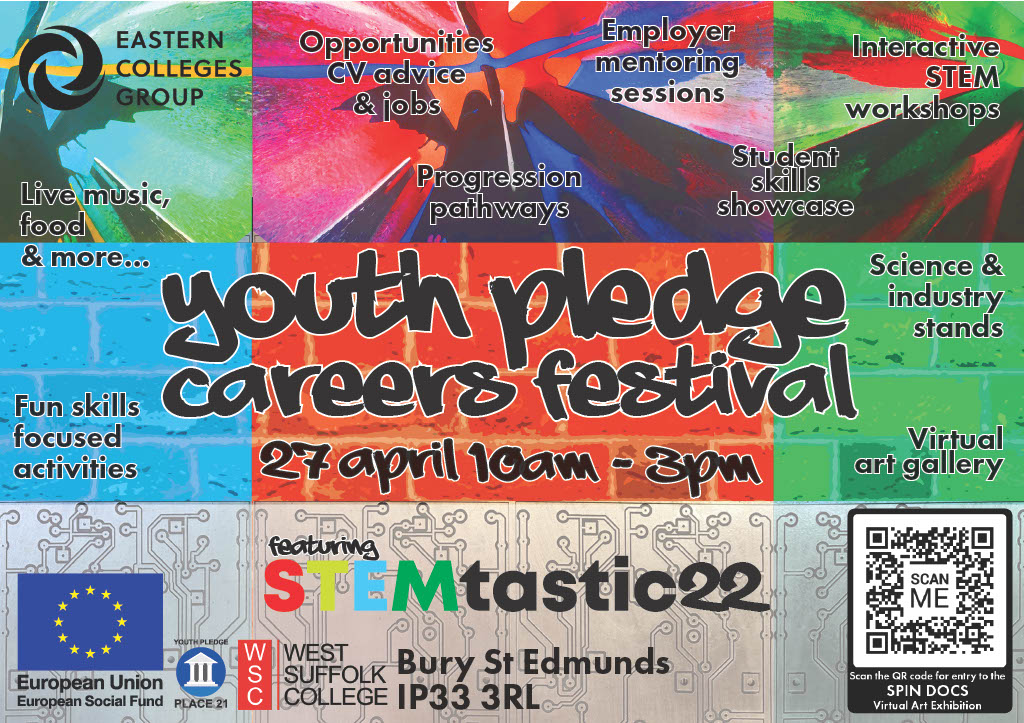 Since its inception, the Youth Pledge Careers Festival has aimed to turn careers fairs upside down by showcasing the future workforce to employers and helping our students to stand out as outstanding. There will be exciting performances by music, dance, and theatre departments on the main stage as well as exhibitions of student art, digital technologies demonstrations, culinary arts workshops, interactive film, and media displays, motorsports and engineering activities, tours of our animal studies centre, EDI and Sustainability talks, business and finance competitions, sports and fitness challenges, face painting and barbering demonstrations, all led by our incredibly talented students. Along-side will be an extensive Job Shop with careers advice, SME employment opportunities, CV and interview mentoring sessions, as well as a chance to interact with bigger employers like HMP, EDF, the NHS, HSBC, the RAF, and Army all of whom are providing exciting hands-on activities for students to participate in.
The Youth Pledge Careers Festival is supported through the European Social Fund and PLACE21's RYPE initiative, a part of the Strategic Growth & Partnerships Department of the Eastern Colleges Group. This year is bigger, better, bolder and brighter than ever before and we are very pleased to be hosting the college's STEMtastic22 event as part of the wider festival, thus increasing the number of exhibitors and stands to 50+ and also welcoming pupils from across the region's Secondary Schools to come and engage with their future through a day of fun-fuelled learning and exciting opportunities.
Please email This email address is being protected from spambots. You need JavaScript enabled to view it. to register.
SPIN DOCS Exhibition
SPIN DOCS This exhibition of self-portrait mixed media artworks results from a series of creative workshops with Level 1 & Foundation students from Healthcare, Business Studies, and Culinary Arts. The project was created by PLACE21 with ESF funding as part of the Curriculum Initiatives Department of West Suffolk College. The SPIN DOCS exhibition is at the heart of the 2022 Youth Pledge Careers Festival, it's aim is to develop student skills and enhance employability through the development of their CVs and in particular the writing of personal statements.
It is not an easy task for students to write about themselves, the art of putting a positive spin on who we are needs teaching. For this reason, the SPIN DOCS project was developed for our RYPE and NEET students. The focus is on improving those self-awareness, self-esteem, and self-promotion skills vital for a good cv. The students sourced images from digital and print media, that represent their abilities, interests, passions, hopes, and dreams. These were used to create collages that form the backdrops to their self-portrait art pieces. Next came the opportunity to work with a professional multidisciplinary artist who introduced them to the work of Damien Hirst, his spin painting processes and his intrinsic ability to self-promote, key to his incredible career. Each student then worked 1tol with the artist and used a spin painting machine to create canvases that, once dry, they cut to their individual silhouettes. These spin painting elements were then placed onto their background collages to create the very individual artworks displayed here. Each is a showcase of the student's skills, who they are, what they want, and their hopes for career progression and further educational goals.
By creating visual personal statements in this way it has helped students to use the icanbea.org platform to develop stronger, more comprehensive CV's. Having the opportunity to exhibit their work in this fully navigable, virtual reality, professionally curated gallery space has boosted their confidence and in conjunction with icanbea.org, has increased their employability.
The exhibition is live from 26th of April to the 26th of May 2022.
View the exhibition here: https://publish.exhibbit.com/gallery/161078632/two-rooms-86934/
Programme and Map