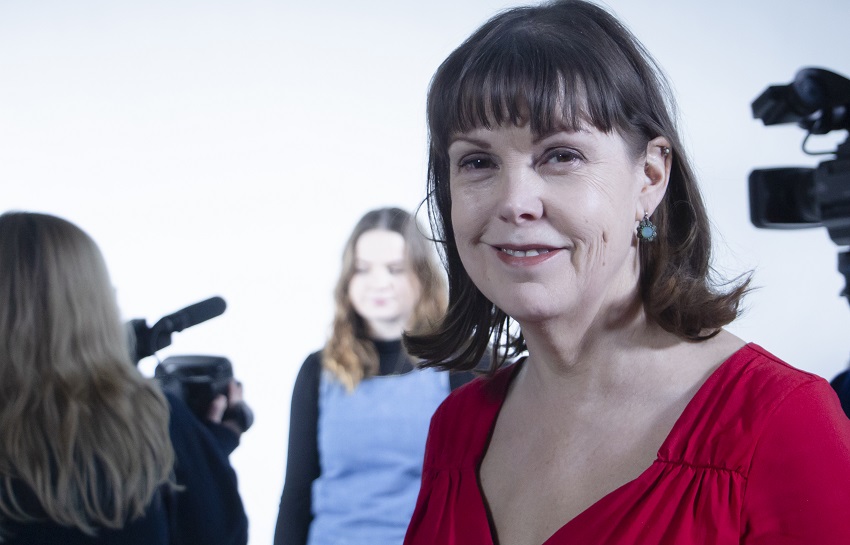 Pictured: Linzi Stivey who is supporting Mark Jones in creating the Journalism and Broadcast course.
A frosty morning in January, in London, 4.30am. I find myself being escorted around a complex of buildings, logos competing, announcing Sky TV, Sky Creative Studios, Sky Sport. I had arrived at the Sky News studios.
Desks drowning in monitors, an infinity of TV screens, all playing different broadcasts.
I was there to shadow Jacquie, Sky journalist, to get an insight into her world. As a reporter on the Sunrise Sky News morning slot, Jacquie's day is full on. Everything is done at high speed. Researching quirky sports stories to report on, talking to her producer, walking, swiping security passes, running up stairs, makeup transformation, running down stairs, pushing through doors with an 'on air' sign above it. Three presenters were sitting around a desk, 'Sunrise' in large shiny letters behind and four large cameras up front. I assumed I would have to be quiet, not at all. Crew chatting whilst only meters away the presenters were live on air.
Headset on; suddenly, not only could I hear the presenters delivering news stories with dynamic intonation, cutting to live external reporters and the crew chatting in the studio but a whole other world was revealed; the gallery. During my visit there were technical issues in the studio; I could hear cursing technicians, panicky reporters, the camera operator being asked to test again and occasionally the voice of a very laid-back producer calling camera shots. Jacquie's day finished at 10am, however a myriad of journalists work nonstop over the 24 hour day, along with editors and cameramen creating non-stop news for the public not just on television but on many multi-media platforms.
This is a fast growth industry. TV, Film and media technology is evolving. The independent TV sector has shown steady growth at 1.9 per cent per year since 2012, equivalent to roughly £50 million per year. Commissioning revenue from overseas on-demand services (such as Netflix and Amazon Prime) also increased by 19 per cent year-on-year and accounted for nearly one third of international commissioning revenue. The spend on factual entertainment commissions has almost doubled since 2012 according to Pact's annual census published in September 2018.
It's fantastic that UK content is so sought after and that it contributes so much to the economy. And yet the government are cutting the arts from our curriculum!
Fortunately, West Suffolk College is bucking that trend and is investing in this area, through the launch of a new Journalism and Broadcast course, starting in September 2019. Hence the reason I was in the crazy world of early morning TV at 4.30am!
It's an exciting and dynamic move. We are responding to an industry need, and an educational gap in the market.
Now we can all accept that the world of journalism and news production has changed.
News programming can be found in a bewildering array of formats and not just via the traditional TV news bulletin. Online platforms add to this diversity and all of the traditional broadcast outlets now have web-based components. Some news channels are even designed to produce news only for smart phones. Yet, despite these fundamental shifts in the media marketplace, some things have not changed. That is because there are a series of core skills that will always be needed in broadcast journalism.
You must know how to shoot, script and edit voiceovers. You must be able to research, produce, shoot, write, narrate and edit news packages. You must be able to create in-depth interviews. Equally important, you must be able to function in a studio-based environment. On-camera skills are first learned and then honed. No one knows how to read copy from a teleprompter, or how to introduce field reports. Producing news is a complex, collaborative process. Working behind the camera is just as challenging as working in front of it.
These are acquired skills, relevant across all media platforms. They are the foundation of hard news, sports news, entertainment news and virtually every other form of broadcast journalism, both on-air and online. Fortunately for us we have Mark Jones who has an extensive career in broadcasting prior to him commencing teaching and who has grand plans for the course and online broadcasting presence.
Journalism has changed, but still offers a vital and varied career path and I am excited about supporting Mark in developing this new, and relevant course.