What a dull life it would be if it wasn't for dedicated and imaginative people like you, determined to make the rest of us look good and feel great every day. Fashion plays a big role in maintaining the vibrancy of our world as well as our wardrobes. It's an exciting industry with many opportunities and big rewards if you are hard working and talented.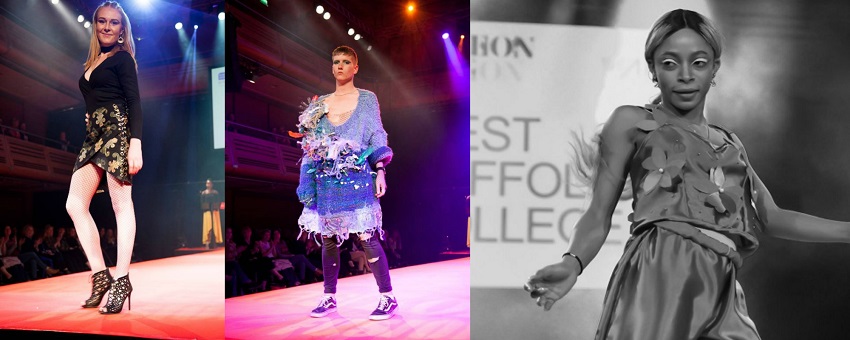 What's it all about?
Fashion is part of the School of Art and Design; it's an exciting, buzzing and unconventional world filled with students and staff devoted to the subject.
It's a creative area that offers more opportunities than clothing design. If you love the subject, it's a perfect place to direct your talent for marketing or publicity as well as design or fabrication.
And don't think it's just about the runway; fashion is just as influential in sport, interiors, furniture, footwear and nature.
What will I do?
You can choose between two courses, fashion and textiles – for practical design and production – and fashion media and promotion, if your talent lies more in photography, marketing and PR.
Each course has its practical side, whether designing and making garments, running a photoshoot, or style blogging. You will also look at the historical and cultural aspects of fashion as well as the business skills that underpin everything.
Where could it take me?
Both fashion courses at West Suffolk College provide a solid platform for further study at university or for direct entry into industry. Last year the split was about 80:20 uni to work.
In 2017, every student who applied for university was accepted. Last year, students progressed to prestigious universities including Central St Martins, London College of Fashion, and Nottingham and Trent.
Our amazing industry connections also create opportunities for work experience through live projects as well as opening doors for work, generally though traineeships in creative industries.
What people say
"Fashion is a dream job. The creativity and glamour sparkle, but individuality, team work and hard graft are what you'll need."

Sophie Lachowycz, Course Director