As a friend to the animal kingdom, you know that they deserve at least as much respect as people. Under expert guidance you'll discover how to ensure all our animals stay fit and furry, hale and hairy, or lithe and lizardly.
Location of Animal Studies courses:
West Suffolk College, Bury St Edmunds, Suffolk IP33 3RL
Follow us on Facebook | Watch videos of our animals and Animal Studies Centre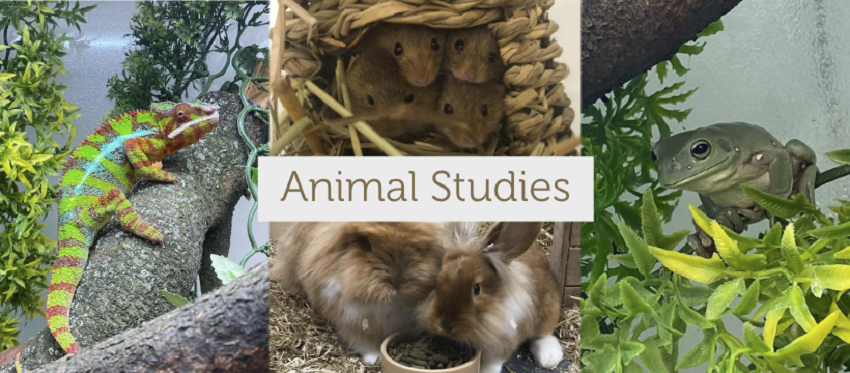 What's it all about? 🐐
Animal Studies covers a number of diverse fields, so our courses are designed to teach a variety of transferable skills that will support our learners with their many different career aims – from veterinary nurses and zoo keepers, to pet store assistants and wildlife rehabilitationists!
Our Animal Centre, based at the main campus in Bury St Edmunds, houses a variety of different species of animal from Amazonian Milk Frogs to Zebra Mice! Practical sessions within the Animal Centre are reinforced by theory sessions undertaken in the classroom to ensure our learners have the highest level of skills and knowledge required to work with a range of animals.
What will I do? 🐇
Your time will be split between practical sessions in our new Animal Centre and theory sessions set within the classroom.
During practical sessions you will be responsible for undertaking the daily husbandry tasks necessary to provide high standards of animal welfare for our collection. You will be taught a range of handling and restraint techniques, how to undertake thorough health checks, accommodation maintenance and how to provide adequate diets to the animals. Theory sessions will cover a range of information including animal health and husbandry, feeding and nutrition, animal behaviour and health and safety. During this time we will also be inviting in guest speakers from industry and undertaking day trips to a variety of animal establishments.
Where could it take me?
As an introduction to the animal care sector, our courses could lead you into further study via internal progression or onto a degree in animal science, zoology, wildlife conservation or veterinary science.
The practical skills and knowledge combined with our industry connections could lead you directly into working in areas such as veterinary practices, animal welfare organisations, zoos, pet and equestrian retail, kennel and cattery boarding establishments etc.
What people say
"I enjoy my course because we get to work with a range animals which continues to expand, giving us lots of experience in handling and restraint as well as learning about their diet, natural habitats and general husbandry requirements which will help me gain my ideal job as a veterinary nurse."

Hannah De Oliveira Lloyd, studied Level 3 Advanced Technical Extended Diploma in Animal Management Year 2 🐐
"This course has a very personal touch. The staff are very friendly and approachable and are always positive and enthusiastic about the content they teach, inspiring me to progress on to a BSc in Wildlife and Conservation after I finish my course."

Matilda Parr, studied Level 3 Advanced Technical Extended Diploma in Animal Management Year 2 🐇