Kayleigh Davies
I decided to pursue the Health & Social Care National Diploma Level 3 course because it would help me reach my goal of going into higher education. College has enabled me to understand all aspects of Health and Social Care and the importance it has in society. I have developed a set of skills needed to become a health care professional through different work experience placements.
The course enabled us students to take the opportunity to undergo placement at West Suffolk Hospital, it helped me develop a set of skills needed for the future and help me understand all aspects of pursuing a career in adult nursing. I was given a fantastic opportunity to go into go theatre and watch Service Users undergo Angiograms and Pacemakers.
Overall college has allowed me to develop a set of crucial skills needed for such a prestigious workforce. I am excited to have been accepted and I am taking a place at Anglia Ruskin University to study Adult Nursing in September 2020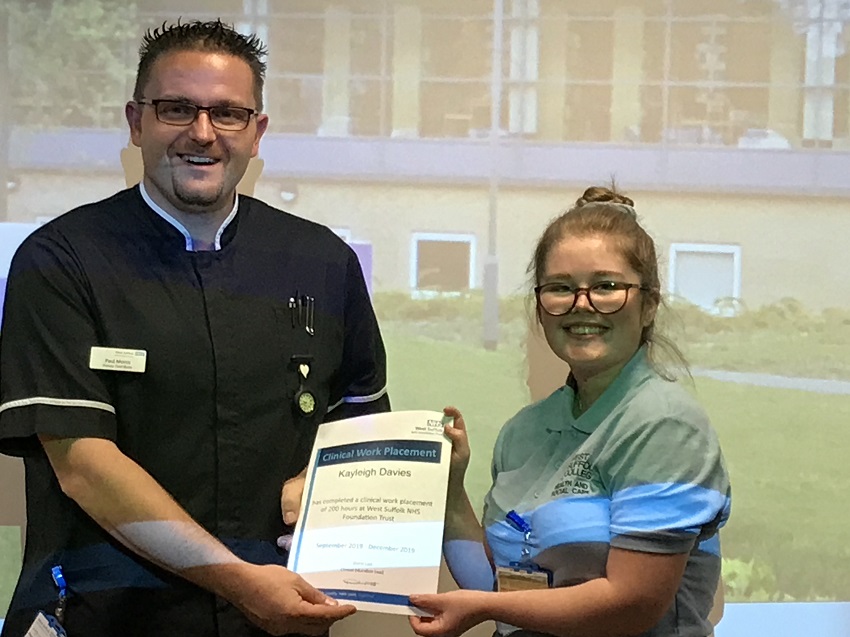 Jess Price
I specifically chose BTEC Level 3 Extended Diploma in Health and Social Care because I knew I could achieve the necessary grades I would need to progress into university and become an adult nurse. Doing this course has supported and encouraged both my personal and academic skills. I can now say I am a confident note taker, I am able to organise my own revision schedule and I am able to write my assignments in a formal and professional format. With regard to the development of my personal skills during this course, I have increased my communication skills, my dedication to learning and I have the ability to work in a team.
I have thoroughly enjoyed this year; I have been supported by my peers and lecturers. My favourite subject in this course was Anatomy and Physiology, it was so interesting and a crucial part of my career plan. Even though it was the hardest and there were some topics within it that I struggled with, my lectures came up with ideas to support me with revising and I never gave up.
After this course, I hope to progress to the University of East Anglia to become a student nurse in Adult Nursing! I also hope to complete a Nursing Master Degree, after I have graduated.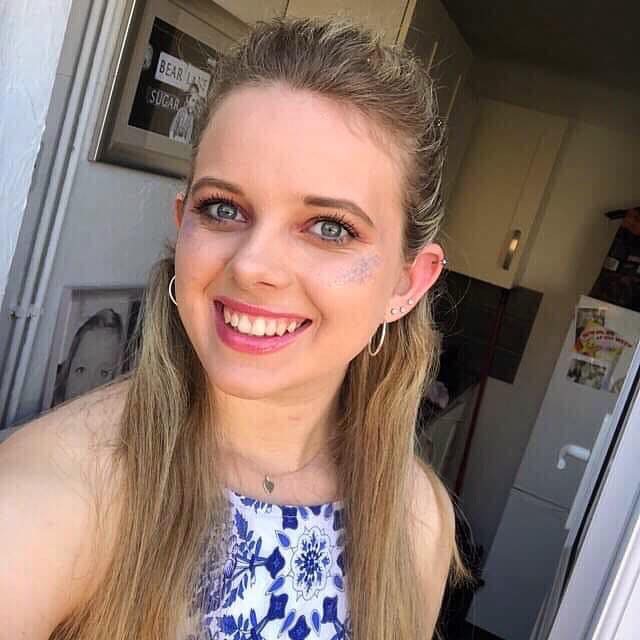 Daisy Simons
Extended Diploma Health and Social Care
I chose to do Health and Social Care because I knew I either wanted to be a paramedic, or a nurse. For me, this course seemed really relevant to my future career goals, and the idea of placements was really exciting to me. Being in college has helped me grow my academic skills over the past two years. I've learned how to successfully prepare for exams and complete assignments which have given me an insight into the expectations of university. The tutors are incredibly supportive and are there to guide and nurture you from day 1. The placements are definitely the highlights of the course for me. In year 1, I completed 200 hours of work experience in North Court Care home with the activities team. I learned so much and made many close friends too. Seeing health and social care in action really helps you to understand what you're being taught in the classroom. I loved my first placement so much that I ended up continuing to volunteer there for a further 6 months. It was this initial placement that helped me to decide to apply for adult nursing over paramedic science. In year 2, I was lucky enough to be able to complete my second 200 hours in West Suffolk Hospital. I worked alongside a nursing assistant and learned so much about nursing in a hospital ward. Placements help you to develop the real skills you need for a job in health and social care. For example, until you enter a placement setting you don't realise how important communication and teamwork skills are! I applied to do Adult Nursing at the University of East Anglia and have been offered a place. This course showed taught me so much about the sector I want to work in, and I loved every minute both in college and in my placements.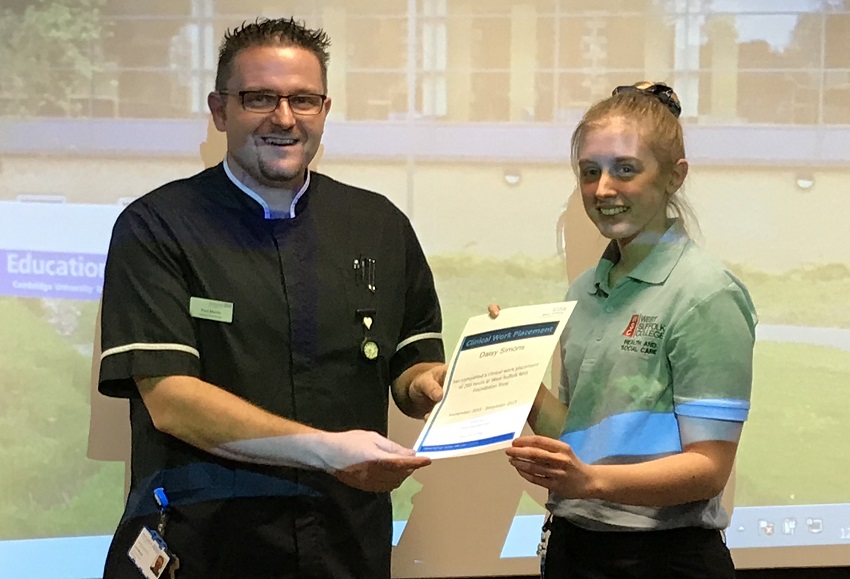 Lauren May
I would highly recommend Health and Social Care at West Suffolk College. I personally chose the course because I liked the idea of being treated like an adult. I also really like the layout of the course where It was assignment based with 2 exams each year rather than all exams. This course has helped me develop many skills which I wouldn't have achieved if I decided to go to sixth form. I've been given so many opportunities from completing a placement at both West Suffolk Hospital being hands-on with patients who needed support and completing placement at St Nicholas Hospice Care. I know work experience sounds like such a drag and I personally really wasn't looking forward to it but once you are in your setting making a difference I promise, it is so worth it. As well as the skills and insight into the health care setting, I have gained many academic skills from knowledge on the sector to teaching me academic skills I will need when I attend University such as being able to correct Harvard reference. I liked attending college as you were treated as an adult, you didn't need to put your hand up and ask to go to the toilet, you were allowed to go to the library and just get on with your work and you were given independence. I loved making new friends and having fewer students to a lesson so the lectures can provide help whenever you needed it. I really enjoyed my time at West Suffolk College and without their support I wouldn't be taking the next step in my journey on becoming a nurse.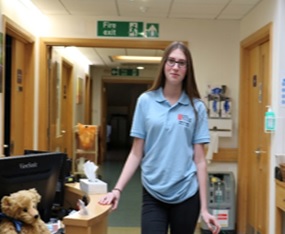 Heidi-May Nunn
Level 2 Technical Diploma and Level 3 Extended Diploma in Health and Social Care
Why did I choose the course?
I chose the course due to my family being an influence on me with the medical route. My brother is a paramedic and my mum is a nurse from where that persuaded me to pick this subject. I would also say how I am a caring, passionate, and kind-hearted person, and caring for others really means a lot to me to give back.
How has the course helped me develop my academic and practical skills?
I have learned a lot with my subjects and my teachers have taught me a lot of what is needed within our society. I came to the course with little knowledge and a lack of confidence but from my placements and making friends, I have come out of my comfort zone and gained that independence. You learn a lot from the assignments from safeguarding to legislations, anatomy, and physiology plus so many more have helped especially with my placements.
Where am I expecting to go after the course?
Throughout my time studying this course, I have remained conscientious, focused, and driven to achieve my chance of going to university to study adult nursing. Originally, I wanted to be a midwife, but my plans got changed due to my work placement at West Suffolk College where I worked as a nurse assistant. I have already been given a place at my dream university which is University of Suffolk in Ipswich to carry on my future career in Nursing.
Work Placement:
Considering I had to do 3 years of health and social care, I was lucky to do 3 years of different work placements which were all very exciting because they taught me new skills and techniques and also gave me a close insight into what happens within a health or social care sector. During my first year I was placed within a learning disability home where I played games, socialised, pampered and looked after the service users. My second year was at a head injuries sector which was a day centre full of design and art activities. I communicated with service users the whole time and helped them with their crafts. However, in my third year I was very lucky to be given the opportunity to work within a hospital at West Suffolk Hospital. This gave me an in-depth insight into how it would be to work in a clinical setting. Considering this is where I wanted to be in the future, I think this is a way of knowing if being a nurse is for you because you see a lot of things, it isn't the television but reality. I was put on the respiratory unit where I needed to provide for their needs because all individuals are different with physical, psychological and social needs.