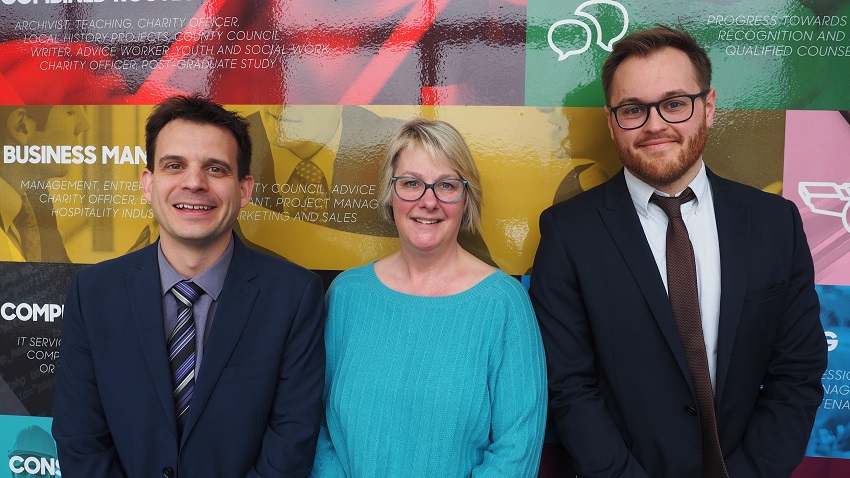 L to R – Gavin Tash, Head of Partnerships at the UEA, Rachel Kirk, Assistant Principal Higher Education at West Suffolk College and Steven Monsey, Academic Partnerships Manager at UEA.
An exciting partnership between Degree Studies at West Suffolk College and the University of East Anglia (UEA) will see UEA validated degrees delivered on the Degree Studies at West Suffolk College campus from September 2019.
Initially the prestigious university has validated a BSc in Live Sound, but the anticipation is that the partnership will spurn a whole portfolio of new degrees for the campus in the future, as well as providing dynamic collaboration opportunities with curriculum teams and students.
This new collaboration will see UEA degrees offered without the need for students to travel to Norwich, making getting a degree more convenient for local students. It is one of many innovative collaborations for Degree Studies at West Suffolk College, including the established relationship with the University of Suffolk and the University of Cambridge's Institute of Continuing Education.
Rachel Kirk, Assistant Principal for Higher Education at West Suffolk College said: "We are delighted to be working with the University of East Anglia to offer an exciting and very career orientated new degrees. UEA is an exceptional higher education institute and we share with them an unquestionable ethos of excellence. We are thrilled to be partnering with them."
Rachel added, "We have been working on expanding our HE provision for a while now, and we are delighted to be able to strengthen our extensive degree programme with these very exciting new courses."
Professor Neil Ward, Pro Vice Chancellor (Academic) at UEA, said "UEA is delighted that West Suffolk College is joining our established network of academic partners and we look forward to the College's students studying towards UEA awards from September 2019. This new partnership reinforces UEA's commitment to higher education in our region and we are excited to be working with West Suffolk College to support the further development of its provision."
The Higher Education team at the college has been working closely with UEA to develop a working relationship that will benefit local students and employers. West Suffolk College hopes to work closely with subject specialists at UEA in order to strengthen the content of degrees now and in the future and provide opportunities for collaboration with curriculum teams and facilities.