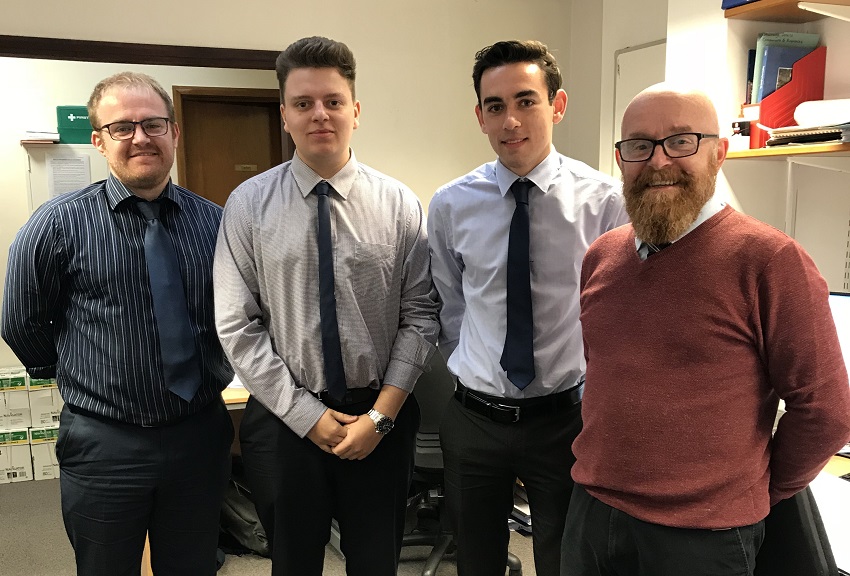 Left to right: Nathan Parker, Joseph Rolph, James Bowers and Jonathan Parker at the Morrish consulting Engineers office.
Morrish consulting engineers have hired two West Suffolk College engineering apprentices encompassing their company vision to encourage and enthuse future engineers.
James Bowers and Joseph Rolph are both working as Engineering Technicians at Morrish whilst studying alongside this. James said "I am working mostly alongside the Senior Engineers on CAD drawings, you learn so much on the job and it's great practice.'
When questioned on why he wanted to go down the Engineering route James went on to say "I have been interested in Engineering from a young age, I love to see how things work and working at Morrish I get to see this first-hand."
Joseph had the same enthusiasm when asked what he does and explained that "I work on CAD details and also design calculations alongside some of the Senior Engineers. I wanted to get into Engineering as I have always loved seeing how things work and I love working as a Morrish as we do project work as a team where everyone can contribute."
Jonathan Parker, Company Managing Director of Morrish has 40 years' experience in this field and is a STEM ambassador looking to inspire young people across the region into pursuing a career in Engineering. Jonathan said "We are committed STEM ambassadors and we are always looking to reach out to young people in education to form a link with them. It is no secret that we are under resourced as a country when it comes to skilled engineers and we want to help change that."
As with James and Joseph, Jonathan followed the apprenticeship route and was lucky enough to have a mentor to pass down their knowledge. As a mentor now himself Jonathan said that "As professionals I feel we have a social responsibility and the necessary knowledge to educate these young people. I would encourage any business to work with apprentices, in fact I can't see why you wouldn't want to take on an apprentice!"
James is working on his Engineering diploma whilst working in the office two days a week, this will lead him onto a part time degree which Morrish will support. Joseph has just completed his diploma at West Suffolk College and is now working on a degree again supported by Morrish.
When asked how the students are getting on Jonathan explained that "They are both well ahead of where we would expect them to be at this stage. They have exceeded expectations in all aspects. They are growing with us and they have a great work ethic. The sky is the limit for these two."
This sentiment was echoed by Nathan Parker, Associate Director and also Jonathan's Son who said "They are doing work we would expect to see after 3 or 4 years, not 3 or 4 months so they are in a great position, it's exciting to see."