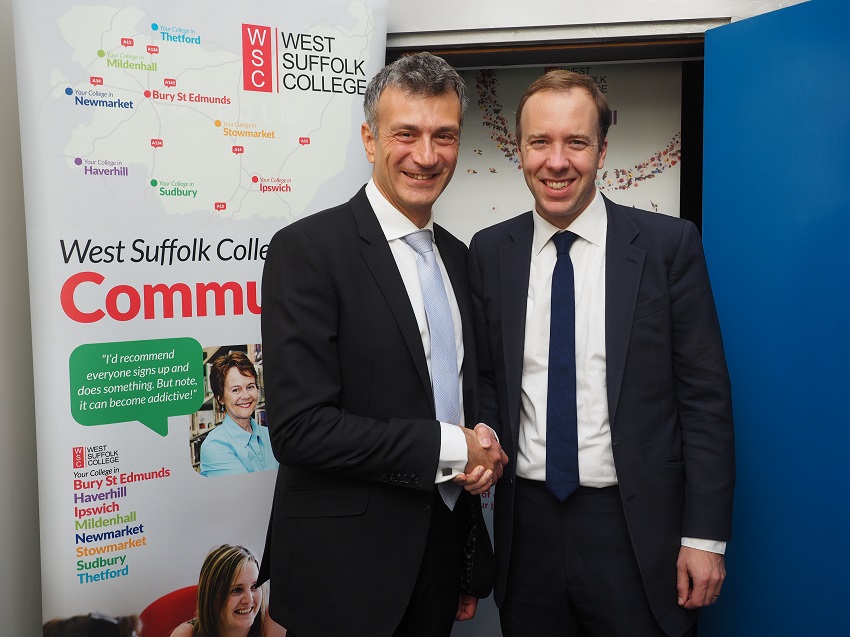 Dr Nikos Savvas, Principal of West Suffolk College with Health Secretary and MP for West Suffolk Matthew Hancock, who opened our new Haverhill campus on Friday 28 September 2018.
An adult education college that is offering opportunities to more than 150 students in a Suffolk town has been given the seal of endorsement by Haverhill MP and Health Secretary Matt Hancock.
West Suffolk College's Haverhill Centre has seen numbers continually grow since they moved into new premises in Park Road earlier this year.
The positive impact the centre is having on adult education within the town was praised by Mr Hancock, the Secretary of State for Health and Social Care, after he visited the facilities on Friday.
Mr Hancock said: "I was so pleased to open the Haverhill branch of West Suffolk College.
"It is fantastic news for students in Haverhill who will be able to benefit from the dedicated teaching the college has to offer, all on their doorstep.
"The reputation of West Suffolk College is excellent and the range of both academic and vocational courses offered in Haverhill is incredibly wide – there is something to suit everyone.
"Having a branch of West Suffolk College in Haverhill is an hugely welcome addition to the town."
Mr Hancock was shown around the centre, which is on the site of the former Parkway Middle School and offers more than 50 part time and leisure learning courses – from psychology to flower arranging, photography to English and maths.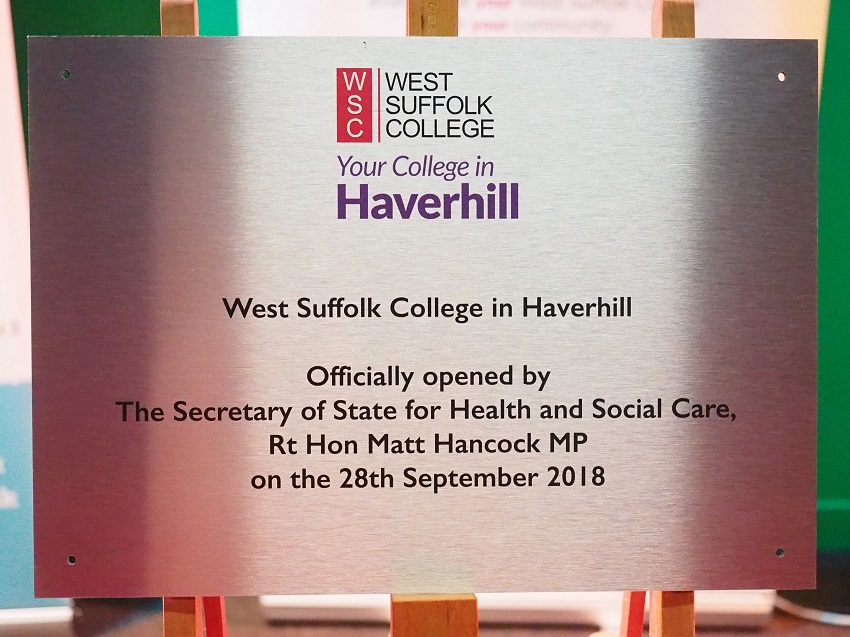 Laraine Moody, Vice Principal Employer Engagement at the College, said: "West Suffolk College is delighted to be firmly establishing themselves as part of the Haverhill community by providing something that is tailored to the needs of local people.
"We are very keen to hear from local businesses and local organisations to understand what skills are still needed for employers and employees as well as those wanting to leisure learn.
"We would like to thank Matt Hancock for attending and supporting our plans in the town."
Centre manager Elaine Simmons added: "We have had a strong presence in Haverhill for the last 15 years.
"But to move to a natural school environment, while also offering disabled access and ample parking, is a big plus.
"There is a real thirst for knowledge among Haverhill's mature students – and the numbers are rising.
"The reasons behind this vary from those looking to improve on existing qualifications to those wanting to start a business or indeed a new hobby."
To find out more about the college's growing number of courses in Haverhill, please contact West Suffolk College in Haverhill.