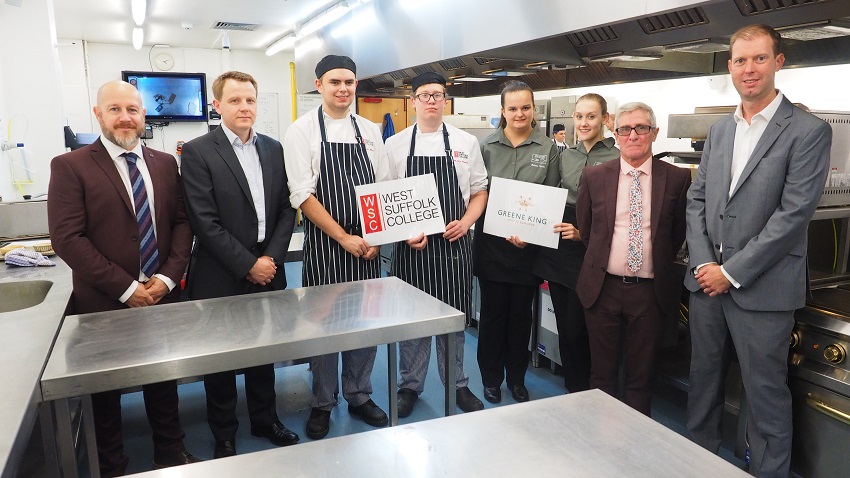 Pictured: Greene King with West Suffolk College hospitality and cookery students in Edmunds.
West Suffolk College and Greene King have announced an exciting new partnership in a bid to inspire people to develop a career in hospitality and to support the culinary experts of the future.
Greene King is sponsoring the College's Junior and Adult Chef Programmes which kick off in September and will offer an appetising menu of learning alongside the College's existing programmes for 100 of its Culinary Arts students. The Junior Chef programme, which runs on Saturday mornings for eight weeks, is aimed at 10-15 year olds who are looking to sample cooking for the first time and the Adult Chef programme will include more competitive style competitions as well as lectures and work experience.
Phil Stittle, director of business development, added: "We have been successfully running our Junior Chef Programme for the last three years. The young participants on the programme get a great insight into what being a chef is really like. They make all meals from scratch and also deliver a service at the end of the course to their friends and family. We have had really great feedback and ambitions to become chefs have been ignited. If we can link that enthusiasm to a potential career with employers like Greene King, then hopefully a supply chain of people coming into catering will be established. With Greene King's support we are making it more affordable for all to participate and we are extremely grateful to them for working with us."
Mike Mulvihill, director of service industries at West Suffolk College, said: "With Greene King's excellent brand name and reach within the region, we know they will offer some great placements for our students to learn valuable skills from, which puts them in a very strong position to go onto achieve full time positions or apprenticeships. It's exactly what our education offer is all about, getting our students real life experience in exciting and well known organisations such as Greene King."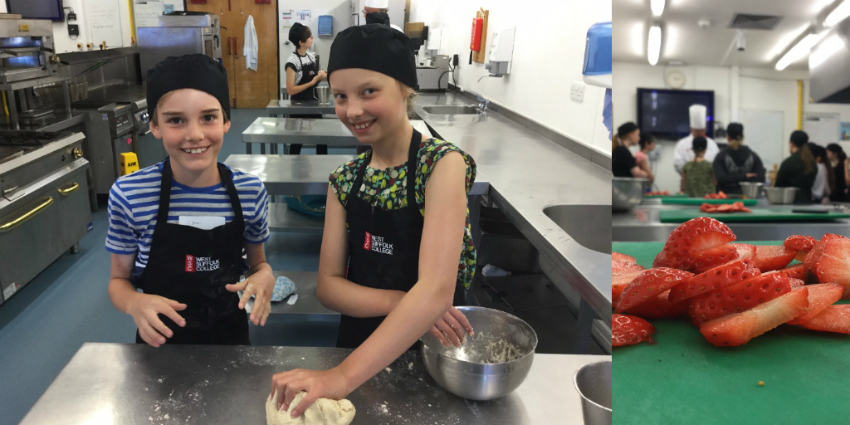 Andrew Bush, group HR director at Greene King, said: "Supporting young people in developing a career in hospitality is something we are really passionate about at Greene King. From our Get into Hospitality training programme with The Prince's Trust to the 11,000 apprentices we have already supported on our award-winning apprenticeship programme, we are always looking at new ways to help young people into work.
"Sponsoring the Junior and Adult Chef programmes at West Suffolk College is a great opportunity to work with students in our hometown. But there is also a recognised skills shortage for chefs in the UK and we hope supporting this course will help the industry as a whole. We are really keen to develop talent in the Suffolk region and hope the students will go on to enjoy an exciting career in hospitality."
The next Junior and Adult Chef programmes start at the end of September and full time Culinary Arts courses are still accepting last minute enrolments for this year, but places on all are very limited.
Junior Chef - Full for September 2018