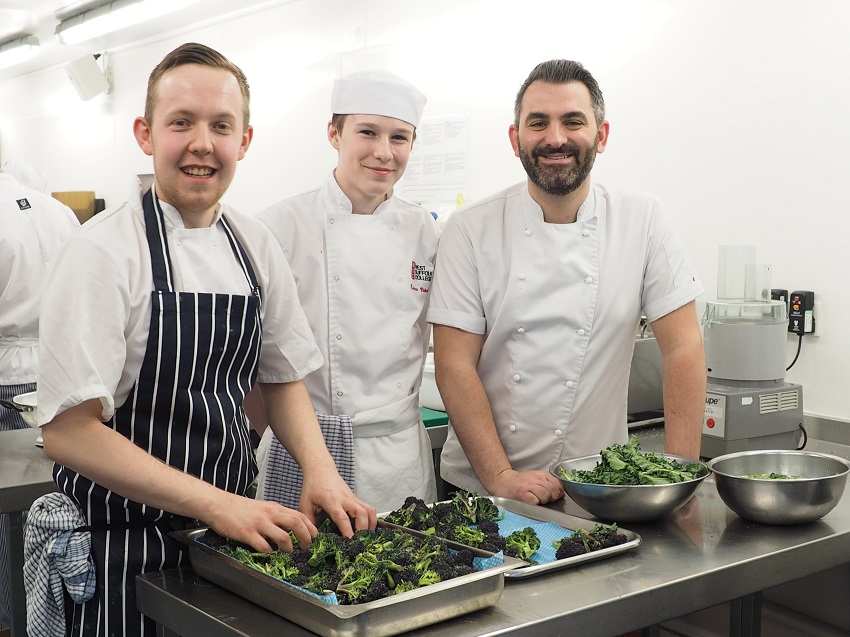 Jordan Baynes (left) and Lee Bye (right) with student Kieran Fishwick
As a student 17 years ago top Suffolk chef Lee Bye said he wasn't impressed with "too much theory and deadlines", so, now he comes in to inspire our students to give them a better future in the industry.
Lee is chef patron of the award winning Tuddenham Mill and we are very lucky that he has become involved in working with our hospitality students. It's part of our policy of giving our students real experience and contacts.
He says the hardest point for a student is when they leave college and make that transition to the workplace, "you sink or swim and I want to help prepare them for that move."
When he first came in last year he gave specially chosen students a taste of the industry when they helped prepare and serve a busy dinner at Tuddenham Mill. Student Kieran Fishwick, was "surprised at how busy it gets and you have to be quick." He found Lee easy to work with and supportive, working in the kitchens with him had been educational and he's learned a lot.
Kieran,16, is already aiming high by setting his sights on working in Paris, eventually opening his own business and aiming for a Michelin star.
Lee says "Inspirational leadership is the key in any success story for young people". He explained many wanted to work in average restaurants that offer more money and better days off, it was much harder to get them to put in longer hours in high quality restaurants and reap the rewards. But, the best needed to be attracted into top establishments.
Lee started at Tuddenham Mill as a commis chef working his way up to chef patron of the boutique hotel. To be as successful in the industry students need to commit themselves, be loyal, have a good work ethic and a good attitude so that they can also rise through the industry.
At West Suffolk College, he says he has found them keen, with the right attitude.
Lee plans to carry on with his close connection to hospitality students, inspiring their futures.