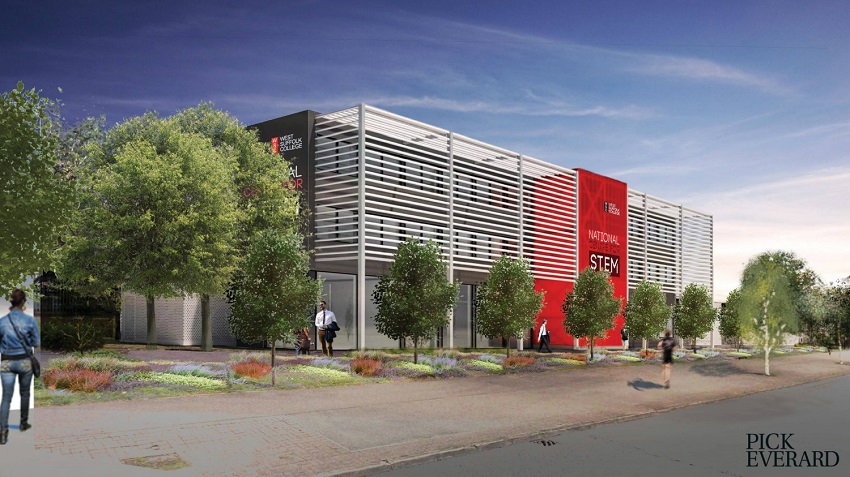 Gary Jefferson is overseeing the creation of the new Engineering centre in Bury St Edmunds.
When I was a child, I loved playing with Lego and Meccano so it only seemed natural that I should end up being an engineer. Particularly when I came from a large extended family with many relatives who enjoyed "tinkering" with various engineering projects.
At 14 I had an off road motocross bike and did all the upkeep myself, rebuilding the engine without a manual. By then I had already made the decision to go into engineering and never looked at another career.
So, after GCSEs, I became an apprentice with a manufacturing engineering company in Norfolk and attended college to study engineering.
At college I achieved distinctions in all subjects because I loved it! I really enjoyed designing and making things, finding solutions to problems and making the most of my creative thinking but logical mind.
My career has taken me from being an Engineering apprentice to general manager to Engineering lecturer and into my current role as executive director at West Suffolk College.
These are the sort of skills, drive and ambition that we need in students joining our exciting new STEM (Science, Technology, Engineering and Maths) centre, which is opening next year at Vinten's in Western Way, Bury St Edmunds. Just this week we took possession of the keys and aim to start renovations in the summer.
We are all very excited about creating a centre of excellence on the new STEM campus, investing £8 million to create the centre. It will provide technical training in Engineering, Sciences and Digital Technology at Level 3 through to undergraduate education, particularly at technical levels 4 and 5 as well as training for primary school teachers.
It's been well reported that there's a shortage of engineers, which is why we have created great courses that will get young people into an exciting career in all sorts of sectors, providing high value employment and uncapped opportunities.
Students could go into manufacturing or maintenance in aerospace, the armed forces, nuclear, oil and gas, rail and the renewable sector - or even the internet of things!
Some factories are almost fully automated now and robots are in all industries from producing cars to cutting the lawn and our students can be part of this massive growth area.
Our Engineering Pre-Apprenticeship course is ideal for people starting out, focusing on building broad-based practical skills and knowledge with a hands-on approach. In one year you get a qualification recognised by industry that will give you a head start going for an apprenticeship with local employers.
The Engineering Advanced Pre- Apprenticeship course is ideal for those progressing from the course above or those with some engineering experience. Building on previous skills and focusing on practical hands-on training and knowledge it can also help you get an apprenticeship.
Finally, our two year Engineering Pathway to University is ideal for students starting their technical career as it will give them UCAS points and knowledge of core competences needed for employment or a move on to university.
I worked for a number of years at the same company where I was an apprentice, progressing into production engineering, designing for the manufacturing process, and then as general manager at a company that manufactured power steering equipment.
I saw from my own experience training and recruiting apprentices that industry was struggling to recruit those with the right skills. So, I decided I would like to share my skills and knowledge and I began teaching.
Now I'm really pleased to see eager young people, just like I was, who are enthusiastic and keen to enter the world of engineering, where their careers will provide exciting global opportunities and excellent rewards.
It's very exciting to think you can be building lego models one minute then come to the college, train, and go onto a degree or a job where you are helping to build robots and embark on a great career.