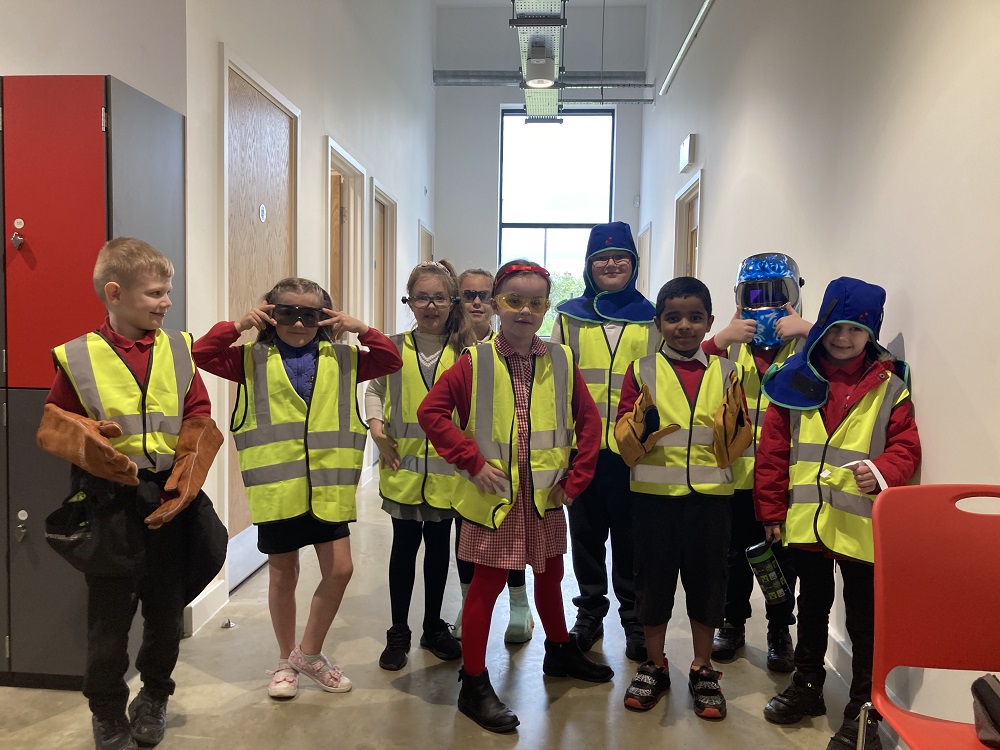 Pupils enjoying the first ever Skills Escalator Day at North Cambridgeshire Training Centre.
Over 100 youngsters from three schools in Cambridgeshire took part in one of the only careers events for younger primary school children (year two) in the country.
The 'Skills Escalator Day' saw a variety of industries create short interactive sessions for children aged between six and seven giving them a window in to the world of work.
The event took place at the North Cambridgeshire Training Centre (NCTC) in Chatteris.
This occasion was organised by West Suffolk College and Eastern Colleges Group and was supported by a range of organisations including Cambridgeshire Constabulary, Cambridge University Hospitals, Stainless Metalcraft, Miganglia, MJS Construction, G's Fresh, and the Royal Air Force.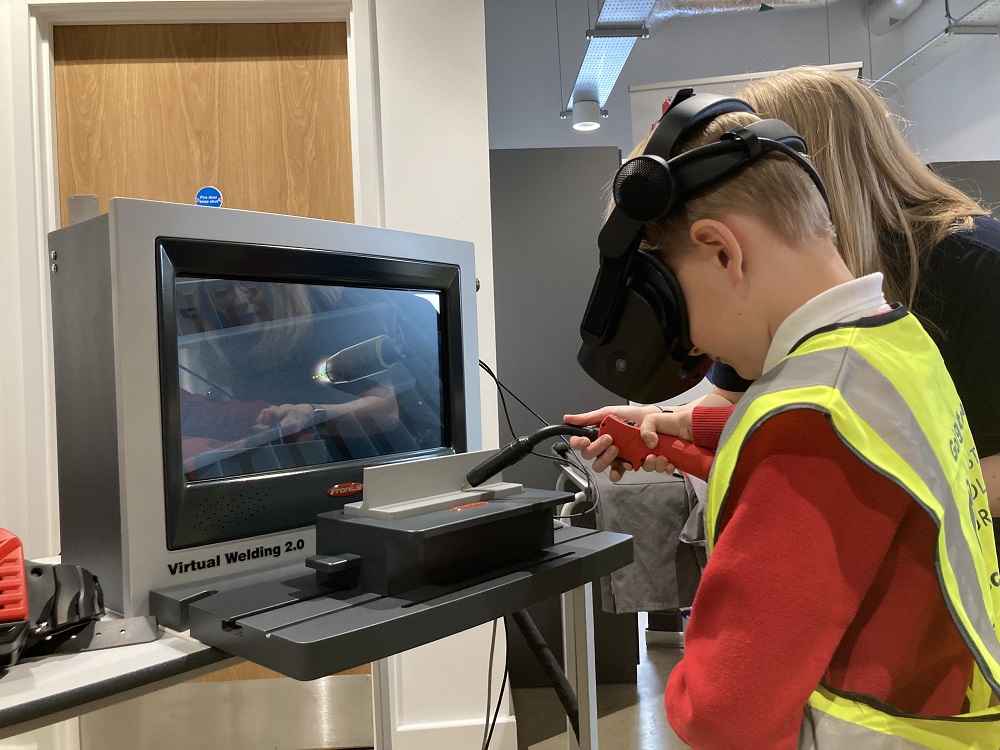 A pupil practicing virtual welding.
Organiser of the event is Victoria Fiebelkorn. The Skills Escalator Lead for the Eastern Colleges Group said: "It was wonderful to welcome every Year 2 child in Chatteris to the very first Skills Escalator Day at the North Cambridgeshire Training Centre.

"The Skills Escalator is about facilitating all sectors; education, local government, and industry, to drive the enrichment that effectively engages young minds, centring on inclusivity and raising aspirations to help a highly capable and prepared future workforce support our local economy. Many people question talking to such young children about the world of work, but the research clearly shows that young people begin forming opinions around the capabilities from an early age, and by eight years old they have formed incredibly strong opinions about their own capabilities based on their gender, ethnicity, socio-demographic background and the world around them. Skills Escalator Days are intended to blow those stereotypes out of the water, and our passionate and enthusiastic businesses and organisations certainly did that.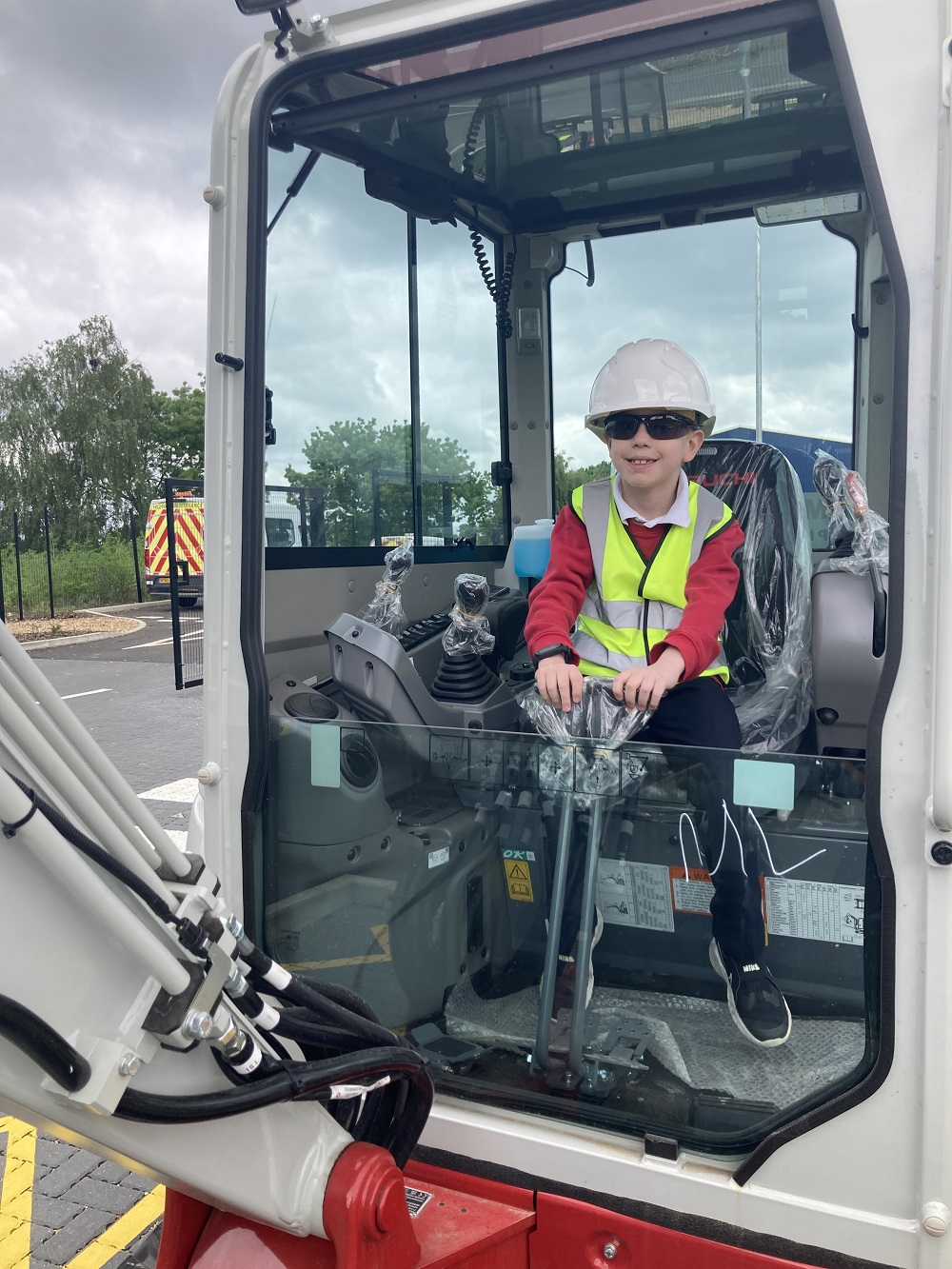 A pupil on a digger.
"The Skills Escalator is all about sustainability too and I'm delighted to say every single child walked across Chatteris to the NCTC, boosting physical and mental fitness, saving money for coaches, and reducing environmental impact."
Mayor of Cambridgeshire and Peterborough Dr Nik Johnson said: "Careers education is not normally available to such young children but you could feel the energy and buzz around the NCTC.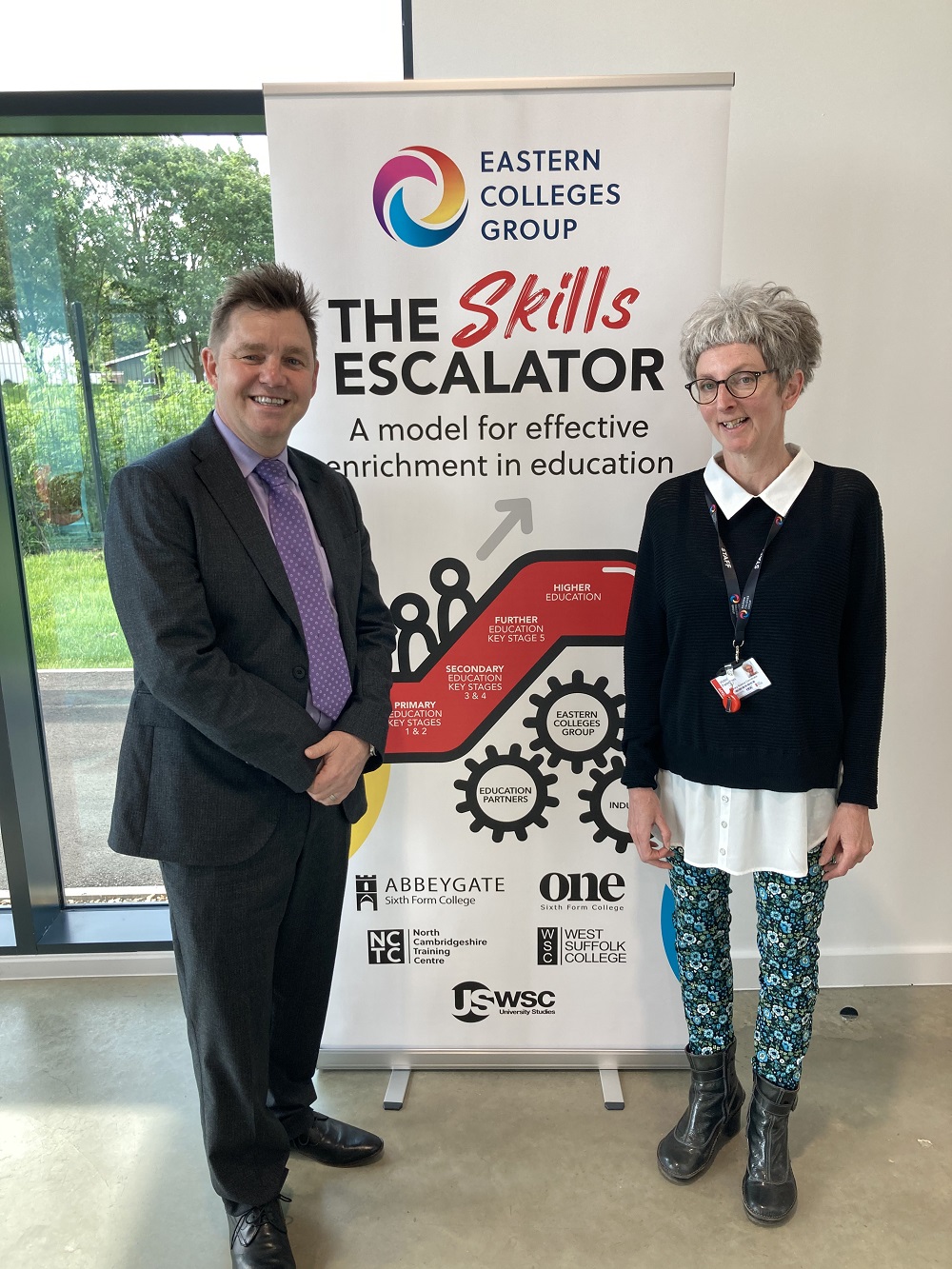 Mayor of Cambridgeshire and Peterborough Dr Nik Johnson alongside Vic Fiebelkorn.
"Events like this are about more than just building aspiration, they are about actively helping children on a path to doing fantastic things with their lives. The Combined Authority's Careers Hub has also recently been given funding to support primary schools in the region with careers education, building on work already being undertaken in secondary schools. So it was great that this event in the heart of Fenland, in a training centre funded through our Business Board, is complementing that work so brilliantly and I applaud West Suffolk College and the Eastern Colleges Group for this very innovative initiative. It's not often children as young as this get to interact with employers and hands-on activities, and you could see the great results through the enthusiasm on the children's faces."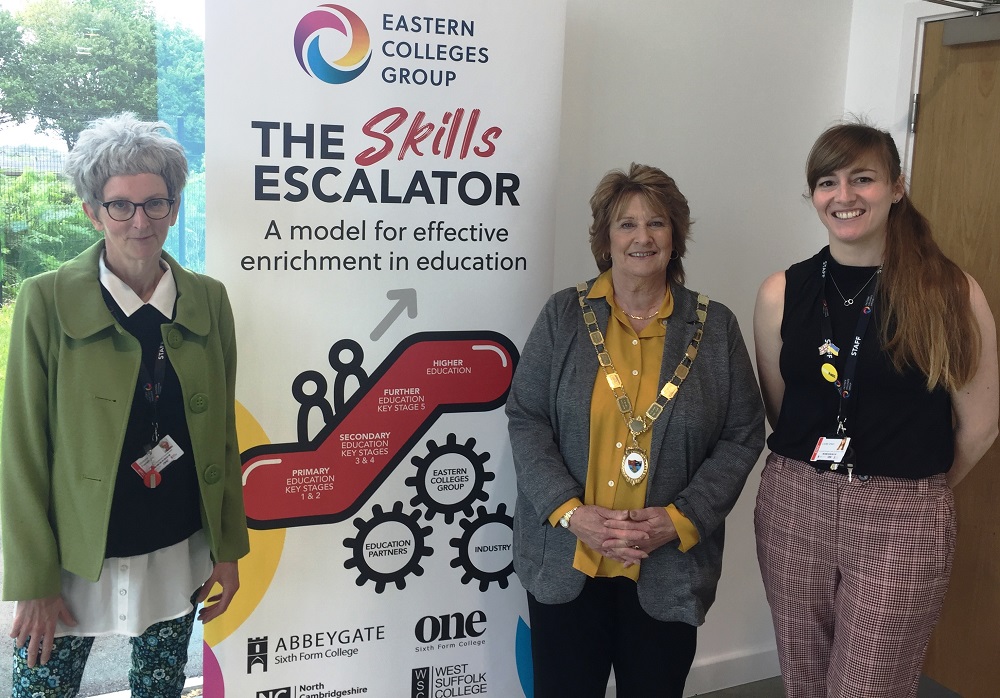 Victoria Fiebelkorn, the Mayor of Chatteris Linda Ashley and Louise Unwin
The Mayor of Chatteris, Councillor Linda Ashley also attended and said "It was great seeing the enthusiasm and enjoyment on the children's faces as they experienced different skills at such a young age. The organisation made everything interesting and fun for them at the Skills Escalator Day."
One of the key partners was Stainless Metalcraft. Neil Kirby is an apprenticeship trainer at Stainless Metalcraft. Neil said: "This type of event gives primary school children an opportunity to have a look at the work environment and what it entails and it also gives them ideas as to what they would like to as a career when they get older."
Rebecca Stimson is the Environmental and Sustainability Manager at MJS Construction. In terms of why she got involved and how the event went, Rebecca said: "It's important for us to support events like this as it promotes local businesses and shows the children the opportunities on their doorstep. By providing hands on activities, the children are engaged, can retain information from the day and leave inspired for future career paths. Careful organisation of the event meant that the day ran smoothly, giving the children maximum opportunity to visit each business. The activities offered were accessible to all children and their enthusiasm for each task was apparent. MJS Construction, March enjoyed giving the children an insight into the world of construction."
Nikki Pritchett is from G's Fresh Ltd who also attended. Nikki said: "G's Fresh have an Early Careers Programme where we feel it is important to interact with young people within schools and the community, to inform them about where their food comes from and what types of roles that are available within the fresh produce industry and the career paths into those positions.
"This event gave the students an opportunity to understand how we grow their fresh produce and were able to plant a lettuce themselves to take home, look after it and watch it grow over the next couple of months. It was great to see them so engaged and enjoying planting their lettuces."
Sophie Harris, from Miganglia Ltd, added: "The skill escalator days for us highlight the significance of attracting young people to the field of welding and fabrication. With the increasing demand for skilled workers in our industry, fostering interest among the youth is crucial for the future of manufacturing and infrastructure development in East Anglia."
"Our experience of the event was highly successful, with the students attending taking part in the virtual welder and various PPE items that we had brought along. The level of engagement and their curiosity made for a worthwhile exhibition."
Fred Akwe, from RAF Wyton Youth and STEM team, added: "I wish to thank you for inviting us to participate at the event yesterday. The feedback from the team was very positive. The event provided us with the opportunity to interact with the local community and make new connections as well as for the children and the community to engage with us. Most of the children had no previous interaction with someone from the military so it was a good occasion for them to see other aspects of military life. Most importantly, it served as an environment to learn from the children as well as inspire them to pick up an interest in Science, Technology, Engineering and Mathematics. We had so much fun, and we can't wait to support the event in the future."
Jackie McBeath is a year two teacher at Cromwell Community College. Jackie said: "This event was extremely well organised and all the presenters engaged well with a very lively and youthful audience.
"The presentations gave the children an early insight into the sorts of career opportunities that are available."
Imeth is a student from Kingsfield Primary School. Imeth said: "I loved the Stainless Metalcraft activity because I got to wear the safety equipment."
Another student from Kingsfield called Arla said: "I loved sitting in the police car because I got to turn the sirens on like a real member of the police."
The schools involved were Cromwell Community, Glebelands and Kingsfield Primary.