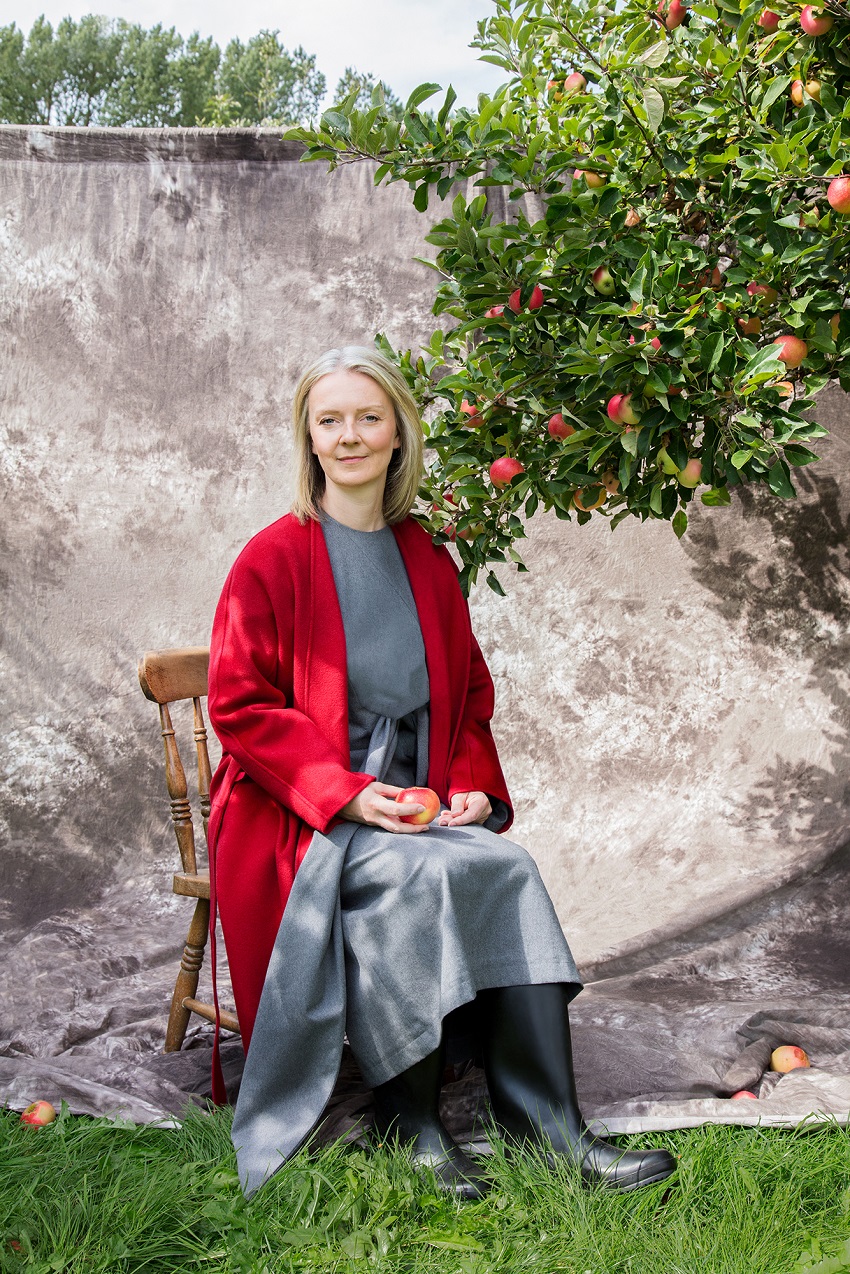 One of Sophie's photos from the photoshoot with Elizabeth Truss, MP for South West Norfolk and Chief Secretary to the Treasury.
Sophie Ellen Lachowycz, Course Director for Fashion, Media and Promotion at West Suffolk College's Art and Design School has photographed South West Norfolk MP Elizabeth Truss for the '209 Women' national initiative.
The project is a photographic exhibition that is on display in the Houses of Parliament from 14th December 2018 to February 2019. To mark the centennial of women achieving the right to vote, '209 Women' is staging an all-female portrait takeover of parliament. This will be the first time ever that an all-female presence will be represented in parliament.
Since 1918, there have been 491 female MPs compared to 4503 men. To champion the visibility of women in power, 209 women are replacing existing portraits of MPs (mostly of men by men) with 209 portraits of female MPs, taken by 209 female photographers.
Sophie said "After being asked to join the project, I chose to photograph Elizabeth Truss as I wanted to promote our region and her constituency. Elizabeth is a great example of a female MP that has worked hard to achieve a successful career and has recently been utilising social media to portray a realistic view of life as a politician."
Sophie continued "Elizabeth also has a great sense of style and a love of colour, which I thought would fuse well with my fashion photography specialism."
With the initiative marking a significant moment in history Sophie spoke about how important it is "This project is extremely current and important, celebrating a moment in history and how far we have come since then; whilst acknowledging that this still isn't far enough and we need to push to improve this further."
Sophie works as part of 'The School of Art and Design' at West Suffolk College and as an ex-student of the college herself she said "I really hope this sends a message to our current and future students; that if you follow your passion and work hard, alongside being supported by the excellent education at West Suffolk college, then you can achieve great things."
Sophie photographed Elizabeth in her constituency, close to where she grew up and began her photography. The all-female team shot on location at Hockwold Hall, which also has a direct link to the suffragettes. Alongside photographing, Sophie also styled Elizabeth, using clothing from local graduate designers and stores. The final portrait features a dress created by Norwich University of the Arts graduate Kate Illingsworth.
Derek Johnson, Director of Art and Design at the college said "Sophie is a valued Lecturer and Course Director here and it's amazing to see a staff member working at this national level. It is great for students to see that they can be taught by staff of this standard at West Suffolk College."
The exhibition will be on display in Portcullis House, Houses of Parliament for three months before moving to the Open Eye Gallery in Liverpool. Book your free tickets here.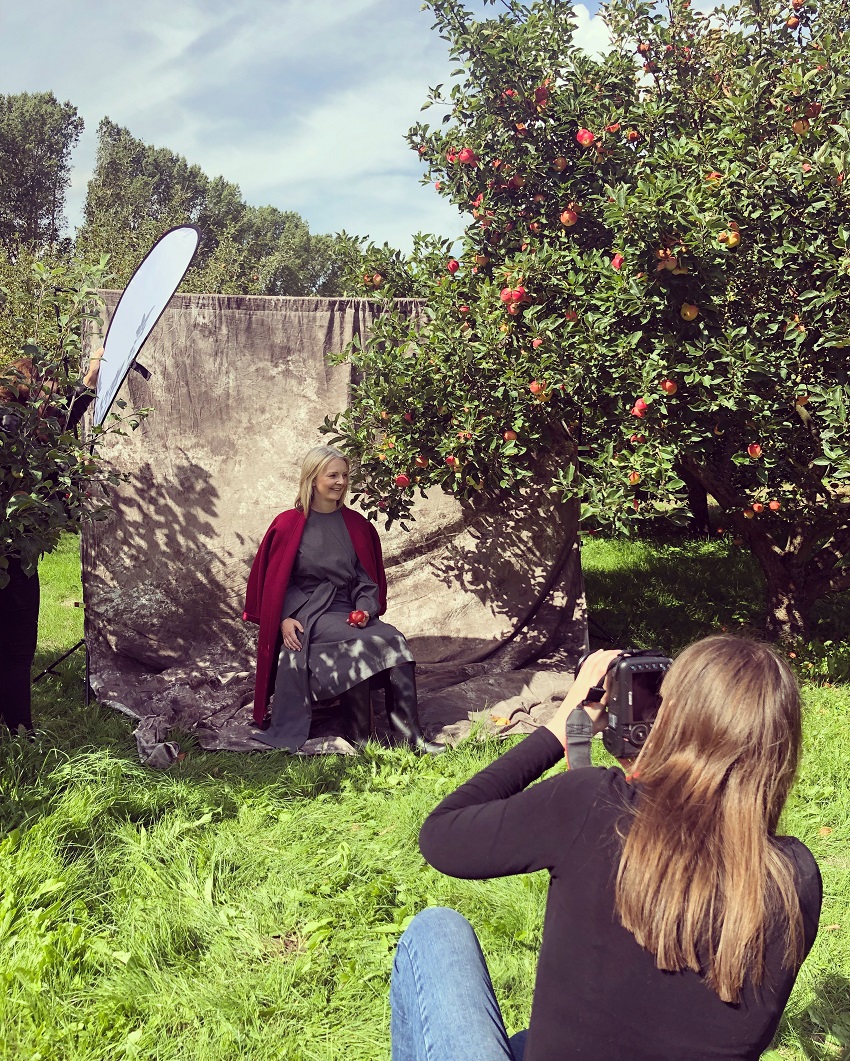 Sophie Ellen Lachowycz photographs Elizabeth Truss holding a red apple.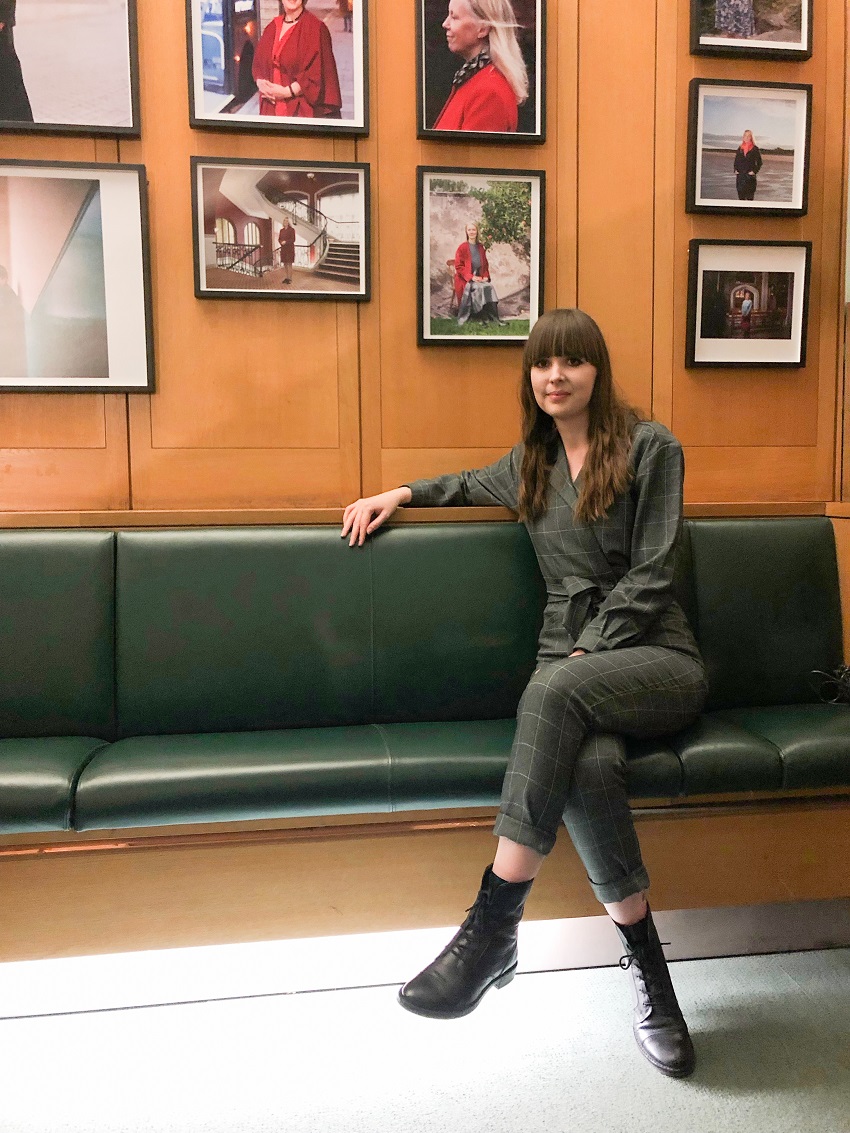 Pictured is Sophie Ellen Lachowycz next to her photograph of MP Elizabeth Truss at the exhibition in the House of Parliament.