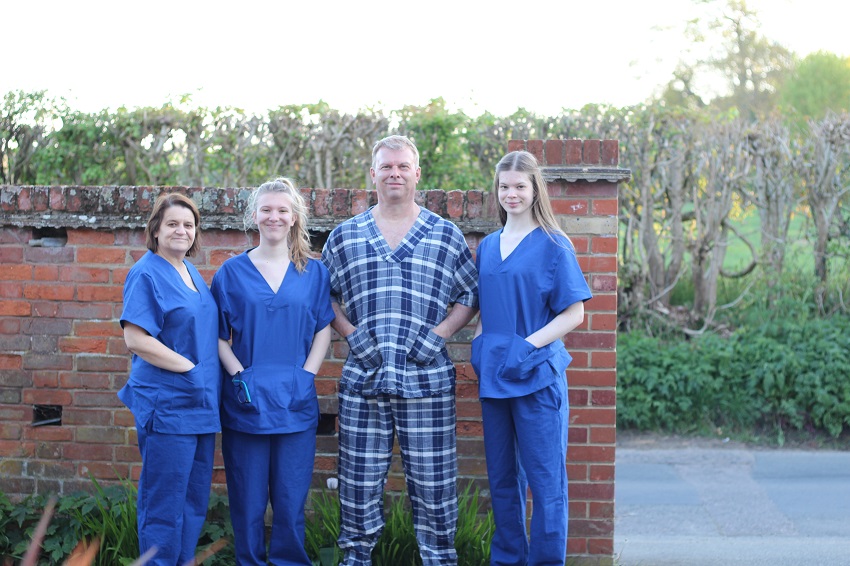 From left to right, Poppys Mum, Poppy, her Dad and her younger sister all modelling the scrubs!
One of our Fashion and Textiles students has taken the decision to make scrubs for her local GPs and hospital to use at a time when they are suffering from PPE shortages.
Poppy Hillman-Crouch, age 17, from Gosfield near Braintree, is in her first year of her Fashion and Textiles course at the college and decided to put her skills to good use whilst under lockdown.
Poppy said: "I saw on the news that the NHS were suffering from PPE shortages and I really wanted to help and contribute. I joined a Facebook group called 'For the love of scrubs' where lots of people are getting together to make scrubs and to support one another and I just had to get involved."
Spending at least four hours producing each scrub, Poppy has so far donated four of these to her local GP's who are working with patients with COVID-19 and three have gone directly to NHS staff at Colchester hospital who stated they were 'eternally grateful' to the student for her efforts.
Poppy, who normally commutes from Gosfield to study with us, is showing no signs of slowing down on producing the scrubs and has made it clear she is fully committed to the project. She has paid for the fabric's herself and explained how she has a mini production line set up at home to keep her focused.
Poppy said: "My tutors at the college have been so supportive and it's been so nice to be able to use the skills and knowledge they have passed on to me to contribute to such a worthwhile cause."
Emily Streatfeild, Course Director for Fashion and Textiles at the college said: "Poppy has been extremely proactive in using her sewing skills to produce scrubs for our NHS and key workers and we are really proud to see one of our students supporting the local community in this amazing way during these challenging times!"