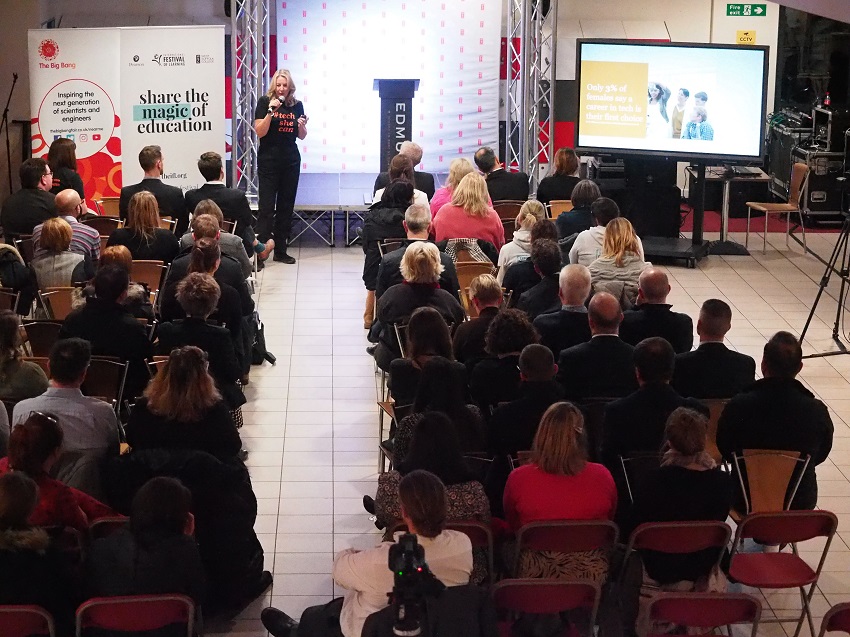 Pictured: The launch of the International Festival of Learning (IFL) and The Big Bang Fair Suffolk.
Last week, we hosted the official launch of the International Festival of Learning (IFL) with the unique education movement set to take place again here this summer.
The festival, taking place on Friday, 3 July, is expected to be attended by over 1000 education leaders, teachers, lecturers, support staff and business leaders.
The theme of this year's festival is 'Share the magic of education' and will offer world-class insight through workshops, resourced and networking and is underpinned by Pearson's Global Learner Survey. Pearson are also the main sponsor of the event.
This year we have made the decision to expand the launch event for the first time to include The Big Bang Fair – a celebration of science, technology, engineering, arts and maths (STEAM) for young people in the UK. The Big Bang is taking place here on Monday, 6 July with over 1000 primary and secondary school pupils set to attend. The fair will include interactive exhibits from local companies and industries, engaging workshops and high impact shows; with a particular focus on highlighting the 'hidden STEM' in our everyday lives.
There will also be a Big Bang community day where parents, their children and the local community will be invited in on Saturday, 4 July for a taster on what the day itself will include.
The Big Bang forms part of a wider college initiative known as the 'Escalator' – an ambitious programme with the underlying philosophy being that all sectors; education, local councils and industry can work together to drive enrichment that effectively engages young minds.
The launch of the two events, saw over 50 educationalists and business leaders come together to witness compelling talks from speakers Nat Damon, Executive Director Reach Academics and Sheridan Ash, Women in Tech Leader, PwC.
There was also a panel discussion with both Nat Damon and Sheridan Ash along with Kelly Abbott, Assistant Head teacher at Kesgrave High School. A number of exhibitors were also in attendance including BT, Anglian Water, Tech We Can and Primary Science Trust.
For more information on the IFL and to purchase tickets head to theifl.org and for information on The Big Bang head to www.wsc.ac.uk/BigBangSchoolDay. If you are a parent, book onto The Big Bang Fair Suffolk Community Day here.