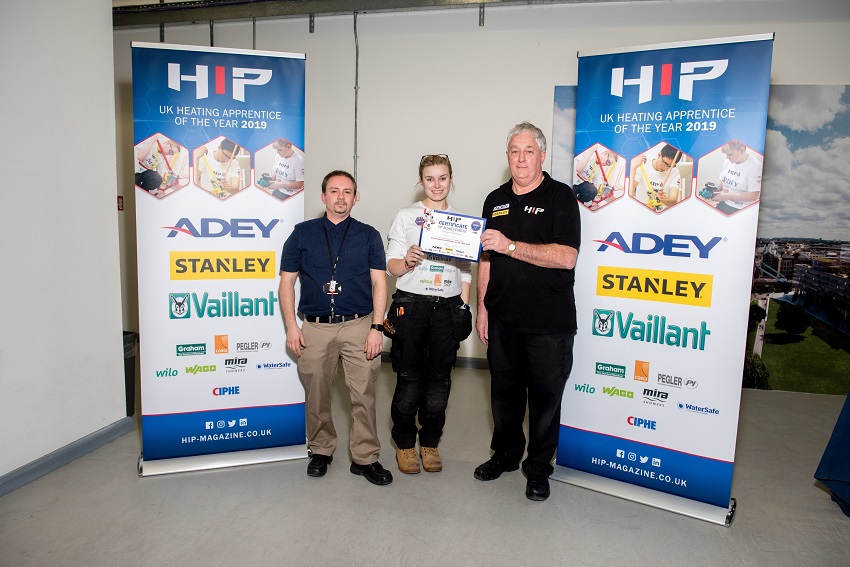 Left to right: Ben Boxall, Isabella Stagg and Head Judge Tony Kite.
Isabella Stagg, Plumbing and Heating apprentice at West Suffolk College has won the South East heat as part of the UK Heating Apprentice of the year competition organised by Heating Installers and Plumbers (HIP).
The final heat which took place on Thursday last week was held at West Herts College and saw nine competitors taking part with Isabella as the only female competing. Studying at Level 2, Isabella has only been training for 18 months and works for her Uncle, Alan Stagg at Goodstagg's Plumbing and Heating.
Isabella said: 'I'm so chuffed, I can't believe I actually won! The standards were so high I didn't think I would be in with a chance so I really am pleased. It was so challenging but I really enjoyed it and now can't wait for the final.'
Isabella attends College one day a week and it was the college that nominated her to go forward for the competition. Isabella's lecturer at the College Ben Boxall said: 'Isabella is an excellent example of how a positive attitude, enthusiasm for the job and attention to detail can bring you to the top of the trade.'
Alan Stagg said: 'I am proud of Isabella both as her Uncle and employer, we must thank her mentor at work, Mr Maguire-Smith who has helped her progress. We will keep her feet on the ground for the upcoming final!'
After getting into the industry when stepping in for her Cousin in helping out her Uncle Isabella advised that: 'If you think there is something you might be interested in, you just have to get out there and do it otherwise you will never know. I never knew I wanted to be a Plumber until I took up the opportunity to help out my Uncle and I now never look back.'
Isabella plans to stay with her Uncle's business in the future where she says they all look out for each other and have a great working relationship.
The HIP UK Heating Apprentice of the year final is over two days on 27th and 28th March which is held at the ADEY head office in Cheltenham. As with the regional heat, Isabella is the only female competing.
Discover more about our Apprenticeships
Online:
Phone:
01284 716 235
Email:
Apprenticeships:
This email address is being protected from spambots. You need JavaScript enabled to view it.