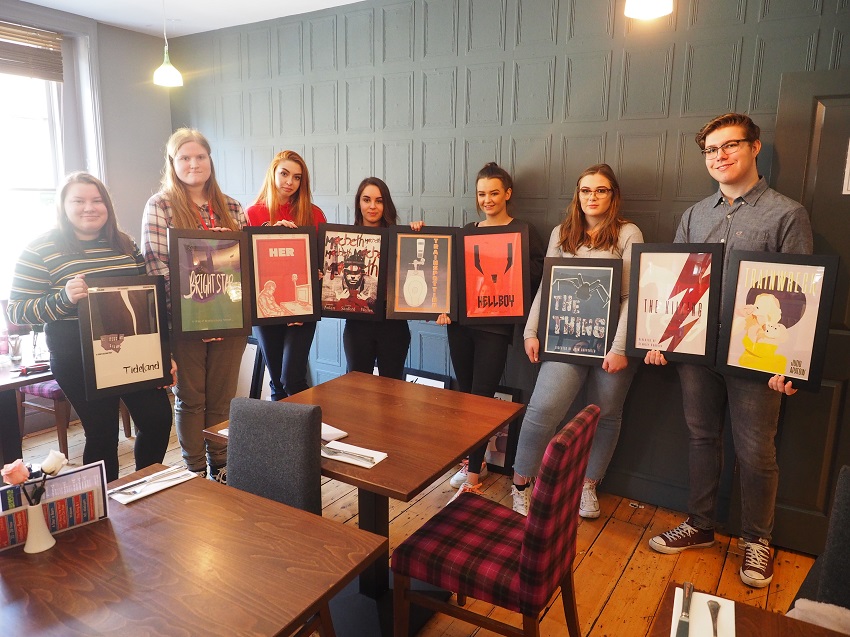 Students with their designs inside Abbeygate Cinema in Bury St Edmunds.
West Suffolk College Graphic Design students have been given a fantastic opportunity to collaborate with Abbeygate Cinema based in Hatter Street, Bury St Edmunds.
The year 2 Level 3 Graphics Design students have been commissioned to create artwork for a targeted audience based on the film industry.
The students got the chance to showcase their work in the two week long 'Directors Cut Exhibition;' with the launch night being Monday 3rd December from 6.00pm – 9.00pm.
Sophie Knappett, Lecturer in Art and Design at the college said "They selected three films by their director and have chosen to design alternative film posters. One will then be selected to go into the exhibition and Abbeygate cinema will then choose a winner who will receive an exciting prize"
Sophie continued "The students have worked with skill, dedication and professionalism to produce huge amounts of research into their director to explore the films he or she directed."