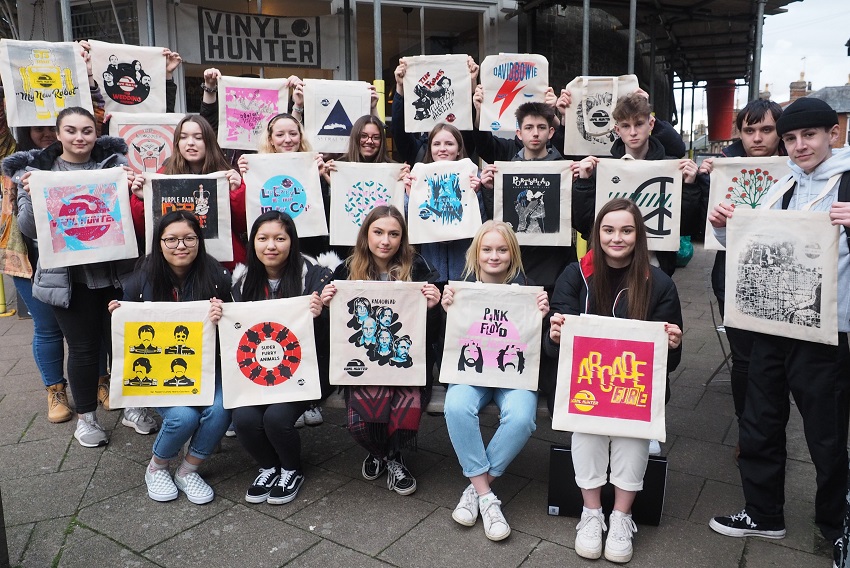 Students with their designs outside Vinyl Hunter in Bury St Edmunds.
22 Graphic Design students at West Suffolk College have been granted the opportunity for some of their work to go on display in local business Vinyl Hunter, based in Bury St Edmunds.
The Level 3 Extended Diploma in Graphic Design students were tasked with designing tote bags and posters based on albums in the company's essential albums list. Now on display in the record shop based in St. Johns Street, Bury St Edmunds, the Vinyl Hunter team will pick a winner who will see their very own designs being sold in the shop.
William Hunter, owner of Vinyl Hunter records said "This has been a great collaboration between us and the college, we both worked together on the idea and the student response has been amazing."
The students were given music albums at random; Jodi Parker, Course Director said "The range of eras and genres of music was vast, and many of the students had never heard of the artists; so this made it a very challenging task." Nat Owen, Graphic Design student said "I worked on a design based on The White Stripes, I researched the band and then used my creative ideas to put together the tote bag and poster."
Nat continued, "We all really enjoyed the project, it felt really meaningful to work with a business on a real live project."
The designs are currently displayed in the shop and will continue to be displayed for the Christmas period. The Vinyl Hunters team will then sit down to pick a winner – one tote bag and one poster. The winning students will then experience their work being printed and sold to the public.
William said "The designs have completely exceeded my expectations, we have seen some incredible work here. I would never have come up with these myself, really creative and very impressive – a huge well done to all students involved."
Jodi said "This has been an exciting and fun opportunity for all of the students involved and I have been impressed with their level of professionalism and commitment to meeting the clients brief. All of their outcomes showcase their creative and technical capabilities, and I am proud of them all."