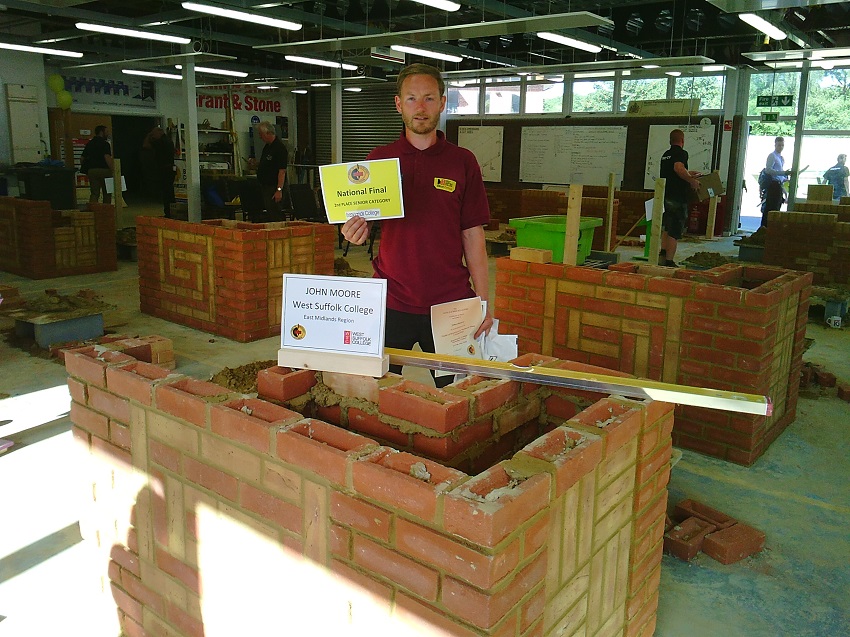 John Moore is excelling in bricklaying.
To cap an excellent year for the Milburn Campus, John Moore competed in the National Guild of Bricklayers final on Wednesday 27th of June. This was held at Brooklands College London and the fantastic news was he came second in the senior's category.
He was competing against nine other students from around the country and had to build a complex decorative model in set time of six hours.
The task had to meet demanding tolerances. Judges also watched closely to see competitors worked safely and that waste materials was minimal.
He had previously worked in a plastics factory and stayed there happily enough until his colleague and best friend left. Understandably the situation changed and when he was offered work as a Bricklayers labourer for his brother he jumped at it.
Asking his brother what the chances were of becoming a brickie, he was told get the Level 1 and Level 2 then "we'll see". It is fair to say John has grasped the opportunity.
He is currently Eastern Region Apprentice of the Year and has a record of two 1sts and two 2nds in externally craft run competitions.
He gained a 2nd place in the junior category which is not bad for someone whom has only being laying bricks for two years, proving what can be achieved with hard work and commitment.
On June 19, the ten budding construction students took part in the regional heat of Skillbuild at Easton & Otley, Otley Campus. This involved Site Carpentry, Joinery, Painting and Decorating and Bricklaying skills in two category Junior and Advanced sections.
West Suffolk College gained a respectable 2nd place in Painting and Decorating, with a 3rd place in Joinery and Bricklaying.
To cap an excellent year, two carpentry students proved they are the sharpest tools in the box when they saw off the opposition at the Guild of Joiners and Ceilers in London. They were up against 13 students from colleges all over the country. Joe Ward from Stowmarket was awarded first prize for his wooden step ladder. He is employed by Murdoch Joinery in Stowmarket. Third place went to Alex Howe from Thetford who works for Dent and Vaughan in Brandon.