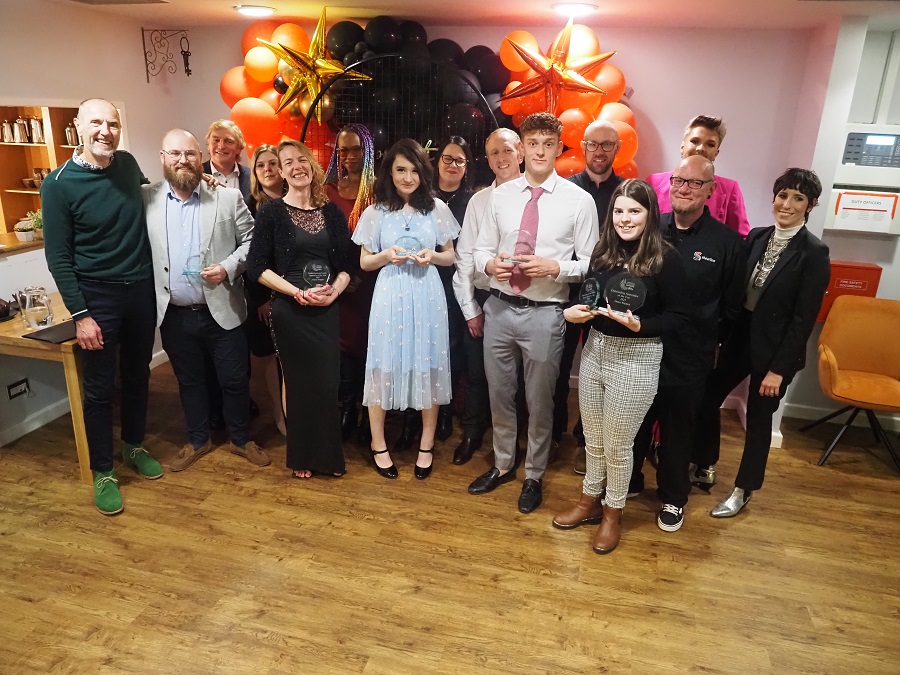 Some of the winner with their employers.
Demi Walters won the overall apprentice of the year prize and also was named engineering and motor vehicle apprentice of the year.
Some of the UK's top apprentices attended an awards ceremony at West Suffolk College on Friday 3 February 2023.
They were joined by businesses, staff and guests for an occasion that took place at Edmunds restaurant.
The occasion celebrated achievements of individuals ahead of a campaign called National Apprenticeship Week that starts on Monday.
Ten awards were given handed out in total and overall winner (Demi Walters) was crowned Apprentice of the Year for her achievements during her programme.
In addition to the being crowned the overall winner, Demi also received the engineering and motor vehicle apprentice of the year award.
Demi Walters said: "When they read my name out I had a feeling of disbelief. I think this will allow me to progress further. My mum and dad were just as shocked as me. This is definitely one of the highlights of my life for me after a difficult year."
Demi's mum, Zoe (Walters) said: "I was emotional and I'm really proud of her. She has worked so hard and to see her get recognised for it is an incredible feeling. It's been a tough year – we lost our house in a house fire - and she (Demi) has been positive through it all. It has been tough – but moments like this make you think that everything is on the up."
Dr Nikos Savvas, the Principal of West Suffolk College and CEO of the Eastern Colleges Group, said: "Dr Nikos Savvas, the Principal of West Suffolk College and CEO of the Eastern Colleges Group, added: "Our apprentices are shaping the future of businesses and organisations and changing the landscape for what it means to be in Further Education. It's been very special to celebrate some fantastic achievements with these awards and acknowledge those who have grasped opportunities with strength and determination. It's also important to recognise where businesses go above and beyond to make apprenticeships really shine - investing time, resources and expertise.
"In the current economic climate, businesses need high calibre individuals to work for them, it's never been more important to invest in apprenticeships, and in our young people, and we applaud the companies who have been forward thinking to invest in the most important commodity they have – their staff."
The Executive Director of Business Development at West Suffolk College, Phil Stittle, said: "This was the second year in a row that we have hosted this evening and it's empowering to hear the stories from the winners who have all benefitted greatly by studying these pathways. We support around a thousand students via these programmes every year and work with hundreds of businesses and it's great that this event is able to shine a light on these amazing qualifications.
My message to others is that our apprenticeship programme is growing all the time so come and talk to us to see how we can help you achieve – just like our incredible winners this year."
All awards were handed out by Sarah Howard MBE, a college governor and the first woman and first businessperson from Suffolk to be elected as the chair of the British Chamber of Commerce. Sarah – who also is also the chair of Abbeycroft Leisure said; "As I go around the country and see lots of successful apprenticeship schemes and apprentices – it proves to me that this educational pathway offers individuals the possibility of forging a successful career.
"I think with the current climate, apprenticeships are becoming even more relevant and important and I was delighted to be part of this event. I love to see apprentices being recognised for what they have achieved. I can talk about it all day long but to actually see it happening in person really spurs me on."
Winners came from across the country.
Cambridgeshire winners
Chery Holgate from Huntingdon works for Hughes Electrical
Essex winners
Marc Sparling from Holland on Sea works for Hughes Electrical
Hampshire winners
Victoria Holyland from Winchester works for the Basingstoke and North Hampshire Hospital Foundation Trust
Norfolk winners
Willow Upton from Brockdish works for Harleston Medical Practice
Demi Walters works for Hybrid Laser Tech in Ely
Suffolk winners
Celia Carter from Saxmundham works for Suffolk County Council
Luke Gifkins from Martlesham works for the New Skill Centre
Zak Baldwin from Chevely works for Godfrey and Hicks Builders Ltd
Jodie Tayler from Sudbury works for The Bridge Project
Josh Easter from Wetheringsett works for Bimbo's Hair
Apprenticeships