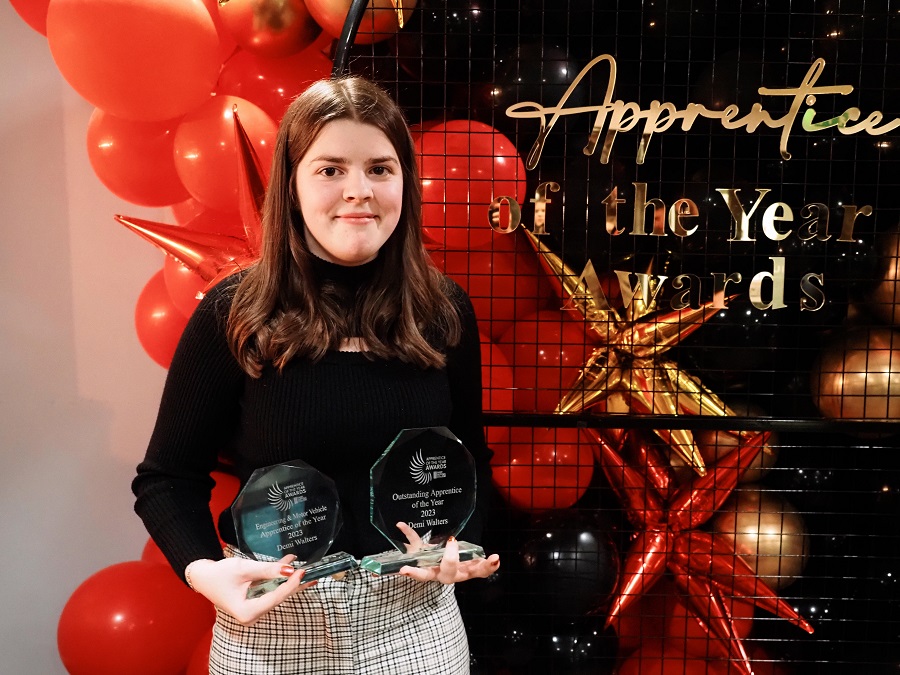 Demi Walters pictured with her two awards for 'Outstanding Apprentice of the Year' and 'Engineering and Motor Vehicle Apprentice of the Year'.
Demi Walters won the overall apprentice of the year prize and also was named engineering and motor vehicle apprentice of the year.
Demi, 20, from Thetford is studying on an engineering pathway with Hybrid Laser Tech (who are part of the Shearline group) based in Ely.
Before her apprenticeship, Demi had a part time job in Home Bargains.
She decided to start an apprenticeship because 'I believe that apprenticeships set you up for a life after studying because you have gained experience, qualifications and have a wider understanding of the working life'.
Highlights of the course include 'meeting the team I get to work alongside with every day, constantly developing my own skills and being involved in new projects'.
Demi think others should consider taking them. She said: "To those who consider choosing apprenticeships, I would highly recommend going for it. Everyone mentions that being a female in an engineering environment is a rare occurrence and can be a completely different atmosphere to what you are aware of. However do not be intimidated if it is something you really would like to do. I'm currently the only female in Hybrid Laser Tech but I love what I do and it's like having another family."
In terms of winning the award, Demi said: "When I first heard that I achieved the Apprentice of the year in Engineering and Motorsport, I was surprised and felt a sense of achievement. To be recognised by the college and by my work feels astounding and has given me a sense of pride. It really is an incredible feeling."
"This award could potentially help me in the future if I was to apply for a new job in the engineering industry. In terms of the future, I want to get a distinction on this course and I hope to go on and study on a HND/HNC."
And in terms of the support from College, Demi added: "West Suffolk College have helped link my course with my workplace. They have also offered support during difficult times."
Apprenticeships