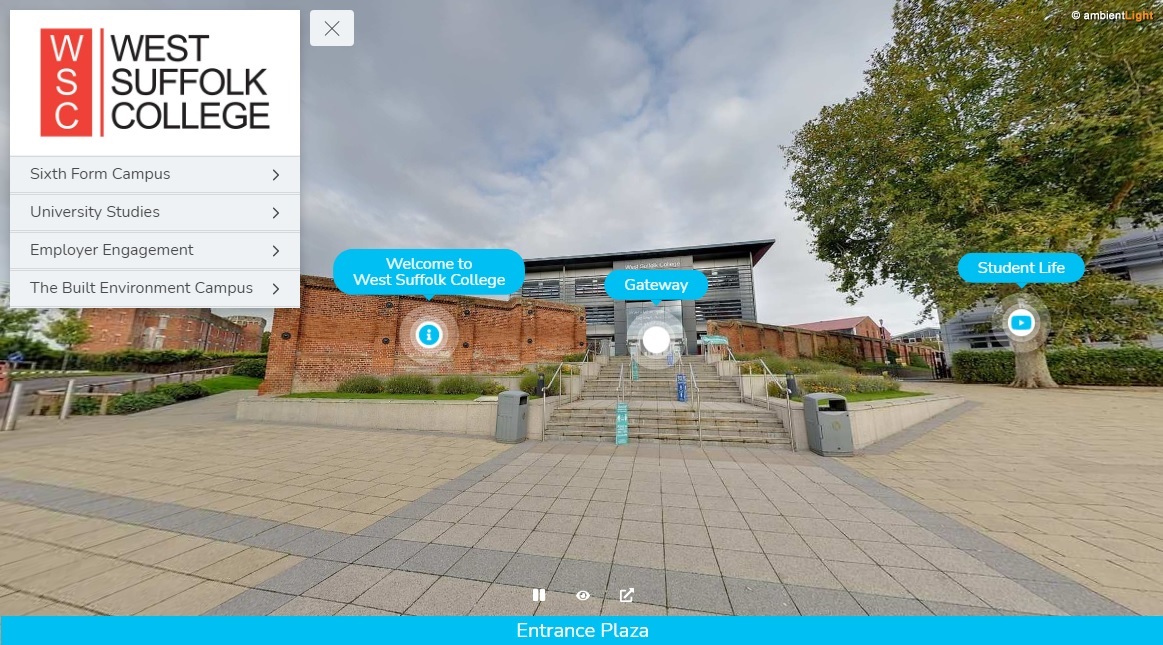 Pictured: A screenshot of our 360 degree virtual tour as part of our online virtual open events.
West Suffolk College have received praise for their innovation and creativity after they held their first open events of the academic year virtually last month - seeing some exceptional attendee numbers.
The vision for online open events became a reality and the team's dedication and hard work meant potential students, parents and the local community still had the chance to make important enquiries and to discover more on what the college has to offer.
The first event saw teams from across the college come together to form panel's where they were able to host live Q&A sessions. These gave audiences the chance to submit their questions and queries in live from home to the teams on the day with some of the live sessions seeing over 480 people tune in. A virtual tour of the college facilities was also made available to give students a valuable insight into the college environment.
The second event saw a team of students host their own live Q&A where the audience were able to hear directly from the students themselves on topics including college life, course detail and student welfare support. Over 700 people tuned in live to the session. One of the students who formed the panel said: "We were nervous but it went absolutely fine, we answered so many different questions and then we found out there was 700 people on there! This definitely boosted our confidence to talk to big groups and we really got something from the experience."
Maddie Read, Events and Marketing Officer at the college said: "Despite the recent circumstances, we know that our November open events are at a critical time of year for our prospective students to consider their post-16 options so we felt it was crucial that we still enable them to find out about what we have to offer and to check out our facilities. It was fantastic to see teams from across the college collaborate and dedicate their time to make sure these events were a success and we have been thrilled to receive some exceptional feedback from attendees."
Across the two events, the college saw nearly 3000 people visit the website to access the wide range of content available and from locations including Cambridge, Reading, Walsall and even Falmouth.
For anyone that missed the events, content is available on the West Suffolk College website now. This includes all course information and videos on how to apply, recordings of the live Q&A sessions, the virtual campus tour and some welcome talks from staff and students. Head here for more info.