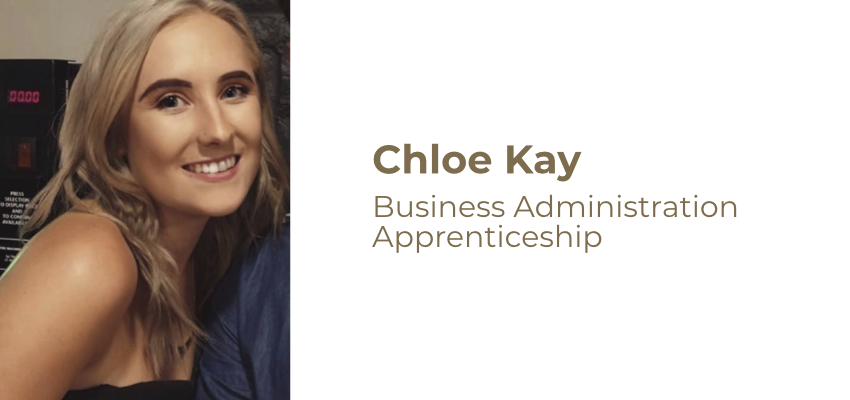 Despite the current challenges, perseverance has paid off for our apprenticeships team who have seen a number of apprentices qualify during lockdown.
Chloe Kay, age 20 from Soham, was one of the first to get over the line after managing to complete her Business Administration apprenticeship after being guided through by the team. Tutor Rebecca Mann supported Chloe through the process ensuring she had regular communication with her and also making sure that the assessors were able to successfully facilitate a remote assessment.
As part of this, Chloe completed an exam, a 30 minute presentation and a 45 minute interview conducted remotely with her assessor and her hard work paid off seeing her achieve two passes and a distinction in the exam.
Chloe said: "The support from Rebecca and the college was absolutely brilliant. After initially feeling anxious and not knowing if my end point assessment could take place; they completely put me at ease and Rebecca worked closely with me to prepare me and to check I was comfortable with being assessed in this new way and my education continued as it would have."
The apprenticeships team have had phenomenal engagement with their learners; with 99% of the 1500 strong cohort fully engaged with their programme at a time when this may have been at risk and at least 15 others having qualified during the COVID-19 pandemic. They continue to support the apprentices through in order for them to achieve their goals and to be able to progress as they normally would.
Debbie Tappin, Executive Director for Employer Engagement Operations said: "It's fantastic to see our team lead the way in getting our apprentices over the line at this challenging time. Not only are our apprentices having to adapt, our staff are and they are doing an exceptional job of supporting these students through. We must also extend our thanks to Highfield and TQUK for working closely with us to get our learners qualified."
For any questions or support with current or future apprentices please get in touch with the team directly by emailing This email address is being protected from spambots. You need JavaScript enabled to view it.