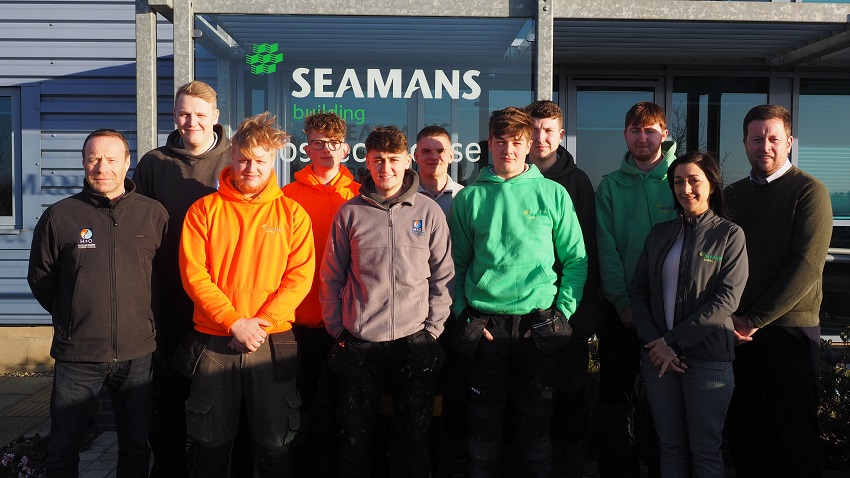 Thurston based company Seamans building have teamed up with us to promote and support apprenticeships – in order to address the industry skills shortage.
The award-winning building company currently employ 8 of our apprentices and are huge advocates for giving young people a chance and an opportunity to thrive.
Duncan Haydon, Managing Director at Seamans said: "We have been training apprentices since around 1947 and have influenced in excess of 300 trainees. Apprentices have always been our lifeblood."
Duncan added: "As an organisation, we are looking to satisfy our crafts needs for tomorrow and we want to address the skills shortages this industry suffers. We firmly believe that opening the door for new young talent is the way to do this."
Seamans work closely with the college to train apprentices and have felt that the 'College are very engaging and have exceptional facilities for students to be furthered in their craft choice.'
Phil Stittle said: "It's a privilege to support a fantastic company like Seamans to help train and develop their workforce of the future. Seamans are extremely proactive and a great support of apprenticeships and what the college is trying to achieve. It is vital for the region that we have companies like Seamans who care and want to fill the skills gap that exists within the construction industry today."
Seamans have experienced apprentices who start with them and progress through the business – some have started as trainees and now work as site managers supervising large scale, innovative projects.
When asked what advice he would give fellow employers who may be considering hiring an apprentice, Duncan remarked: "Employers must be willing to find the time to develop the young minds of today. Engagement and good mentoring is essential and above all employers must be committed and realise their workforce of tomorrow."