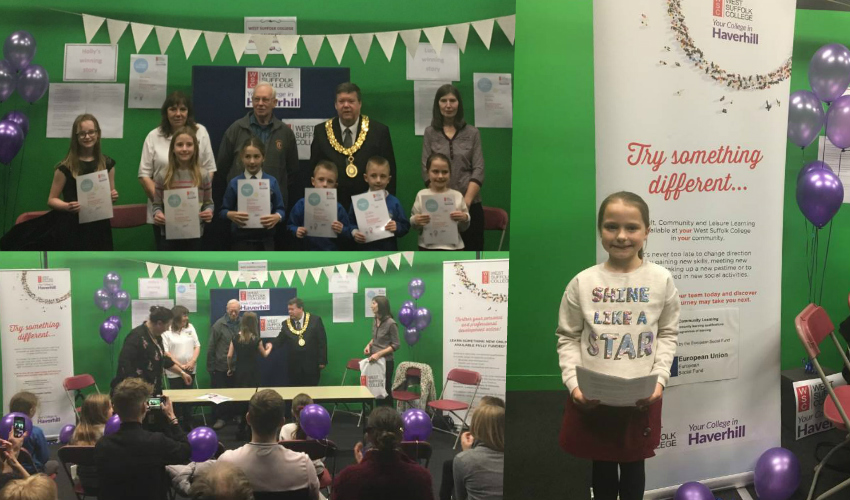 Talented young short story writers attending an awards ceremony in Haverhill.
Young people were invited to an awards ceremony at our Haverhill Learning Centre last week to celebrate their achievement as winners of the children's short story competition.
The competition was open to all young people aged 5-13 where they were asked to submit a short story of no more than 500 words. Entries were then judged anonymously by authors Carl Mynott and Gillian Bolton Luckett and the winners were notified ahead of the ceremony.
Haverhill Mayor Councillor John Burns attended the ceremony and handed out the certificates and medals to the competition winners. Representatives from Haverhill Lions who sponsored the prizes were also in attendance.
Elaine Simmons, Haverhill Centre Manager and who organised the competition said: "We were all amazed by the high standard of work produced by the children. The stories all showed great imagination and creativity and we certainly have some very talented young authors in the town. This was the first year for the competition and we hope that other young people will now be inspired to enter."
Congratulations to Holly Bowyer (winner in the age 5-8 category) and to Dylan Morris and Morgan Morris (both runners up in the age 5-8 category). Congratulations also to Lucy Lafond (winner in the age 9-13 category) and to Eve Richardson and Ariane Chodorge (both runners up in the 9-13 category).
All participants received a certificate and the winners also received Amazon vouchers, a medal and a goody bag.
Read their stories below