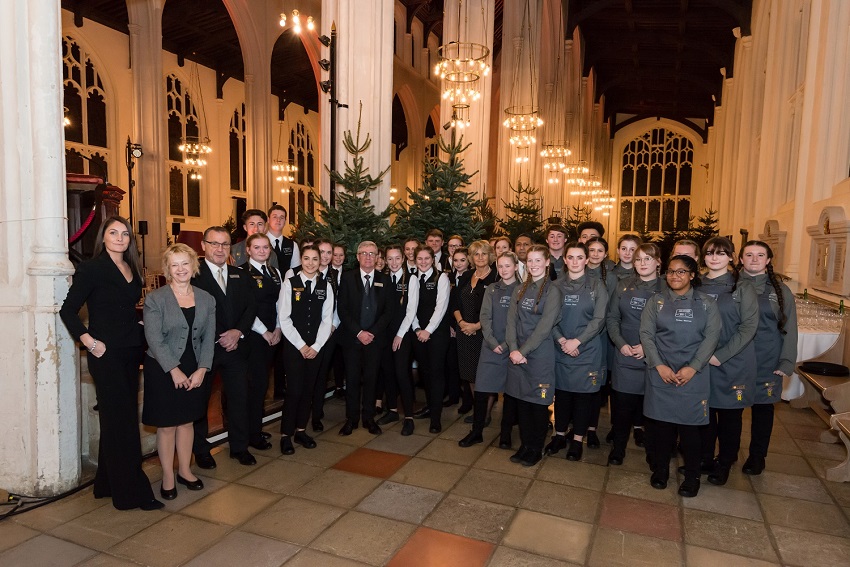 The Culinary Arts Academy team in St Edmundsbury Cathedral.
Our Culinary Arts Academy were given the golden opportunity to work at a prestigious charity event held at the St Edmundsbury Cathedral in November.
Hosted by the Lord Lieutenant of Suffolk, Lady Clare Countess of Euston, 'A night before Christmas' was a gala dinner attended by nearly 300 guests and 50 VIPs including HRH Duchess of Gloucester. The college Culinary Arts Academy worked in partnership with local chefs Lee Bye, Chef Patron at Tuddenham Mill and Pascal Canevet, Head Chef and Owner of Maison Bleue to prepare and cook the food and to serve the guests on the night.
The committee organised event saw the esteemed chef's work closely with the students in the lead up where they mentored and supported them in the preparation of the food.
Claire Waterson, Events Coordinator and Committee member said: "This really was a spectacular evening and it was a huge honour for us and more importantly our students to be a part of it. We are immensely grateful to have had the opportunity to take part in such a prestigious and memorable event.
Claire continued: We put our students at the heart of everything we do and it has been wonderful to see them receive the exceptional feedback and words of encouragement from many of the guests; this truly enriches their journey. For the students to have been involved in such an ambitious event will really boost their confidence and we are so proud of them all."
Clare Countess of Euston praised the Culinary Arts Academy: "The College achieved the impossible on Thursday the 28th of November, a Royal Gala Dinner for almost three hundred guests in the splendour of St Edmundsbury Cathedral. Spectacular cooking and immaculate service were the hallmarks of wonderful evening, celebrating the launch of the 1,000th Anniversary of the founding of Suffolk's great Abbey, an evening of Christmas Gospel Singing which has raised a significant sum to support our three great Hospices.
I am so proud of the students they were simply amazing."
The gala dinner kick-started an online charity auction whereby all proceeds will go to charities EACH and St Nicholas Hospice Care and St Elizabeth Hospice.