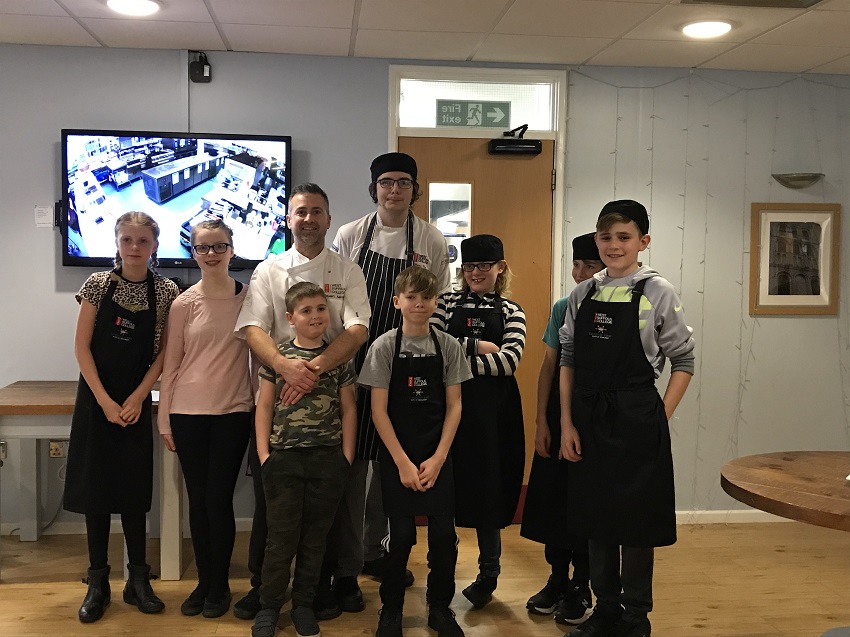 Students on our Junior Chef programme
The latest cohort of young culinary experts have graduated from the second Greene King sponsored and co-funded Junior Chef course here at the college. The youngsters aged between 10-15 years completed the eight week Junior Chef programme, which involved learning basic chef skills and producing meals from scratch each week.
Last weekend, the students put their new culinary skills into practice, cooking lunch for friends and family in a professional kitchen and restaurant scenario. The youngsters created teriyaki salmon on egg noodles and stir fried vegetables, followed by chocolate brownies and home-made vanilla ice-cream and petit-fours.
Speaking about the course Phil Stittle, Executive Director of business development here said: "It's great to have Greene King involved to support a local programme like this. The kids thoroughly enjoy the eight weeks, as do the parents when the sample the delights each week. The programme is perfect to give youngsters a taste into what it might be like if they choose to become a chef a little further down the line."
Andrew Bush, group HR director at Greene King, said: "We are really pleased to have been able to support these young people by working with West Suffolk College to give them a taste of what it's like to be a chef and experience working in a kitchen. As a pub company, we put a lot of emphasis on helping young people develop a career in hospitality and I'm delighted this programme has been another success. We hope they'll be the chefs of the future in our Greene King pubs!"
Stuart Ascot, chef manager here said "It is the best part of my job teaching these youngsters. They are shy to begin and then we see them flourish as each week goes on. A few of them were nervous for the final meal, but they all delivered an outstanding service. It's a joy to see how far they develop in only eight weeks."
This is the second year Greene King have sponsored the programme as it looks to inspire people to develop a career in hospitality.
More information on Junior Chef: