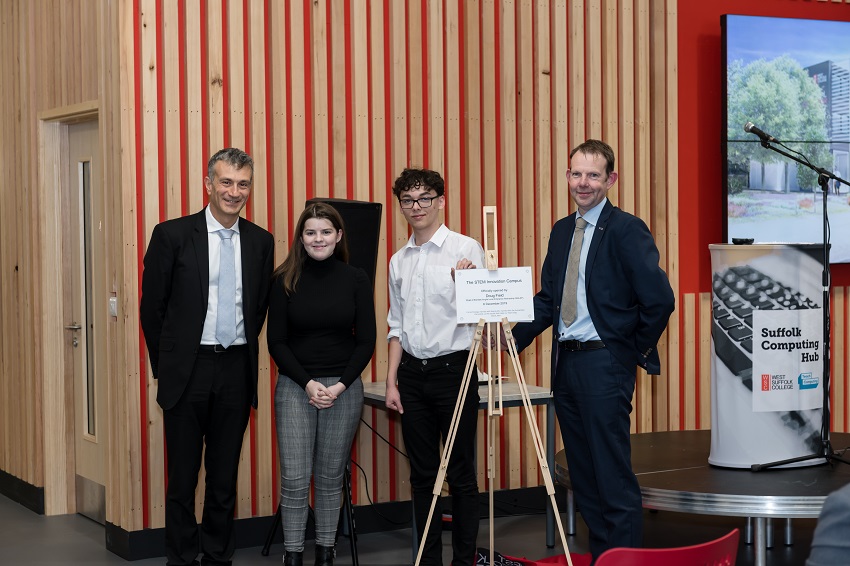 Two students with Principal of West Suffolk College, Nikos Savvas and Chair of New Anglia Local Enterprise Partnership, Doug Field.
We officially launched our new £8m STEM Innovation Campus on Friday, attended by 130 guests from the worlds of education, technology and business.
Doug Field, Chair of New Anglia Local Enterprise unveiled a plaque to mark the opening along with Nikos Savvas and two of our Engineering students. The Campus has been developed to train the creators, programmers and innovators of tomorrow from GCSE level through to degrees.
During the event, the guests were invited to participate in three different tours with one being fully immersive taking people on a journey of technology through the ages; all programmed and performed by the fantastic ConEast team.
The launch also saw a host of STEM businesses exhibit for the afternoon including BT, Warren Services, Pick Everard and HAAS Automation as well as some brilliant keynote speeches from Abhi Naha, Chief Commercial Officer at Cambridge Wireless Limited and Lisa Perkins, Director of Research and Innovation from BT.
Lisa Perkins said: "It was great to see the super support for the launch of the STEM Campus at West Suffolk College. A fantastic initiative to help inspire, support and educate! Looking forward to working in partnership with the college to go beyond all limits!"
Nikos Savvas said: "We are working with various different people in the technology industry to make this a centre of excellence. The area from Oxford to Norwich and down to London is the same size as Silicon Valley and we hope to have the same productivity from this area as in the US.
He continued: We want to train the industry leader today and also industry leaders for the future. This is one of the most talented areas of the UK and we want to show that. I would like to thank all of our partners for their support."
As part of the event, we also launched our Suffolk Computing Hub where we discussed all that is available to primary and secondary computing teachers from the NCCE and in partnership with BT.