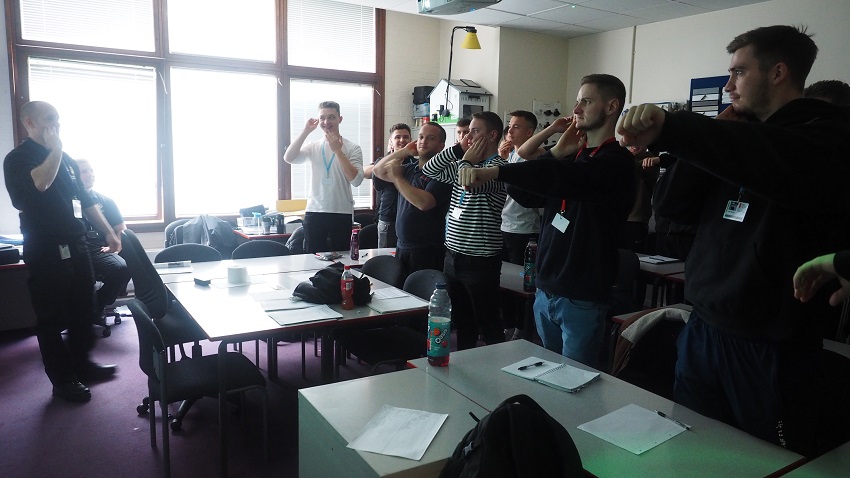 Firefighters pictured speaking with students at our Milburn Campus.
Firefighters in Bury St Edmunds have been sharing road safety advice with students at our Milburn Campus, in an effort to increase awareness of the importance of avoiding distractions while driving.
The #ItCanWait discussions with building and construction students came ahead of an expected busy winter period for the emergency services, as weather conditions worsen, with ice, rain and snow all posing an increased risk to life on the roads.
Suffolk Fire and Rescue Service spoke about topics including talking about the brain's cognitive ability to multitask, the different penalties and showing a brief 'texting and driving' video. The firefighters also spoke about the police's ability to search mobile phone records to identify if a driver was using a phone at a time immediately preceding an accident.
"Can you tell what people think or what they're going to do by their body language alone?" asked one of the firefighters running the session. "This is the way we're looking at it - if you've got a passenger, you may be able to take a hint from them whether you're going to miss a traffic light, if a roundabout is coming up, or if you are going to collide with someone. This is simply because if you are a nervous passenger and the person driving is going too quick you may use body language such as putting your foot down as if to brake, even though there are no brakes on your side, or you might reach for the handbrake or simply just brace yourself.
"We rely greatly on visual cues. The driver can see a passenger's body in their peripheral vision which is lost on a mobile phone."
In 2018, there were 1,463 road traffic accidents across Suffolk, 404 in East Suffolk, 347 in Ipswich, 339 in West Suffolk, 192 in Babergh and 181 in Mid Suffolk. More than half of collisions happened in 30mph zones throughout the county.
The five roads with the most accidents in Suffolk are all key routes, the A14 topping the list with 87 accidents, followed closely by the A12 with 77, A144 and A1156 with 40 each and the A1214 with 35.
"#ItCanWait is Suffolk Fire & Rescue Service's free, highly interactive road safety intervention, whereby we do not lecture yet facilitate a mature discussion," explained Bryony Clarke, Youth Education and Development Manager for Suffolk Fire and Rescue Service. "Our refreshing, innovative intervention has been created based on modern behavioural change techniques. As modern life becomes increasingly full of distractions, we enable our young people to recognise and mitigate risk through educated decision making."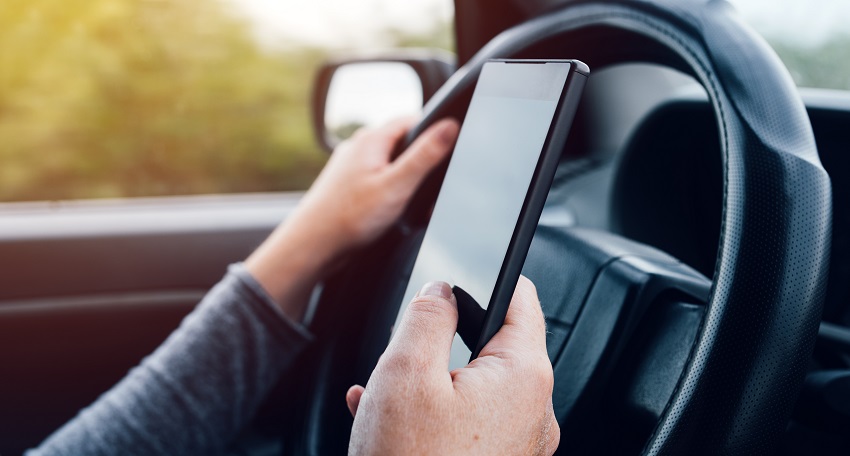 In the August 2019 'Young and Novice Drivers' report by RoSPA (Royal Society for the Prevention of Accidents) young drivers are said to make up seven per cent of UK full driving licence holders, yet are involved in 22 per cent of fatal or serious collisions in which they were the driver, with these accidents being the biggest killer of young people.
Joshua Harris, director of campaigns for Brake, the road safety charity, added: "We shouldn't have to accept this level of risk as part of our daily lives. Across the country, people are working tirelessly to campaign for safe streets, organising petitions, meeting with MPs and councillors and raising money and awareness. We want everyone to think about how they can do their bit and step up for safe streets. Can you join or start a local campaign? Do you need to take the car on your next journey, or could you walk, cycle or get the bus? If you are travelling by car, will you pledge to always keep within speed limits and never drive after drinking alcohol or taking drugs? Let's all Step Up for Safe Streets and, together, we can help make roads safer for everyone."
We are stepping up efforts to encourage students and staff to travel to and from college by cycle, bus and train, or by sharing a car with others, not only for safety, but also to help reduce congestion and air pollution in Bury St Edmunds and the surrounding areas.
Useful information: