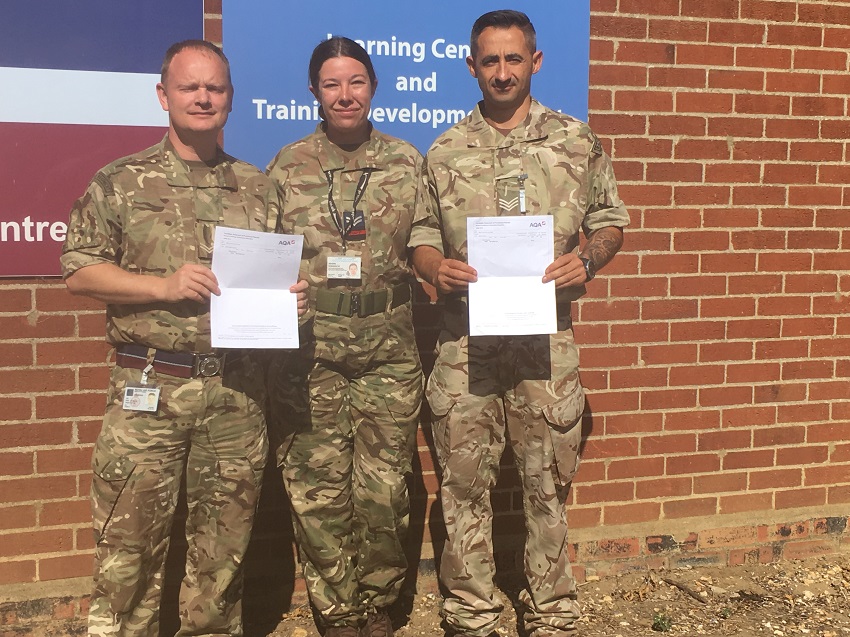 Learners from RAF Honington with their GCSE Results.
Sixteen learners from RAF Honington have passed their GCSE Maths exams with flying colours after an intense two week programme led by our Adult Education team.
Despite some nervousness around running an intense GCSE Maths course due to the breadth of content within the new maths GCSE syllabus and the fact that the students and teacher would need to spend 7 hours per day studying maths for a full two week period; the team made the decision run a pilot this year to see if it was a possibility.
The course turned out to be an incredible success with sixteen learners starting the course and sixteen learners completing the course with Grade 4 and above. Anyone in the RAF who wants to commission to become an Officer must achieve a Maths GCSE at Grade 4 or above.
Deborah Barton, Head of Adult Skills and Employability said: "This is an amazing result down to the dedication and hard work of the students over the two week course. Our congratulations go out to the students who we hope can now progress in their military careers."
Sarah Pentony, Personal Learning Advisor at RAF Honington said: "I am so pleased that all the hard work of both the students and the tutors paid off and our guys and girls received these amazing results, I am really proud of them."
Sarah continued: "Our thanks go to the college for your continued support to RAF Honington, I cannot express enough how much it helps our personnel and how much confidence it gives them to go on and achieve so much more, particularly as many went through school thinking they would never achieve."
One of the RAF learners commented: "Having now achieved a Grade 5 in maths it has opened doors to courses that were previously closed to me and these will help me make positive strides towards career progression and hopefully promotions!"
Another learner said: "The learning centre was amazing from the get go as were the phenomenal tutors from West Suffolk College. I want to thank everyone who made this happen, I have overcome something that I never thought possible and couldn't be more proud of myself."
For the last three years we have have also taught GCSE English as an intensive two week course which has also been incredibly successful. We also teach Functional skills Level 2 in maths, English and ICT and have done this for over five years.