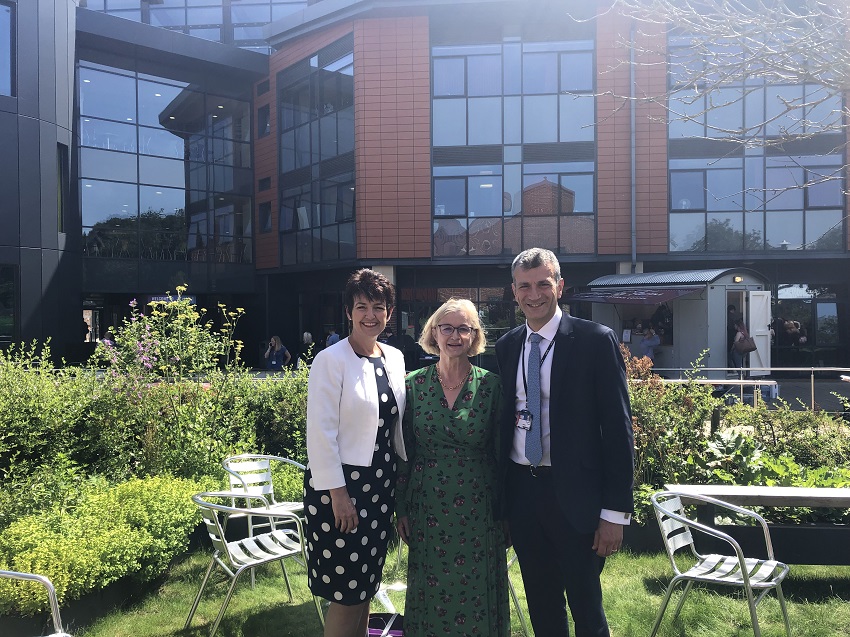 Jo Churchill, MP for Bury St Edmunds, Amanda Spielman, Her Majesty's Chief Inspector of Ofsted and Dr Nikos Savvas, Principal of West Suffolk College.
Last Friday saw us host the third International Festival of Learning with the day considered a roaring success for all involved; with over 700 attendees descending upon the college for the event.
The one day festival saw top rated speakers from the world of education, technology and business come together to deliver talks and panel discussions on this year's theme – 'Human Skills in a Technological World.'
Sponsored by Pearson, the festival looked at the skills needed to prosper in an ever-changing future and digitalised world – and how education needs to shape technology.
The festival is the only of its kind in the region and offered attendees over 100 different sessions and a sterling line up of over 90 powerhouse speakers, including Amanda Spielman, Ofsted Chief Inspector, Cindy Rampersaud, Senior Vice President at Pearson, Mike Watkinson, Apple Education Professional and Mark Dawe, Chief Executive AELP (Association of Employment and Learning Providers).
Amanda Spielman took part in a Q&A session with Ed Dorrell, Head of Content at The Times Education Supplement who along with the audience quizzed her on the new Ofsted framework and whether this really is fit for purpose.
Nikos Savvas said: "To be able to host an event of this scale here in Suffolk where we had national and international speakers speaking to our staff, students and attendees from around the country was just incredible. It was an absolutely fantastic day and I am so pleased."
Angela Berry said: "West Suffolk College's role is to prepare our young people for the future and we are proud to have hosted this event once again. Thank you to all our partners and to our main event sponsor Pearson, whose report, 'The Future of Skills, employment in 2030' spawned this year's event theme".
As well as Ed Dorrell, Martin George, Reporter for TES was in attendance where he held a Facebook Live event with Amanda Spielman where she responded to questions on the new Ofsted framework submitted by TES readers. This can be found here.