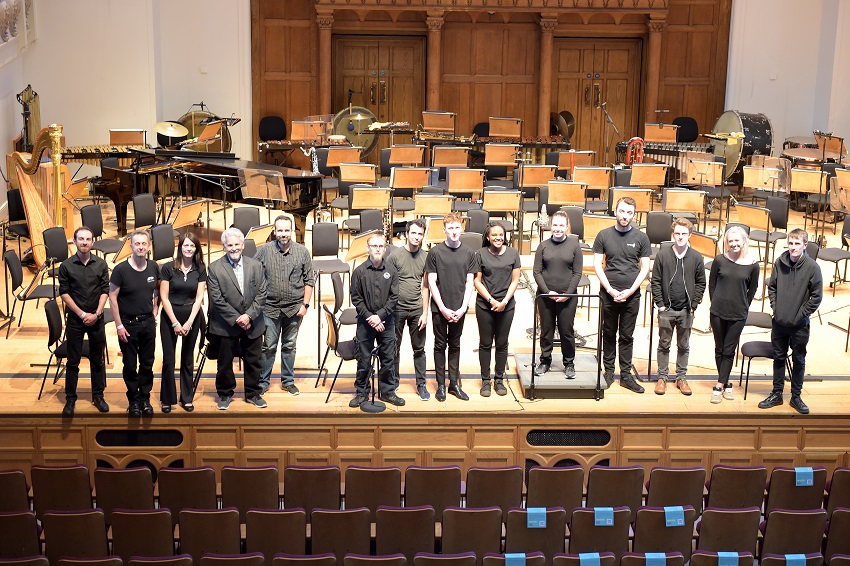 The music degree team at Cadogan Hall.
The James Accredited University Studies at West Suffolk College degree team Andrea Healy and Gary Kelly ran the 'JAMES Orchestral Recording Sessions' for the second year running. Hosted by West Suffolk College 9 high performing graduating students from JAMES Accredited degrees and postgraduate degree programmes came from all across the UK to train as orchestral live sound recording engineers. They spent the week with our degree team training for a recording with the Royal Philharmonic Orchestra at the Cadogan Hall on Thursday 20th of June. This was then followed by a mix session in Studio 2 here at West Suffolk College.
Jessie Pigott from Leeds Beckett University said: "I had such a great time, not only did I learn a great deal but also met some great friends along the way. It was really valuable to be in a real-life industry situation, although we learn about that at uni, you can't fully understand what it is actually like until you are doing it… So thank you for the opportunity to do so! I look forward to using the skills, knowledge and confidence gained in future work."
Andrea Healy Integrated Learning Centre Manager for the degree programmes stated: "Our students regularly get this opportunity and it is great to widen the participation to other degree graduates as part of the JAMES reward programme. We have been pushing boundaries to embed industry in to all of our degrees. Last months venues included the Royal Albert Hall for the Final Fantasy VII game scores, the Reading Hexagon and the Royal and Derngate at Northampton to record the Royal Philharmonic Orchestra then over to the Roundhouse with our live sound engineer Davide Lombardi to engineer for Dido, there is always something underway." Gary Kelly Programme Leader for the BSc (Hons) in Live Sound added "We have spent many years working and writing the degrees based around the music industry. We keep everything up to the minute as technology is constantly changing. Students looking for a real world experience with their degree will definitely find it here!"
Degrees