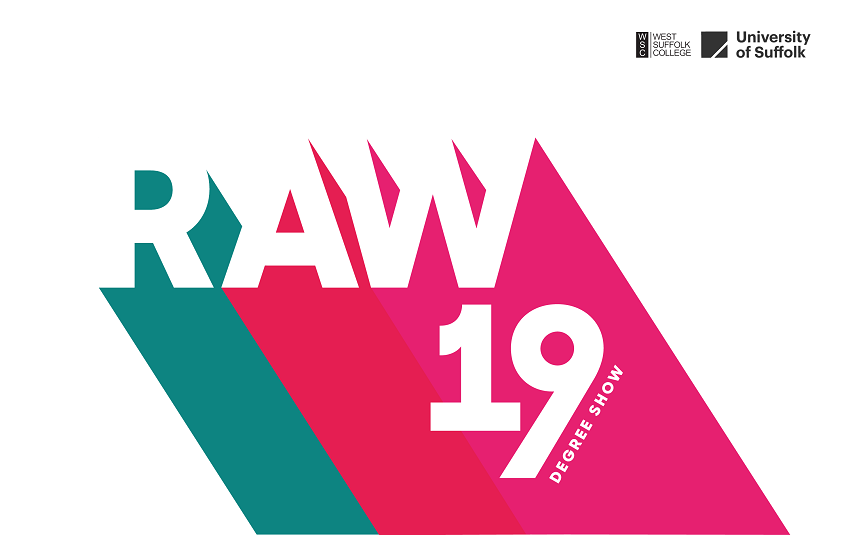 RAW19 is open in The Apex until Sunday 23 June 2019 on Mondays to Saturdays from 10am to 5pm, and on Sundays from 10am to 4pm.
We are delighted to announce that four degree students from BA(Hons) Graphic and Communication Design at the University of Suffolk at West Suffolk College have won prestigious awards for their outstanding design work, for global competitions this year. Each year we encourage our students as part of the curriculum to enter work for international/national competitions, this year we had winning entries for D&AD New Blood, YCN and ISTD. Each competition provides opportunities for emerging talent across, advertising, digital, film, animation, illustration, typography and publication design. The live creative briefs that the students work on are set by well -known commercial brands and cultural partners from across the world. The prizes that students receive can involve trophies, membership to professional design bodies, internships and industry recognition.
This has been a great result for the students, the course, and the University. The staff have been super impressed by the professional standard of work produced, which has shown above all outstanding creative and innovative solutions and technical skill/knowledge. The students are encouraged to tackle difficult briefs like these using divergent thinking to generate concepts that push boundaries and challenge perceived norms. In the ever-evolving world of Graphic Communication, digital technology and the integration of Social Media have become key tools for consumer engagement and some of our competition winners this year have capitalised on this. By cleverly utilising technologies such as Social Media & Artificial Intelligence to enrich strong concepts our students have developed and presented ideas that stood out amongst the thousands of national entries to get the recognition they deserve. I addition to this the level of typography and editorial/publication design has been cleverly crafted to showcase some excellent and well considered use of graphic spreads, which show care and strong typographic detailing. You can see examples of each of the student's work on the degree show website. WWW.RAW19.CO.UK
Holly Rohl and Lizzy Johnson both received commendations for YCN 2019 (Youth Centre Network) for their advertising campaigns for the brief set by Art Fund which is a UK charity, that exists to help museums and galleries buy and display art for the public to enjoy. The creative challenge was to produce a campaign to raise awareness among students to show that by actively choosing to visit museums or galleries more often can be a powerful antidote to the stress and anxiety of student life. Both Holly and Lizzy have been invited to attend a special exhibition and ceremony at the Barbican Centre in London in the Autumn to show case their work and receive their awards.
Katie Parsons received a commendation for ISTD competition 2019 (International Society of Typographic Designers) for her edgy publication for the brief 'Lost,' which was based on the gruesome exploits and twisted mind of a serial killer. ISTD is highly acclaimed for engaging with universities to raise the profile of typography in design education. Entries are invited from around the world for this award, from designers who have used typography as an integral part of their design solution. This was a tough and rigorous competition and assessment reflects considerable accomplishment. Katie has been invited to attend a ceremony in London to receive her award and offered free membership with ISTD.
Jonathan Nicholson received a commendation for D&AD New Blood competition 2019 for his submission for the brief set by John Lewis & partners , the creative challenge was to promote 'thoughtful gifting' throughout the year by creating an illustration or animation led piece of communication that used a variety of digital media. Jonathan created an App that celebrated how a memorable gift is not only an object, but an experience and store emotion. This was no mean feat to win a D&AD award given the scale and magnitude of the competition with entries from the brightest up-and-coming creative minds from around the world. Jonathan has been invited to attend a ceremony in London to receive his award. Please refer to the link below to view a short film about Jonathan's concept for John Lewis and Partners.

The Apex
1 Charter Square St
Bury Saint Edmunds
IP33 3FD
Opening hours:
Mondays to Saturdays - 10am-5pm
Sundays - 10am-4pm
If you want to find out more about BA(Hons) Graphic and Communication Design course and the see first-hand a wide range of example of our students work then pop along to see our degree show RAW19, which is currently being exhibited at the Apex Gallery in the town center of Bury St Edmunds. The show is up until 24th June from 9.30pm to 21.00pm most days of the week. Please contact the course leader Sian Horn if you require further information email: This email address is being protected from spambots. You need JavaScript enabled to view it. or telephone 01284 716 725.