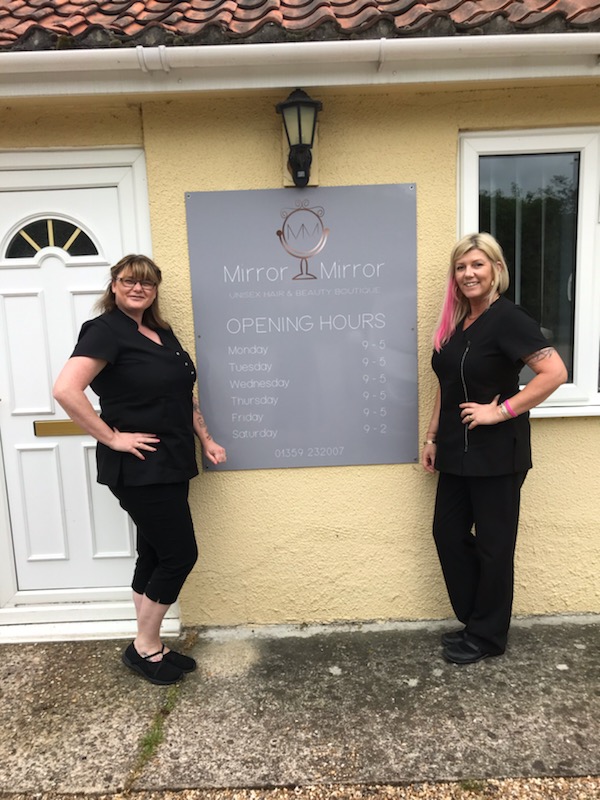 Maz Sharp and Carla Smith former West Suffolk College students launch thier beauty salon in Great Barton.
Former West Suffolk College students Maz Sharp and Carla Smith have successfully joined forces to launch their own hair and beauty salon in Great Barton.
The adult learners who have combined industry experience of over 20 years have put their heart and soul into the new business and 'Mirror Mirror Hair & Beauty Boutique' opened its doors for the first time earlier this month.
Maz and Carla have recently chosen to retrain and update their skills on the Hairdressing course at West Suffolk College where they developed a friendship and ultimately made the decision to put their wealth of experience into practice by opening the new salon.
When speaking of their experience the two businesswomen were keen to get the message across that it is never too late to pursue your dreams. Carla said: "I have been in the industry a long time, it's just sometimes life can take you on a different path. I am so pleased to have been given the opportunity to update my skills and to embark on this journey with Maz. We couldn't have done it without Karen's amazing support and the College have been fantastic."
Maz who has been a qualified nail technician since 2004 also fosters children outside of her working life and said: "I maintain a pretty busy lifestyle but it has been amazing to really pursue my passion again and to get this opportunity. Karen has gone over and above and has been a real support for Carla and I, I would recommend the Hairdressing course to anyone as the support you receive is outstanding."
Maz continued: "If I could give any advice it would be to don't ever think it is too late to study or to embark on a new journey. There are so many amazing opportunities for adult learners at West Suffolk College."
Karen Baldwin, Lecturer in Hairdressing at the College and the duo's tutor said: "The biggest joy of being a teacher is being part of the learner journey. These two adult learners have shown resilience, ambition, curiosity and team rapport alongside their amazing hairdressing skills. They are both proof that dreams can come true and that it's never too late in life to start a new journey. I am so pleased they chose West Suffolk College and I have loved every step in helping them achieve their new found career."