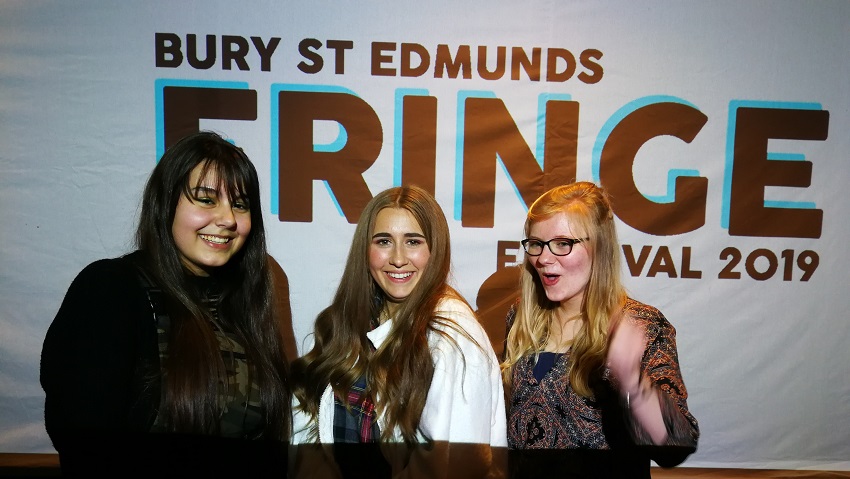 L to R – Hana Al Aride, Catrin Pena and Ellie Farnell at the Bury Fringe Festival film screening.
Four Film and Creative Production students from West Suffolk College were delighted to have their films screened as part of the Bury Fringe Festival last month.
As part of the 'Suffolk Portraits' competition brief, entrants were asked to create a 5 minute original short documentary about Suffolk life, spotlighting the people, places, history, culture and love of the county. The submitted films were sent to the selection committee who then decided which films would be screened as part of the festival.
Ellie Farnell, who studies Level 3 Creative Film and Media production at the College titled her documentary 'What are you looking for?' and based it on being grateful for what you have in life. Ellie age 19, from West row said: "It was amazing to see my own work screened in front of people and also very nerve-racking! There were different local actors and actresses and it was great to feel a part of it and to potentially get a foot in the door of what is such a competitive industry."
Hana Alaride, Level 2, created a fly on the wall documentary called 'A day in the life of a Suffolk Officer' and as part of the project Hana shadowed police in Ipswich at night who were dealing with street crime. Hana also interviewed several different roles within the Suffolk police. Hana said: "I felt so lucky to have my film screened, the atmosphere was electric and I felt so welcome. The College have helped me so much in gaining confidence and I feel more optimistic and ambitious than ever before!
Suffolk Police were so impressed with the documentary created by Hana they announced that it will be featuring on their website.
Catrin Pena Level 2 and Henry Hatch Level 3, also had their films screened with Catrin's based on horse photography featuring specialist photographer Lisa North and Henry basing his film on a local rap artist and the industry called 'Lost Luke.'
Ellie, Hana and Catrin also participated in a Q&A session at the screening where they were asked different questions from local industry leaders on their work and their plans for the future.
Linzi Stivey, Course Director for Media Level 2 said: "We are so proud of our students who worked so hard to produce these fantastic short films and responded to the competition brief perfectly. The industry experience and connections they have gained has been invaluable and this was the perfect opportunity for them to demonstrate their intentions to create a film. We are looking forward to seeing what they do next!"
Ellie Farnell, What are you looking for?
Catrin Pena, Horse Photography
Hana Al Aride, Officer of Suffolk