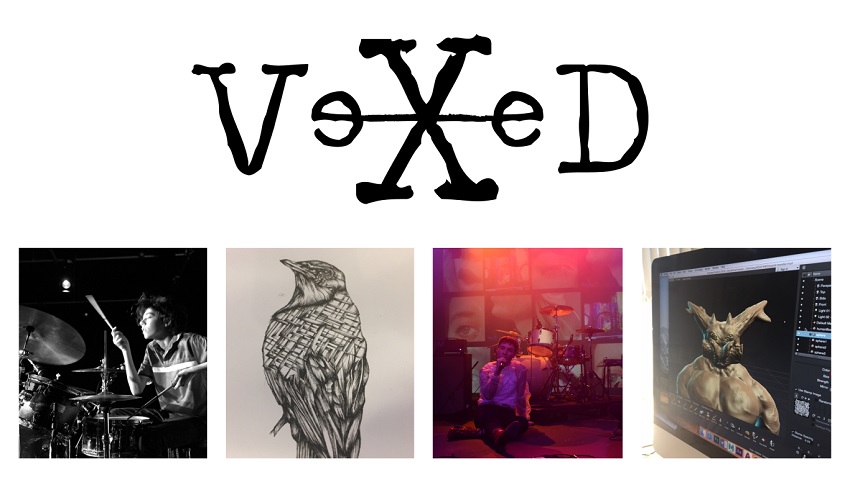 VeXeD, Festival of Creativity, attracted over 1,500 visitors on its launch night and continues to attract visitors to view some amazing works of art.
On Friday 17th May 2019 over 1500 visitors embraced the 'VeXeD' festival at West Suffolk College – a final year showcase of creativity and the economic importance of the creative industries - art, design, music, hair & Beauty and Theatre. This is the highest attended event on the college calendar and something that is growing year on year. Many more watched the event on the newly launched WSC-TV live broadcast.
Over 400 FE Art & Design students exhibited their work in studios throughout Leonardo House. These were across all levels and creative pathways including fine art, fashion, textiles, illustration, graphic design, games design, photography, fashion promotion, model making, visual effects and animation. The diverse, skills-based and expressive nature of the courses were present throughout. Aspects of courses, such as the New York residential second years undertake, clearly added to the depth and innovation of work. An overwhelming majority of second year level 3 and Foundation Diploma students are now progressing to universities across the UK including Glasgow School of Art, Chelsea, Central Saint Martins, London College of Fashion, Camberwell, Falmouth, Nottingham Trent, Manchester, Leeds, Norwich and University of Suffolk on the West Suffolk College Campus.
On the night The Music Department produced four hours of back to back live music, performed by students on level 3 and level 4 music courses. Performances ranged from punk, acoustic, pop, electronica, soul and rock from artists such as Jasmine Faye, The Destiny Boiz, Tribe of Flowers and Larry Rouse. This was the first year of using a festival stage, which dominated the Quadrangle at college, providing a professional backdrop to the performances, with outstanding lights, visual and sound. The whole event was streamed live around the world through WSC-TV, with many people logging in to watch the performance. This was by far the most adventurous show put on to date which also included the modified vehicle 'MaX' which was a collaborative project between the music and automotive departments. The car was modified to include contact microphones on the internal body work, which fed through effects processors, effectively making the car in to a performable synthesizer. This was performed by level 4 Music Performance student Elliott Rodger-Brown who also produced a music soundscape as an accompaniment to sounds produced by the car.
Derek Johnson – Director of the School of Art & Design stated: 'We are delighted by the scale and ambition of our new 'VeXeD' Festival. The crowds were staggering – it was humbling to see and meet so many people who have to come to celebrate the achievements of all our students. The show is also a recognition of all the valuable support from families and friends. It has been a wonderful time for us all. We wish all our students the very best of good fortunes next year in higher courses/years, employment and at universities across the UK. It has been a fantastic year'.