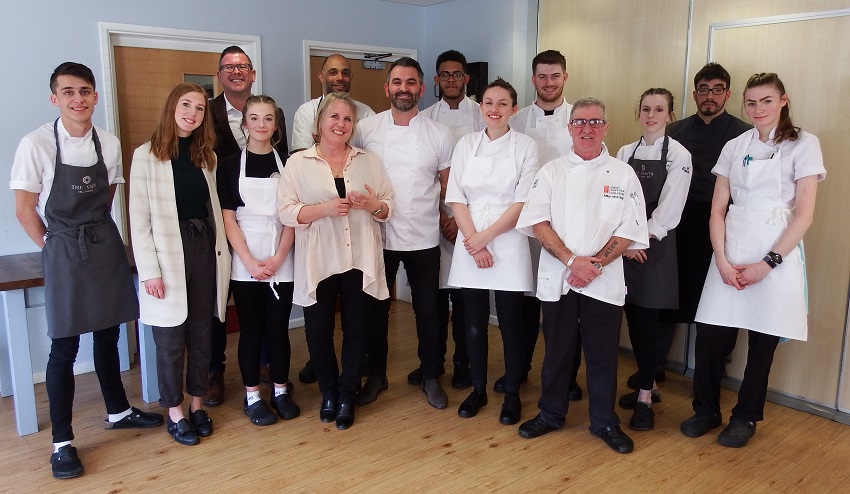 The competing young chefs, judges and Mike Mulvihill all at Edmunds restaurant, West Suffolk College.
This week saw Edmunds restaurant at West Suffolk College host the first heat of the Suffolk Young Chef of the Year competition.
Sponsored by Bidfood the category recognises the talents of a growing number of young people forging careers in the hospitality industry, and seeks to encourage excellence and ambition. All chefs taking part had to be 23 or under and each entrant had to incorporate Nestle stock into their menu as a requirement from the judges.
The heat saw 8 different young chefs battle it out where they had to prepare two courses for the prestigious judging panel which included Lee Bye of Tuddenham Mill, Nick Claxton-Webb of The Weeping Willow, Tessa Allingham of Feast Publishing, Jon Matthews of Bidfood UK and Jessica Noy, Gamekeeper's Daughter who has previously won the same competition.
Mike Mulvihill, Director of Service Industries at West Suffolk College said: 'The Edmunds team are completely honoured to have been asked to host this year's competition; it has been great to see some great friends of the college in to judge and also to see some of our former students as entrants.'
Tessa Allingham commented that 'this is such an important award, it encourages and motivates our young Chefs and to have it in the fantastic learner environment of Edmunds at West Suffolk College and accompanied by some of the exemplary and well respected chefs of the local area is a real bonus.'
The competitors included three former students of West Suffolk College, one of whom was Crystal Newton from All Saints Hotel. When preparing her dishes Crystal used all locally sourced produce and after qualifying from West Suffolk College in June 2018 she was pleased to compete in this capacity.
Lee Bye explained that 'This competition is so important as it opens doors locally to the candidates and it provides them with a fantastic platform for the future. There is some really promising talent right on our doorstep and I am proud to be involved in something that can help them grow and develop.'
The cook off final will take place on Friday 22nd March also at Edmunds restaurant where four finalists will be invited to the awards ceremony on 29th April where the winner will be announced.