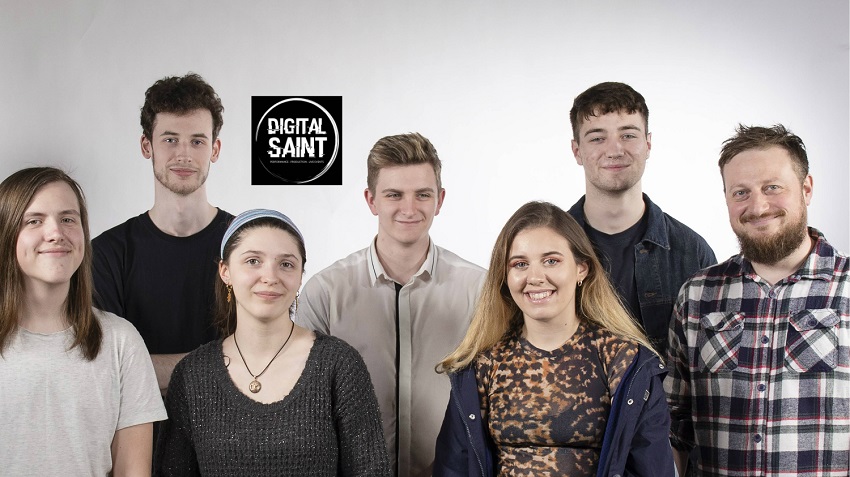 Students from the Music Department alongside Joe Stocking, Head of Music at West Suffolk College.
The music department at West Suffolk College have formed a brand new record label named Digital Saint Records, with only a small handful of other colleges across the country running similar initiatives.
The debut release 'Exhibit-A' will see tracks from numerous students studying music on one of their courses being released across all digital platforms including Spotify, iTunes, Deezer, Amazon Music and Napster.
Any student studying on a music course is eligible to submit a track for consideration, with the tutors deciding upon the final selection for the compilation album. The students on the debut release have all exhibited outstanding skills in composition and mixing and the compilation album means there is something for every listener, from Folk and Pop, to Dubstep and House.
In order to be able to release a track on Digital Saint Records, students are required to sign a single only recording agreement, which is then a formal contract between the individual and Digital Saint Records.
If students make it to the final selection for the album they will also be exposed to wider promotional opportunities boosting their chances to get their name out there in what is known to be a tough and competitive industry.
The first compilation release date is 14th March 2019 and the department then hope to have numerous releases throughout the year.
Joe Stocking, Head of Music at West Suffolk College said: 'The development of Digital Saint Records encourages aspiration – no matter what music course a student is studying on, or the style of music produced. This is a brilliant way of showcasing student work in line with industry expectations whilst also raising the bar in terms of the quality of music being produced across the department as a whole.'
Read about Digital Saint in the Bury Free Press.
For more information on the new label head to www.digitalsaint.co.uk