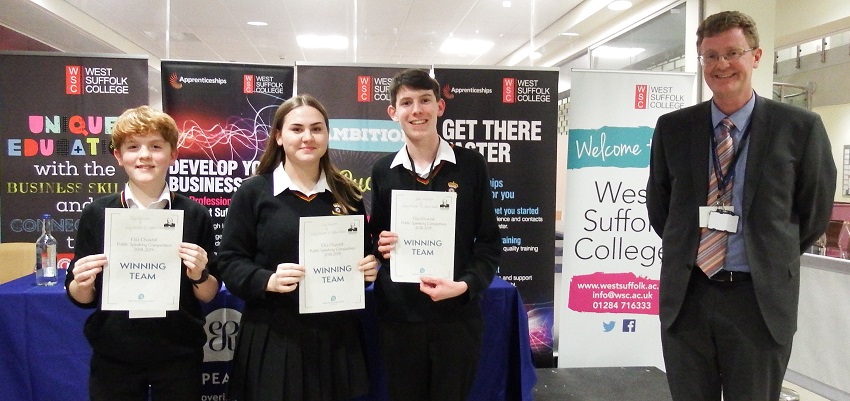 The overall winning team from King Edward VI.
Last week saw West Suffolk College host one of the heats for the annual English Speakers Union public speaking competition; with pupils in attendance from St Benedict's Roman Catholic Upper School, County Upper, King Edward VI and Sybil Andrews Academy.
The prestigious ESU public speaking competition is the largest such contest in England and Wales, with around 400 teams each comprising a speaker, questioner and chairperson annually. The ESU's mission is to give young people the speaking and listening skills and cultural understanding they need to thrive.
The different roles allow students to practise and excel in different areas, and the competition's unique format which pairs the speaker from one school with the chair and questioner of another; encourages quick thinking and relationship building. Above all, it's fun and a great way for students to develop their oracy skills in a friendly, supportive environment.
With Councillor Robert Everitt leading the way, the event was a great success with the teams delivering empassioned speeches on a range of subjects including Meritocracy, The American Dream, Social Media and the Jury system.
Robert said: 'These events are a really fantastic way to encourage public speaking and the students pick up a range of different skills. It is an honour to be able to organise the events and of course it couldn't be done without the fantastic committee and the commitment from the local schools and on this occasion West Suffolk College.'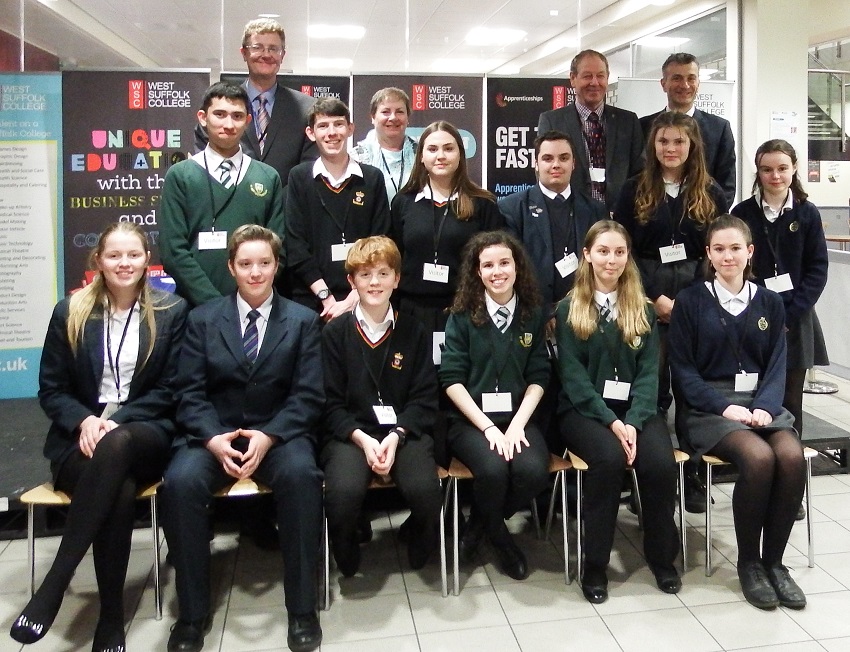 The four school teams with the judges and Councillor Robert Everitt.
The judging panel comprised of Nikos Savvas, West Suffolk College Principal, Jane Storey of Suffolk County Council and Alex Wilson from West Suffolk Council.
Joy Childs, Chairperson for the Suffolk ESU branch said: 'It has been a fabulous evening with some very interesting discussions. The venue has been fantastic and we are extremely grateful to have been granted the opportunity to hold this heat at the College.'
Rose Bainbridge, age 16 from County Upper School and who was the speaker in one of the teams said: 'I really enjoy these events, you can make friends and it really helps me with my confidence and it really de-stresses me at a time when I am studying for my GCSE exams.'
The winning chairperson was Ariana Lopez-Clift from St. Benedict's, winning questioner was Aaron Mcintyre from King Edward VI and the winning speaker was Rose Bainbridge from County Upper. There was also an award for outstanding personality which went to Lois Driscoll from King Edward VI.
The prize for best overall team went to King Edward VI who will be invited to the regional finals at Magdalene College in Cambridge.