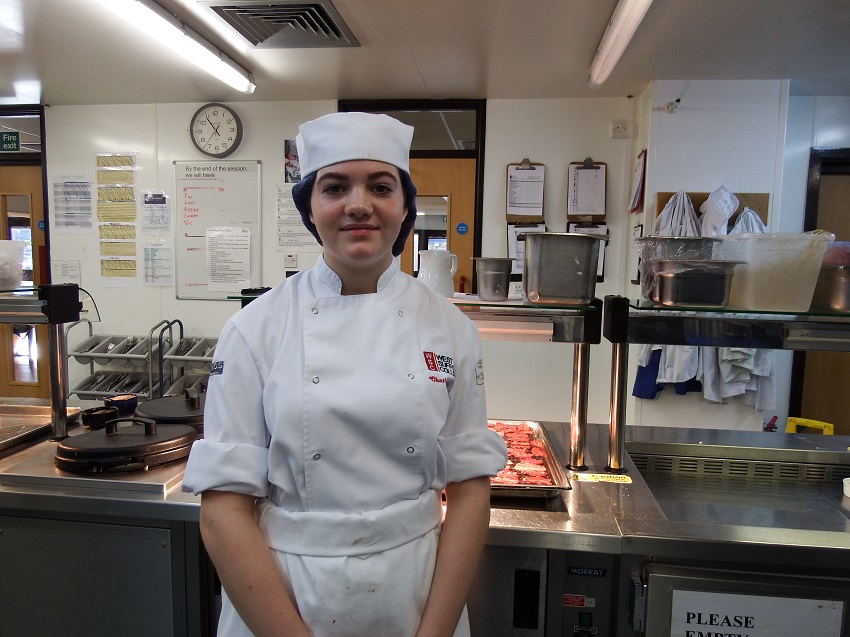 Charlotte Cook, who is studying a VRQ1 professional cookery course at West Suffolk College.
Cadet Corporal Charlotte Cook, a Grenadier Guard Army Cadet from Ixworth Detachment "A" Company, Suffolk Army Cadet Force who is also on the VRQ1 professional cookery course at West Suffolk College; has secured the role as Lord Lieutenants Cadet for Lieutenant Lady Euston.
Nominated for the appointment by her Detachment Commander, the year's long appointment will see Charlotte assist Lady Euston in her duties as her Majesty the Queens appointed representative for Suffolk and will act as an Ambassador for the Army Cadet Force and also the young people of Suffolk.
There will be a formal ceremony held at the Ipswich Army Reserve Centre where Charlotte will be appointed Lord Lieutenant's Cadet for Suffolk Army Cadet Force and her achievements will be celebrated.
A Hospitality Technician at the College said: 'Charlotte thoroughly deserves this. She is an outstanding student within the Academy of Culinary Arts department; she has 100% attendance and continues to receive merits and distinctions for her work within the kitchen and restaurant environment under the guidance of Tutor's and Chefs within the Academy.'
Charlotte from Stanton, who has been in cadets for nearly four years said: 'I am really excited to get started on my appointment and to see what opportunities this brings me for the future.'
A source close to Charlotte said: 'Charlotte has been selected to take up this role as the Lord Lieutenants Cadet in recognition for the outstanding example of devotion to duty and hard work she has displayed as a Cadet and a member of the community.'
They continued: 'Charlotte should see many great opportunities arise from her time in this role, it's a very exciting time for her.'
Charlotte's participation in the cadets has armed her with many transferable skills to take to the college including punctuality, discipline and teamwork. The character strengths that Charlotte demonstrates as a Cadet including resilience, respect and confidence coincide with those needed at the college making Charlotte an exemplary student.