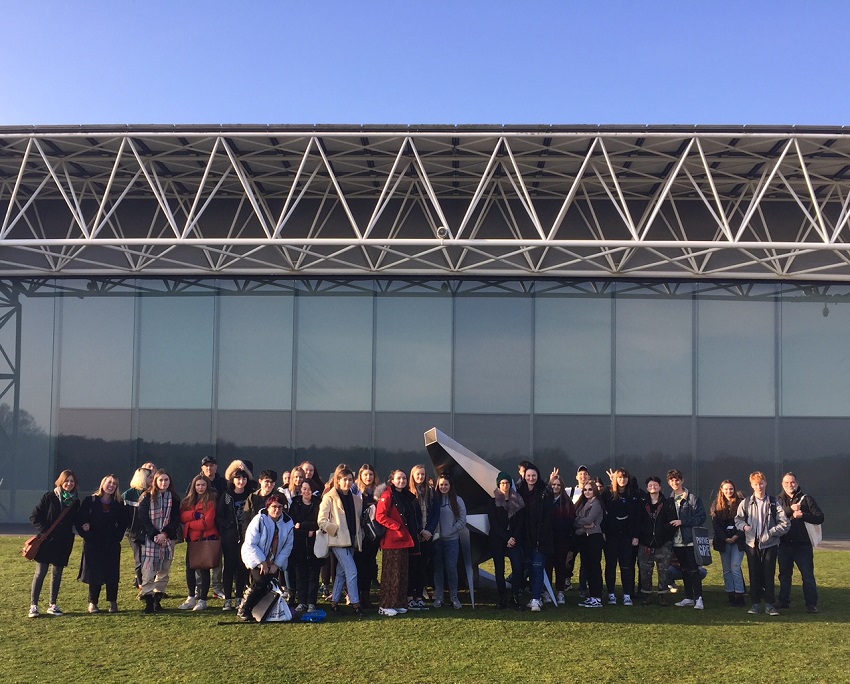 Art students at the Sansbury Centre for Visual Arts in Norwich.
Fifty students from the Level 3 Extended Diploma in Art & Design visited the Elizabeth Frink and permanent exhibition at the Sainsbury Centre for Visual Arts (Norwich) on 31.1.19.
This was a unique opportunity to see the retrospective of Frink's work. Elizabeth Frink (1930-1993) was born in Great Thurlow close to Bury St Edmunds, Suffolk. As an internationally renowned British female sculptor she is an inspirational figure to our students. Her work is deeply personal and she showed huge ambition and resilience working against the expectations of society. Students also has the opportunity to record and investigate works within the Centre's permanent exhibition including Francis Bacon, Henry Moore and ethnic art from the Pacific and Africa. Derek Johnson, Director of the School of Art & Design, stated 'our students study art, design and the digital industries – but just as importantly, they study how history, mythology, human experience, nature, science and the whole universe are at the core of creativity and innovation'.
Students from our level 3 courses progress to employment and universities across the UK at the very highest level.