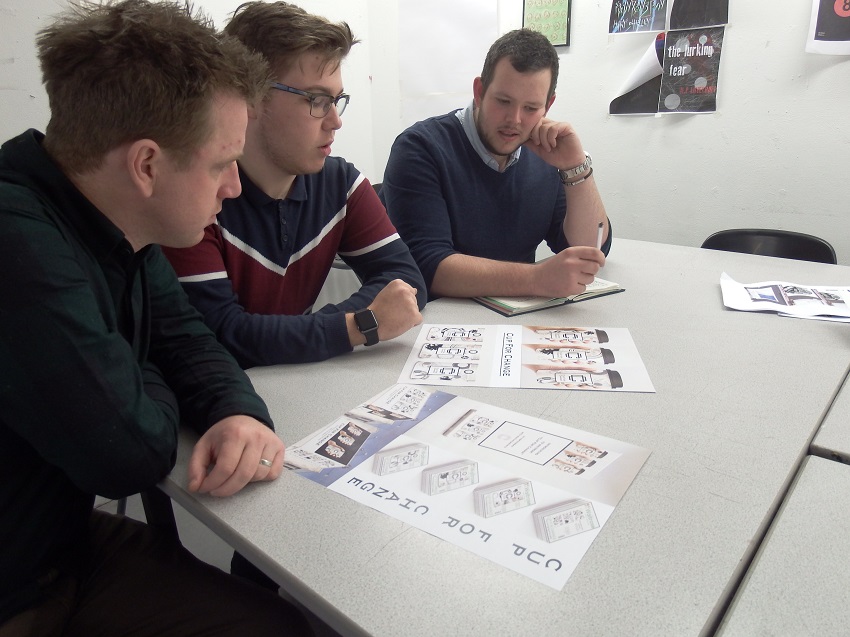 Sophie Knappett, Lecturer in Art and Design at the college said "The students have all worked so well on this project which was not easy with all of the different elements to consider. The final outcomes look amazing and I couldn't be more proud of them all."
West Suffolk College year 2 Graphic Design students have been granted an amazing opportunity to collaborate with Creative Agency 'Allegro' to develop a fundraising campaign utilising reusable coffee cups. The cups will be stocked in coffee shops with all the proceeds supporting the work of Wintercomfort for the homeless – a Cambridge based charity who support the homeless in the local area.
The 'Cup for change' campaign will be used to raise vital funds for Wintercomfort so they can continue to run their welfare service which supports around 61 rough sleepers per day. The statistics for homelessness are significant for the region with some reports stating it has risen by as much as 200%.
With a brief set by Cam Brown, Director of Allegro, the students have been asked to create a brand, product, packaging and campaign for a reusable coffee cup. The brief stated "Helping the environment is a very hot topic at this current stage, many supermarkets and shops have been criticised in the media for the amount of non-reusable packaging they are putting out. Everyone is trying to reduce their carbon footprint"
Simon Pickering, Fundraiser at Wintercomfort said "We are delighted to have worked on this collaboration with Allegro and West Suffolk College. This project will enable us to help more homeless people in need of vital support."
The project which has been split into 6 weeks, follows the students' progress and product development starting with initial research right through to development and final presentations. Mattie Carroll, Graphic Design student explained "It's been an interesting project, to get to work on all aspects of a live brief has been great but also makes you realise just how much work goes into it so it hasn't been easy! I think we have definitely all learnt a lot from this."
Cam, who completed his University studies at the college in Graphic Design and Communication and graduated just one year ago explained that "It feels strange that after only a year of graduating, I am back pitching a brief to students. I am really touched that the college asked me to be involved in this project."
The students have been able to design a mock-up of their cup so they can get an accurate idea of what this will look like which was also new to them. Jake Dellar who also studies Graphic Design said "To be able to see our work as a mock-up has been really beneficial, it's really effective to see our hard work this way so we get a realistic representation of what our cups will look like."
Sophie Knappett, Lecturer in Art and Design at the college said "The students have all worked so well on this project which was not easy with all of the different elements to consider. The final outcomes look amazing and I couldn't be more proud of them all."