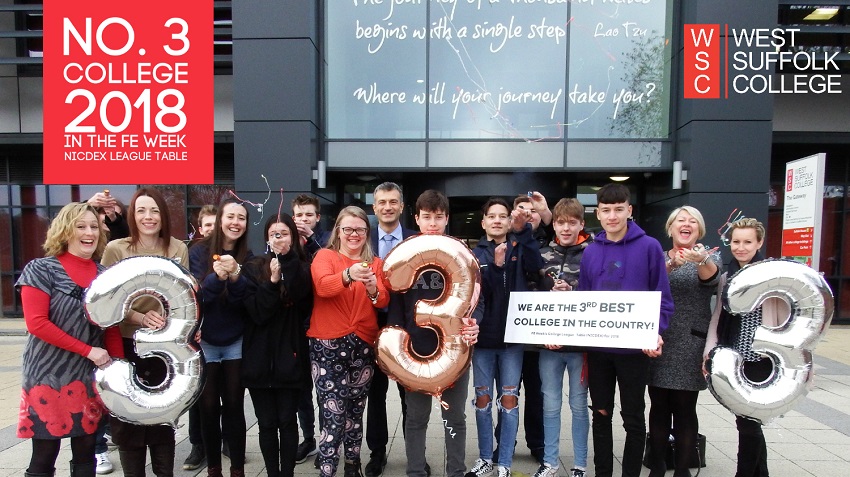 West Suffolk College is proud to be ranked the 3rd best College in the country in the prestigious NICDEX league table published by FE Week.
For the past three years, West Suffolk College achievement rates have been consistently rated in the top 5% nationally. This year we have also secured a spectacular third place in FE Week's exclusive league table for colleges 2018.
This is a dramatic jump of 17 places in two years and means we are officially the third best college in the country on all levels.
The table, compiled using key and official criteria published by the Department for Education, sees the College awarded the impressive third place spot out of 186 colleges nationally.
The third place position comes after getting 33 points out of a possible 40 across four different categories: learner satisfaction, employer satisfaction, 16 to 18 positive progression and adults into employment.
West Suffolk College outclassed fellow colleges, particularly in scores for both learner satisfaction and employer satisfaction gaining a perfect 10 in both areas.
Dr Nikos Savvas, CEO of Suffolk Academies Trust and Principal of West Suffolk College said: "I would like to thank our dedicated staff, industrious students and visionary business partners for all their incredibly hard work that has contributed to this amazing achievement. I have the best and most committed team of people, who care passionately about our learners during their time with us and as importantly, their onward success, I am so proud of them all.
"Thank you too to all our incredible businesses and employers, who by working closely with us are making our society better. The fact that we got 10 out 10 for student and employer satisfaction is immensely gratifying."
"I am deeply proud of this achievement and on top of our outstanding results. It's been a brilliant year for us all but particularly our hardworking students and staff."
The league table was established by FE Week editor Nick Linford, based on official performance measures determined by the Department of Education. Mr Linford said: "The NICDEX was an enjoyable intellectual challenge, to create an annual performance table from a mix of measures. Most importantly, NICDEX is transparent. The four measures that make up the NICDEX are published by the DfE."