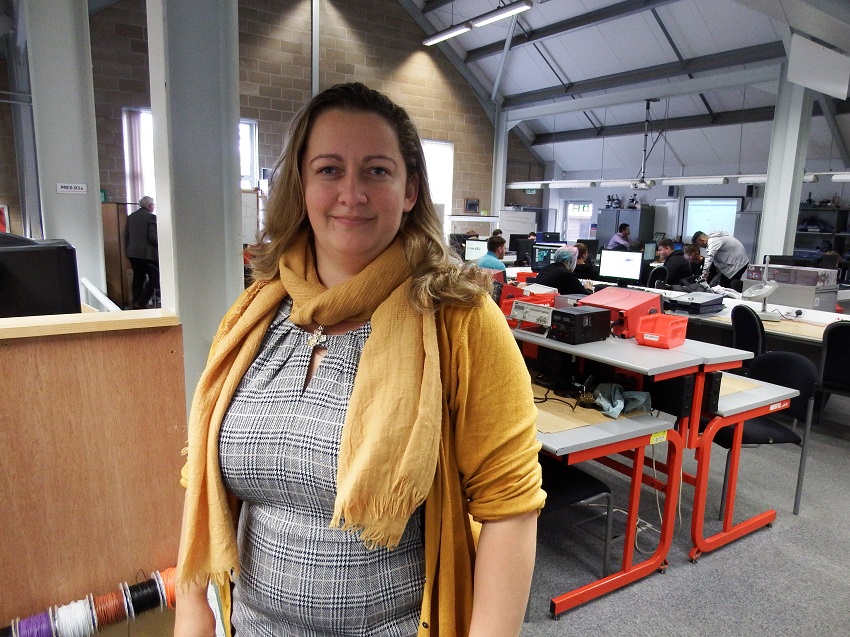 Head of Science at West Suffolk College, Emma Clay.
West Suffolk College's Head of Science, Emma Clay has been nominated and shortlisted for the Inspiration award for this year's DevelopHER awards.
The DevelopHER awards is an annual not for profit awards ceremony recognising women who work in the technology sector in East Anglia. The awards were inspired by the team at Norwich based SyncDevelopHER, who regularly attend and speak at events promoting gender equality.
SyncDevelopHER's founder Vickie Allen recognises that across the land there are women making their mark in a male dominated world and wants to use the awards to help them shine.
When asked how it felt to be nominated Emma said "I was confused and excited at the same time and was also worried about what dress I would need to wear!"
Determined by 28 different judges, Emma made the final shortlist alongside two others and the winner will be revealed at the awards ceremony on Wednesday 28th November in Norwich. Molly Dalton, lecturer in mechanical engineering at the college nominated Emma for the award and said "I nominated Emma for the Inspiration award because her passion and enthusiasm for STEM is infectious. Emma's use of technology and ability to 'think outside the box' in terms of delivery, is exceptional."
Molly went on to say "I am delighted that this award has recognised her efforts in education and I hope she wins this award to inspire other education practitioners to be more like her!"
When discussing the topic of encouraging more females to branch into the world of technology Emma said "I think it's about making sure that young people know that no matter what their background is, the door is always open. It doesn't matter whether you are male or female, each person should know they have the right to explore the world and discover new technologies."
Emma has been with West Suffolk College for just over a year and was keen to pass on her advice to women who may be considering a career in technology: "It's about taking your own passion and translating this for other people to learn, even if there are setbacks along the way don't lose sight of what you love about a subject and what makes you smile at the end of the day."